Does your child often dream of living in a 'Kittilicous' bedroom where she would be surrounded by the iconic Hello Kitty motifs smiling at her from all nooks and corners of her room? If yes and you have a Hello Kitty junkie for a kid, here is what you can do: read this post as it will list the top 20 most cute Hello kitty bedroom ideas that will help you choose a few ideas and transform your child's bedroom into a zone of fun and laughter. Hello Kitty rooms have always been a dream for many young girls who would love their parents to design their bedrooms on such cute themes. Let us see what this post has to unfold!
1. Pretty pink Hello Kitty bedroom ideas
If you have a teenage daughter who is a Hello Kitty fanatic, do not think twice before decorating her bedroom with this pretty pink Hello Kitty design idea that looks cute and has the animated kitty imprinted almost in all facades of the room. Right from the draperies to the bed sheet to the wide collective display of Hello Kitty studded toys in the cabinet, every feature has this cute cartoon figure embossed. The pink theme seems to work magic in this bedroom.
Image credit: tumblr
2. Cute Hello Kitty bedroom furniture ideas
The bedroom here looks every bit a dream room that is perfectly fit for a young girl to rest and have some fun too. The cute pink bed with a headboard designed in the shape of the head of Hello Kitty, the pink small cupboard with white borders bearing imprints of this cute animated character and the bed spread and pillow with a large imprint of the kitty contribute to the cuteness of this room. The small side table also bears Hello Kitty motifs.
Image credit: youtube
3. Unique Hello Kitty room decorating ideas
One can decorate a playroom or bedroom with Hello Kitty theme as seen here in the image. The playroom in pink color looks quite cute with a bunk bed and a white stair. The bed is themed on this cute creature where one can see a wide spread of Hello Kitty motifs designed on the canopy over the bed, and on the covering used for the bed. The castle shaped canopy over the stair too bears the design of Hello kitty.
Image credit: moesters
4. Lovely Hello Kitty baby room with embroidered quilt
Seen here is a very lovely looking baby nursery where the whole decor is inspired by Hello Kitty design ideas. The main attractive feature to grab your attention is the beautiful quilt that is embroidered with an imprint of a cute Hello Kitty. The walls, rug, curtains and paintings too have the same theme which adds charm and makes the room appear very lovable and friendly.
Image credit: fanelis
5. Cute Hello Kitty bedroom with a single bed
The bedroom in the image looks quite girly with a single pink colored bed bearing the cute image of hello Kitty on its headboard and also its name inscribed on the foot board. Apart from the Hello Kitty bed, there is a pillow with the motif of the character etched in pretty pink color.
Image credit: realhousedesign
6. Cute grey and pink themed Hello Kitty bedroom
The contrast offered by the two color tones of pink and grey help in adding a soft accent to this amazing looking girly bedroom that is themed on Hello Kitty design ideas. The bed has been designed with a big Hello Kitty face shaped headboard while the white small chair and the white side table with wheels have the imprints of this cute character.
Image credit: hybridsmaine
7. Hello Kitty bedding sets for cute bedroom
One can decorate a girl's bedroom with Hello Kitty inspired bedroom ideas on practically all kinds of features like walls, cabinets, curtains and bed sets. The cute bedroom here looks dazzling with a bed spread bearing a huge motif of Hello Kitty along with other cartoons and a whole lot of twinkling stars and hearts. The pillow sets too are etched with the kitty's image along with flowers.
Image credit: fanelis
8. Impressive Hello Kitty bedroom for teenagers
The bedroom here looks dazzling and belongs to two teenage girls that surely know how to live like fairies. The decor of this bedroom is styled taking inspiration from Hello Kitty design ideas and appears magical with a wall to wall carpet with 'Hello Kitty' motif along with a figure of a sweet cartoon. The ceiling is carved to fit a beautiful Hello Kitty shaped lighting fixture that adds shine to the decor.
Image credit: heplu
9. Cute pink Hello Kitty bedroom design ideas with mirror and headboard
What more can be expressed about this cute bedroom when your eyes can feast themselves by having a glance at this amazing picture shown below? Well, I am in love with this amazingly decorated girly bedroom with a single Hello Kitty bed that has a unique outline of the kitty's face adorned with a bright red bow. Also, the mirror above the vanity area too resembles Hello Kitty and looks quite stunning.
Image credit: blogspot
10. Hello Kitty room decorations with white table and stool
The walls of this compact bedroom have been painted using light blue and pink shades that lend a very feminine touch to the interior. There are accessories like a small white table with a chaise of drawers that lend brightness to the room. The small Hello Kitty stool too looks quite cute. The spread covering the bed also bears an imprint of the character.
Image credit: bloombety
11. Hello Kitty bedroom decorating ideas with wall decor
With a gigantic wall art bearing the motif of Hello Kitty, this bedroom surely manages to catch everyone's attention. The wall is decorated with other motifs of flowers and birds that lend it a very colorful look. The eclectic light green color of the wall matches well with the light purple accents thrown all around in the room.
Image credit: realhousedesign
12. Cute customized Hello Kitty bed for girl's bedroom
If you need something special for your young girl's bedroom, you can always decorate her room with Hello Kitty emblems or accessories that all girls love and adore. The picture shown below is that of a girl's bedroom where the owners have installed a cute customized Hello Kitty bed. The single bed comes with a big head of the kitty in the form of a headboard, a pink body and white legs and hands. The bed can be a birthday gift for a small girl who loves this cute character.
Image credit: buyaz
13. Enchanting kid's bedroom with Hello Kitty theme
The bedroom is a spacious chamber that is decorated using the cute bedroom decor theme centered around the pretty cute cat called Hello Kitty. The kitty's presence can be seen in all facades adorning the room like the ceiling that has been designed with a big black and white face of the character. The gigantic vanity section has a white outline of this cute creature etched on the mirror. The bed however, steals the show with its pretty Hello Kitty themed pinkish headboard.
Image credit: ngn88
14. Cute girl's bedroom with Hello Kitty wall decor
The bedroom here looks feminine with a soft color palette that has used white, pink and purple to beautify the decor. One can deck up any space inside a bedroom, right from the floor to the ceiling to lamps and other accessories. The bedroom below has been decorated with Hello Kitty wall art seen on the front. It is a cute little motif that can be made by you.
Image credit: mattressgiantmattress
15. Modern Hello Kitty bedroom decor ideas
If adding modern accents to your daughter's bedroom is something you want, here is a cool Hello Kitty bedroom decor idea that uses the color combos of blue, white and red to create a dazzling effect all around. The bright red bow of the kitty on a grey and white faceless cut out headboard looks chic along with the bright red trendy chair. One can see the motif of this cute character imprinted on the transparent blue cupboard installed at one corner.
Image credit: bedroomdesigncatalog
16. White and light purple bedroom with Hello Kitty lamp and rug
Whites and purples, add unique accents to your baby girl's nursery or bedroom. There are many ways to style up the room that ranges from walls, cabinets, beds to carpets. The baby room here looks cute and very calm with a Hello Kitty lampshade placed on the white console table. The roundel Hello Kitty rug also looks cute and gels well with the color palette.
Image credit: uniquebedroom
17. Cute Hello Kitty wall sticker for girl's bedroom
The highlight of this pretty pink and white bedroom has to be the giant wall decorated with a very cute Hello Kitty wall sticker. On the wooden flooring, there is placed a cute rug resembling the head of this sweet cat. The whole white and pink theme works well for this room and adds a beautiful glint to it.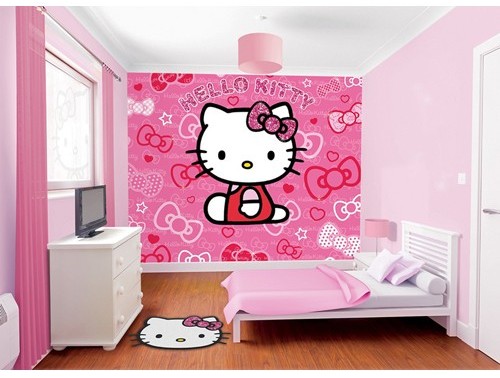 Image credit: temodesigns
18. Cute kid's bedroom with Hello Kitty wallpaper
A kid's bedroom must look cute from all the angles and the best way to add some fun and laughter is by decking up the walls with cartoons and characters like Hello Kitty, a much loved cat. The bedroom seen here has the Hello Kitty theme splashed all over. The white bed looks trendy with a headboard themed on Hello Kitty and on the walls are seen stickers of cute colorful Hello kitty figures along with bright flowers.
Image credit: ngn88
19. Cute Hello Kitty themed bedding and lampshade for bedroom
Hello Kitty inspired bedrooms come in different styles and patterns. In the image is a beautiful pink colored bedroom where the bedding set has motifs of this character etched all over, right from the pillows, bed sheet to the cute little Hello Kitty lampshade adorning the side table.
Image credit: mattressgiantmattress
20. Fun Hello Kitty inspired kid's bedroom
Such a room as the one seen below can make any child happy as there are lots of fun elements that bring in joy and spread laughter. The room is themed on the famous character of Hello Kitty with a big cute looking kitty's face painted right on the wall, engulfing the white cupboard too. The winking kitty adds fun to the colorful decor that seems to burst with energy.
Image credit: picphotos
Hello Kitty bedrooms can be places to have fun. This energetic icon has been with us for a very long time and most kids love to have a Hello kitty bed or a wall that is adorned with the emblems of this cute character. Read the post and see if you like any of these ideas that am sure you would! Surprise your kiddo on her birthday and see how she glows!