By definition, a home library is a place in a house where one would store his or her books in an organized fashion. A home library is perhaps the most pious room for such folks that are into voracious reading and are always looking out for spending some quite time reading their favorite books, sitting on the lap of luxuriously designed furniture and other accessories that can give competition to any other room of the house.
Home libraries come in different designs and styles, depending on what people want. Some folks like to store their vast collection of books in open shelves constructed on the walls, while others may like to showcase these priceless things on creative and artistic cabinets or furniture that can serve the dual purpose of storing books as well as for sitting. Home library ideas of today imbibe lots of innovative changes wherein one need not store his books haphazardly in one corner of their living rooms or bedrooms. While, earlier, our grandfathers were in the habit of keeping books in showcases or bookcases that offered an unsightly view and one couldn't resist but run outside for catching some fresh air. However, these days with the help of various cool home library ideas, one can bring fresh appeal and elegance to the way they decorate their reading nooks.
A home library is supposed to be a place that offers a relaxing time to readers that would like to enjoy their reading time without getting disturbed by various factors like poor lighting, bad odor and ill kept accessories. As such, when thinking of adding some nice accents to your home library, you must not miss a chance to read tips as offered by home library design ideas in magazines or from experts. Since, most of you are likely to spend a considerable time in such home libraries; it is vital that you should look for ways and means to beautify your home libraries so that these places appear friendly and inviting.
Home library design ideas are plenty and one needs to look out for such a home library design that suits his or her style and personality. Some people like more traditional settings when designing their home libraries where they are more likely to decorate their libraries with leather couches and features that are typically quite rustic. To some, home libraries are more than just used for reading. These folks want these spaces to exude a certain charm and elegance that only a contemporary home library design idea can lend.
Many home library design ideas of today lay emphasis on other features that lend a distinct touch to the interiors like fireplace, chandeliers or pendant light fixtures, wall decals, wall paint, carpet placement and many other things that lend a home library a feel of warmth and coziness. Gone are the days when your home library would look like some place from the Gothic era. Now the times have changed and people want innovative changes to add freshness to their home libraries. Whatever said and done, a home library is your special oasis that needs to be decorated in such a way that it appears glamorous and comfy.
I have put forth this post that lists the top 40 home library ideas that would rock and inspire you to no limits. Some of these home library ideas take inspiration from old and traditional styles where wooden accents rule the roost. However, there are others that are more modern in their approach and lay stress on using different hues and textures to lend a touch of freshness. Do take a look and feel free to share!
1. Compact blue home library design
Image credit: decoist
2. Appealing home library with aesthetic beauty
Image credit: freshome
3. Innovative home library with comfy couch
Image credit: decoist
4. Awesome home library design with decorative shelving
Image credit: bloombety
5. Attractive dark wooden home library design ideas
Image credit: onekindesign
6. Elegant home library design with cool curtains
Image credit: ghar360
7. Light wall to wall wooden home library design
Image credit: huffingtonpost
8. Warm home library with trendy rug and draperies
Image credit: hpmirror
9. Rich red themed home library design
Image credit: hgtv
10. Trendy two tier home library ideas
Image credit: interiororiginal
11. Cozy home library design with a reading corner
Image credit: interiorgallerydesign
12. Classy home library design with furnishing
Image credit: flis.huc.edu.vn
13. Lively home library design
Image credit: houzz
14. Warm and cozy home library design with pendant light and mirror
Image credit: designswan
15. Dreamy staircase home library with bookshelves on the wall
Image credit: hybridsmaine
16. Eclectic blue home library design ideas
Image credit: furnishburnish
17. Spacious home library design with wooden flooring
Image credit: newchronology
18. Endearing home library with window seat
Image credit: designrulz
19. Trendy home library design with a lovely view of the garden
Image credit: home-designing
20. Dreamy small library design ideas
Image credit: hgtv
21. Modern beige home library design ideas
Image credit: blogspot
22. Interesting home library design with white open shelves
Image credit: designrulz
23. Appealing white lounge home library design
Image credit: newchronology
24. Amusing home library design
Image credit: qdlake
25. Delightful small home library with purple sofa and wooden floor
Image credit: kidlark
26. Cheerful bedroom small library design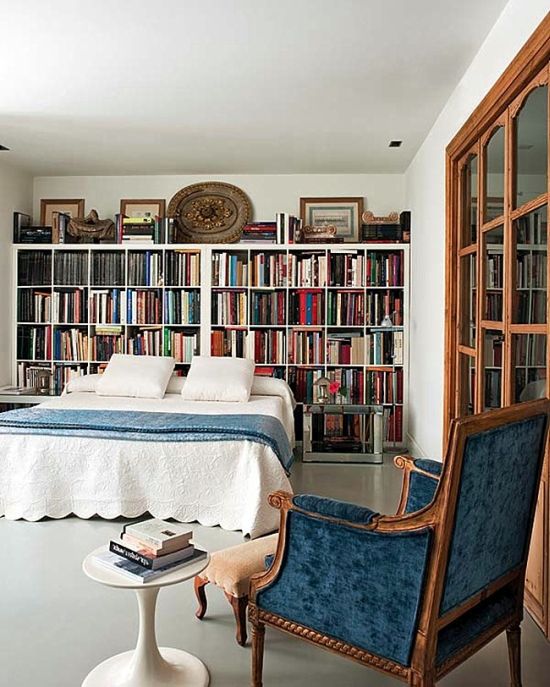 Image credit: your-home-design
27. Portable home library design ideas
Image credit: vingle
28. Refreshing white small library design with window seat
Image credit: homedepot
29. Classical home library design with vintage white wall bookcase
Image credit: gleamitup
30. Rustic home library design
Image credit: zillow
31. Cozy brown themed home library design ideas
Image credit: stylemotivation
32. Home library design with huge wooden cabinetry
Image credit: stylemotivation
33. Creative small home library design with impressive decoration
Image credit: kidlark
34. Bright home library with white cabinets and globes
Image credit: homedepot
35. Living room home library design with bookshelves and fireplace
Image credit: tapja
36. Cozy and compact home library design with mini shelves
Image credit: home-designing
37. Small home design with open kitchen
Image credit: hongkiat
38. Remarkable home library design with relaxing chair and wooden bookcase
Image credit: hybridsmaine
39. Enriching home library design with wooden bookcase
Image credit: freesharing
40. Jaw dropping wooden shelving home library with concrete wall and red sofa
Image credit: onekindesign