Gardens are the most rejuvenating and relaxing space in our homes. Hence, you would want to put in extra efforts in decorating this relaxing outdoor space with every beautiful piece of decorative material available. Gardens are a close representative of our Mother Nature. The nature lovers find their gardens a solace and themselves coming close to nature. For such nature lovers, we have here, the perfect garden decorating ideas. And what more would you want for decorating your gardens than rocks and stones. These two work up a perfect combo and decorative material for your garden. Let us go through some brilliant ideas you can make use of for your own personal heaven.
A pathway is a perfect and one of the most enchanting garden decorations that you can include in your home. It often reminds you of those old days where you might have walked the country roads in your childhood. You could use rocks and stones to create a pathway in your gardens. From a simple pathway to a complicated pathway with beautiful designs can prove to be quite attractive for your garden. For a pathway, you could also use innovative garden decor ideas and create stepping stones of different shapes such as a butterfly.
You could create a beautiful mosaic patterned butterflies for a cobbled pathway. You could paint the rocks or stones with different colors or use colored stones to create the butterfly designs. Create several butterflies along a single file and there you are with a cobbled pathway in your garden. You can also amp up the aesthetics of your backyard by installing fire tables for your garden that can make your evenings more cosy and warm. Fencing is another of creative and beautiful garden decorating ideas you can use in your home. Use a strong wire for creating fencing around your garden. However, you need to make sure that the strength of the wire is sufficient enough to hold the stones that you would be filling in between. This makes a great wire and stone fencing around your garden.
The height of the fence is better kept short for it might otherwise become a bit difficult to hold the rocks and stones you may fill in. Other garden decorations DIY style for you includes the wire and stone heart decoration. You can also have a wire and stone dining table in your garden, where you can enjoy an outdoor meal with friends and family. Another brilliant garden decor idea that you can use in your garden is to have stone markers.
If you have a garden where there are herbs and plants such as thyme or parsley, these stone markers may add a creative edge to the place. You can paint stones in attractive colors and names of the herbs or plants and place them besides the respective plants. You can also have a corner in your garden where you arrange the stones and rocks in a beautiful, unique pattern with names of your family members painted on them. Having water features made out of rocks and stones is also a common decoration idea that you can implement. Here, we have some 50 creative garden decorating ideas for you to sift through and implement in your garden.
1. Wire and Stone Garden Fence
Image Credit: architecturendesign
2. Butterfly Stepping Stones in Garden
Image Credit: prakticideas
3. Rock and Stone Garden Decorations
Image Credit: fabartdiy
4. Beautiful Spiral Rock Mosaic Pathway
Image Credit: architecturendesign
5. Amazing Rocks and Stone Garden Table
Image Credit: wonderfulengineering
6. Awesome Stone Flowerbed
Image Credit: zakustom
7. DIY Pebble Footsteps for Garden Decor
Image Credit: fabartdiy
8. Amazing Pot and Stones Garden Decor
Image Credit: creative-ads
9. Rocks with Family Names for Garden Decor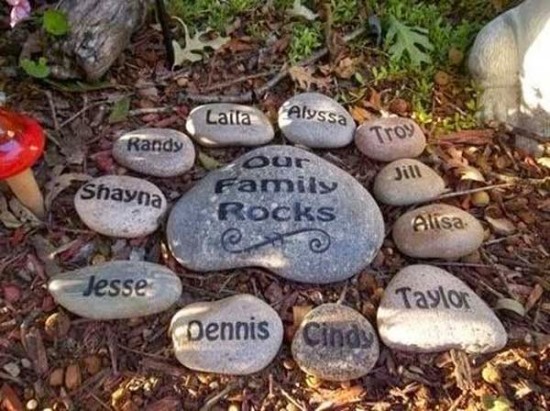 Image Credit: mokavilag
10. DIY Painted Beetle Rocks Garden Decor
Image Credit: pinimg
11. Painted Rock Beetles Tic Tac Toe Garden Decor
Image Credit: archiengi
12. Amazing Rocks and Stones Waterfall
Image Credit: homedisgin
13. DIY Cactus Painted Stones for Garden Decor
Image Credit: archiengi
14. Cute Stone Bird Houses
Image Credit: woohome
15. Beautiful Rock Backyard Garden Decoration
Image Credit: homeditorial
16. Beautiful Rocky Garden Flower Bed
Image Credit: lushome
17. Rocky Garden Pathway
Image Credit: ventgarden
18. Stone Moss Garden Flower Bed
Image Credit: homedisgin
19. Rock and Stone Outdoors Water Feature
Image Credit: homedisgin
20. Stone Fenced Garden Bed
Image Credit: oaktreelife
21. Rock Water Feature in the Garden
Image Credit: findoo
22. Marble Painted Rocks and Stones for Garden Decor
Image Credit: architecturendesign
23. Natural Black Stone Garden Decor
Image Credit: deavita
24. Garden Waterfall with Rocks and Stones
Image Credit: findoo
25. Flowerbed Surrounded with Lose Fencing of Rocks and Stones
Image Credit: advenaes
26. Small Rock Garden with Traditional Japanese Lantern
Image Credit: hzcdn
27. Backyard Waterfall with Rocks and Stones
Image Credit: findoo
28. Simple Garden Water Feature with Black Stones
Image Credit: homemydesign
29. Small Rock Garden with Blue Lamp
Image Credit: bluebeachdesign
30. Garden Decor with Rocks Painted as Snails
Image Credit: ruraldecor
31. Rocks Painted as Fishes for Garden Decor
Image Credit: zerodecor
32. Strawberry Rocks in a Pot Garden Decor
Image Credit: lushome
33. Animal Painted Rocks for Garden Decoration
Image Credit: pinimg
34. Pebbled Footsteps Garden Decoration
Image Credit: pinimg
35. Garden Decoration with Floral Painted Rocks
Image Credit: vk
36. Small Rock-Stone Garden
Image Credit: home-garden-decor
37. Stone Fire Pit Decoration in Garden
Image Credit: deivos
38. Traditional Japanese Rock Garden
Image Credit: prettyidle
39. Backyard Stone Water Fountain
Image Credit: fountainpictures
40. Amazing Stone Water Feature and Lamp
Image Credit: inesblank
41. Beautifully Laid Stone Pathway in Garden
Image Credit: inesblank
42. Small Stone Garden Water Feature with Blue Lighting
Image Credit: cahomepro
43. Bright Garden Painted Stone Markers
Image Credit: apeemotion
44. Modern Stone Garden Decorative
Image Credit: fanrto
45. Beautiful Rock Garden Design
Image Credit: bluebeachdesign
46. Garden Rock Concert
Image Credit: yourhouseandgarden
47. Flower Shaped Stepping Stones
Image Credit: smallhomedesignideas
48. Japanese White Stone Garden
Image Credit: shepparddoors
49. Beautiful Garden Decor with Rocks and Small Stone Basin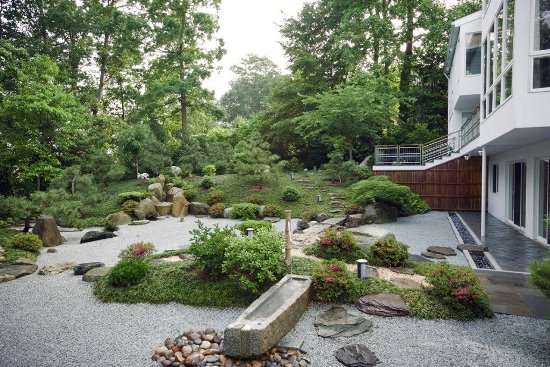 Image Credit: queendecor
50. Amazing Garden Stone Furniture
Image Credit: cheapdecorideas