I have designed a playroom for my son based on one of the themes featured in the playroom design ideas listed below. As a parent, I wanted to make my kid's play area unique and conducive to learning. Now that I have built it completely, I would like to share some cool playroom ideas with you today. Children spend a considerable time in their playrooms and hence, one must be very particular to decorate these spaces with apt color combos and features that promote learning and also encourage young minds to explore new ideas. When designing a kid's playroom, one can scout for various playroom design ideas but choose the one that suits your budget and the age of your kids. Look below to get inspired as I list the top 20 amazing kids playroom ideas.
1. Fascinating playroom for kids
The playroom in the picture looks like a scene from some magical kingdom that is full of colors splashed all around. The play area looks like a powerhouse of energy where your kids would get a refreshing change once they are back from school. There are a number of colors adorning the play room like blue, green, white, yellow and red that successfully add cheerfulness around every nook and corner. The highlight of this play area would be the huge wall designed with a lovely scenery of a green landscape with a bright sun shining away to glory!
Image credit: bhuto
2. Cool kid's playroom with rattan storage solutions
Most often we tend to ignore our children's play rooms that are usually seen cluttered and very haphazardly designed. But, now with modern playroom design ideas, all parents can aspire to bring in some fresh changes to the decor and style of these play areas. Seen here is a neat and clean play area for kids that looks crisp and very organized with a white shelved cabinet that houses many rattan baskets for storing a vast number of kiddo things like toys and books.
Image credit: bomeng
3. Farmer's market themed playroom for kids
This playroom by Pottery Barn Kids suites such families that have young girls as the decor looks very girly and there are accessories featured that are loved by young girls. The theme displayed is that of a market where farmers sell their organic stuff to buyers. There are fake fruits and veggies stored in baskets with prices marked on them. The outer frame of the shop is made of wood with a pink fabric put on top as the covering. Behind the counter is a kitchen displayed where girls can play with various kitchen items like the fridge, washing machine and a sink for washing hands. There are various beige colored baskets arranged for storing toys and other items.
Image credit: decoholic
4. Vibrant playroom for kids with artwork on the walls
Most of the times, parents, after a look at their kid's school art and crafts work decide to keep them stored in drawers or children tend to damage these when the craze to show off their arts to parents wards off. But, with this cool kids playroom idea as shown below, you would thank your lucky stars that your kid's arts can now be displayed full on for the guests to appreciate and you to feel elated. The wall of this amazing playroom has been adorned with art work of children against the white backdrop of the wall. Apart from this, there are two alphabets shaped shelves plastered for keeping things.
Image credit:decoist
5. Bright sunny playroom for kids
A bright sunny playroom spreads cheer and joy instantly as the color yellow freshens up the minds and looks attractive too. A young kid prefers such tones that are bright and makes him or her feel eclectic and energized. Instead of splashing the walls and accessories with too much of darker tones like maroons and deep purples, one must paint the walls of the play room with bright yellow color. The playroom here appears vibrant and quite the perfect little space for young minds to learn and study. The walls, study table and the cabinets are all painted in yellow. The wall in front of the study space is imprinted with numbers and letters for easy and fast learning.
Image credit: wordpress
6. Fun playroom for kids with Bubble hanging chair
Playrooms are important spaces where your kids learn new innovative things and hence these must be properly designed with effective and comfy seating. When you wish to give a fun element to your child's playroom, there are many playroom design ideas that you can take help from and select the best seating options that you can afford. The bubble chairs hung from the ceiling of this play area are made of transparent glass and lend a sporty look to the whole decor.
Image credit: decorpad
7. Cute playroom design ideas with hut hut chairs
Hut hut chairs look cute and are just perfect for such families that have young toddlers that would love to rock these chairs while listening to a nursery rhyme or a story. These chairs come in various geometrical shapes that lend these a unique look. In the picture is a playroom anchored with yellow, red, pink and blue hut hut chairs that add cheerfulness to the whole interior.
Image credit: nicedecors
8. Compact playroom design ideas for kids
If your child's playroom is a small one and you need to lend it a clean and crisp look, you need to get rid of any clutter first of all. The playroom in the image is a small space with two open white cabinets to store multiple objects needed by your kid. At the center is anchored a small low table in blue along with small colorful chairs, suitable for young toddlers. For their computer lessons, there is a computer placed on the table in the middle of the white cabinet by IKEA.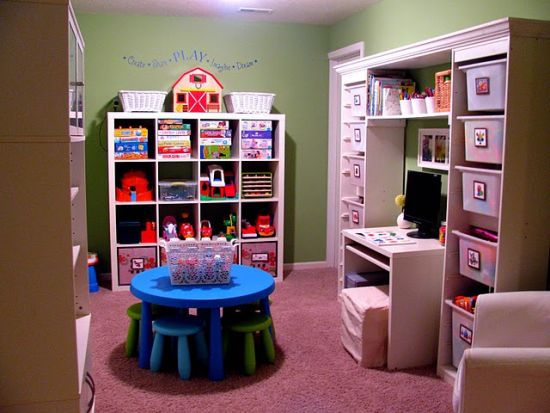 Image credit: aperfectplayroom
9. Sporty playroom for kids with ABC wall
A very fun and cheerful playroom, this play area is a classic example of how a typical playroom for kids should be. The highlight in this room is the ABC wall that can serve as a great learning tool for young toddlers. Also, there is a bright colored futon placed for comfy seating. The playroom looks neat, courtesy the white IKEA Expedit cabinet that is kid friendly and can be used for storing smaller toys. The train and the Lego table anchored also lend a fun element. For boys, there is the cute motorcycle rocker seen placed for some fun and frolic.
Image credit: thrive360living
10. Colorful playroom for kids with Panton chairs
A playroom is a place that is meant for having fun and is also a place where a child learns many new concepts every day. As such, these rooms must be adorned with such colors that look bright and add a warm look for your kids to feel energized and happy. The playroom in the image is colorful with bright red Panton chairs placed around the table where kids can keep their toys and other things. To match the red color palette, there is a bright carpet spread for an added cheerful look.
Image credit: furnikidz
11. Unique playroom for kids with swing and slide
There is not a single kid in this world that doesn't like to play on swings and slides. How would you feel if you could design the playroom of your kids in such a way that ensured non stop fun and spread cheerfulness all the time? Well, take the help of playroom ideas for kids, specially the one seen below. With a bright yellow slide and a blue swing attached from the ceiling, the play area seems to be full of positive energy and is just perfect for young kids. On the wall is printed the motif of mickey mouse and there is a yellow open shelving fitted for storing toys and books.
Image credit: buncee
12. Eclectic playroom for kids with stylish seating
If you have a playroom that needs to be re designed, you must look at the image below that would inspire you to use some bold color patterns to make the play area as cheerful and neat as the one here. The owners have provided for comfy seating by placing two IKEA Expedit shelves with cushions placed on top. This seater would allow all the family members to congregate and have some intimate moments together. Also seen is a knitted pouf and a red chair placed in front of the blue table. The blue and white patterned textured wall adds to the freshness and makes one happy to spend time here.
Image credit: modernparentsmessykids
13. Modern kid playroom design with Lego theme
Lego themed playroom ideas for kids are always loved by parents whose children are crazy behind this world famous brand that has acted as a catalyst for bringing a total change in the way toys are made these days. Seen below is a Lego inspired playroom that has this brand displayed almost everywhere, right from the walls, pillows, a chair with Lego shape and the loft bed housing a cabinet themed around Lego. The best part about using Lego is that all accessories can be removed to suit your needs that may keep changing.
Image credit: furnikidz
14. Budget friendly colorful playroom for kids
You can invest very little and still get accolades for doing a perfect job at designing your child's playroom by fitting many accessories that cost less such as the two IKEA Expedit cabinets that are seen anchored in this budget friendly play area for kids. Taking very little space, these units help in storing toys and books. Another unique idea thought by the designer was to buy an additional unit and use it as a window seat. This helps in offering extra seating together with the blue colored couch. The wall behind the cabinets is colored using chalkboard paint that allows kids to scribble their daily notes over it. The beautiful lacquered tables are used for playing or doing crafts work and these are quite durable and cheap.
Image credit: projectnursery
15. Vintage playroom design ideas for kids
The whole decor of this playroom seems like its been inspired from a classroom play area for small kids, but the look is very vintage and simply perfect for toddlers to learn new concepts. The whole classroom decor would definitely help any kid to become more organized. The wooden table anchored in the middle offers a large surface for doing crafts work.
Image credit: roomzaar
16. Remarkable playroom ideas for kids
The playroom in the image looks glamorous and very colorful with the center of attention being focused on the long window seats fitted in front of the majestic oval windows in white. The space is huge for kids to play around and is fitted with a wooden flooring, a study table with drawers to store books and other stationary. The table is quite large for two kids to sit on the computer and do some studies. The window seats are quite colorful and add a sparkle of style inside. The canopy over the windows looks ornamental with an eclectic wall shading that appears as if colorful draperies have been hung for beautification. With bright lighting and cloudy ceiling, the playroom fits perfectly in our list of modern playroom design ideas for kids.
Image credit: mydecorideas
17. Futuristic playroom ideas for kids
Which kid on earth wouldn't want to have a playroom as the one we see below that looks futuristic in every way? The design of the kid's playroom is inspired from contemporary playroom design ideas that take inspiration from geometrical shapes that lend an asymmetrical look to the whole decor. The white themed kid's playroom features wall to wall open white cabinet with shelves to store books, toys, magazines and all possible objects used by kids. There is a unique roundel seater cum storage furniture piece where children can sit and talk for hours. All the accessories are mostly roundel and add a distinct style to the play area.
Image credit: wordpress
18. Nautical playroom design ideas for kids
Nautical theme is much adored by both young boys and girls as these look wonderful and make young minds cool and composed. Children love the concept of the mighty blue ocean and the top favorites are the ships and lighthouses that always find a place in their bedrooms or play areas. The nautical themed play room seen here seems to give life to an actual oceanic scene with pieces of furniture resembling a ship and a lighthouse. These furniture are made from wood and look good. The flooring and the walls too are painted to resemble a sandy beach with sandy waves hitting the shores softly.
Image credit: decoholic
19. Beautiful IKEA playroom idea for kids
The playroom seen in the image takes its inspiration from the innovative playroom design ideas for kids and looks very neat and properly organized in every way. The playroom is a part of the kid's bedroom and hence, there wasn't any choice to keep the study or activity table against the wall as a bed is already occupying that space. What the owners have done is that they have placed the table in the middle of the room for kids to enjoy their play time. On top of it is hung a blue hanging light fixture with clouds that offers good lighting.
Image credit: decoist
20. Amazing kid's playroom design ideas
Oh what a lovely looking playroom for kiddos! Yes, the design of the playroom is festive with attractive color palette to be seen everywhere. The beauty of this room seems to come alive with the beautiful wooden house inspired bunk bed and the red polka dotted mushrooms seen installed right in front of the bed. The table and chair are located at a convenient corner and there is a smart swing built with vines.
Image credit: bomeng
Playrooms are not just places for playing but also for education and learning. One can try out any of the listed playroom design ideas and see whether their kids love these designs or not. Some of these playroom ideas are cheaper while others may need you to shell a little bit more of money. There are enough options for customers when they start looking out for designing their playrooms like the ones shown above. Look at these carefully and choose wisely.