Medieval furniture reflects the characteristics and features that were prevalent in Europe during the 15th century. Today, we will showcase the most stunning medieval bedroom furniture that will make you fall in love with Gothic style. A majority of these pieces lend a rustic touch to your bed chamber's decor. Some may appear more intricate while others look simple and minimalist.
Stunning Medieval Furniture for bedrooms – canopy beds
When speaking of medieval bedroom furniture, canopy beds cannot be ignored. This is so because the bed chambers of Medieval times usually included a cabinet, cupboard, chester drawer, a pillow, and a canopy bed. A canopy bed was a typical furniture piece in a medieval bedroom. It was covered on all sides from drapes and curtains or pillars. Look at some of these fabulous canopy beds in different make and styles.
Image Credit: envyfurniture
Image Credit: rilane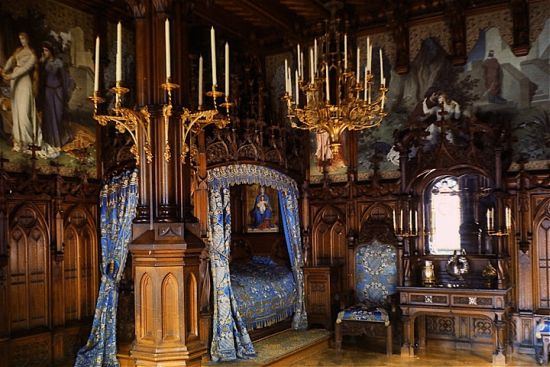 Image Credit: glubdubs
Image Credit: kellenowenby
Gorgeous Medieval Bedroom furniture – seating
The pictures below are of stunning looking furniture meant for sitting and relaxing. A medieval bedroom looks rustic and very masculine. But, it doesn't mean that you cannot decorate it up with a feminine touch and elements. From high medieval chairs, sofas to stools, here you will get a lot of ideas. From wooden finished chairs or sofa sets, to iron made arched chairs, the choice is vast.
Image Credit: imgur
Image Credit: medievalaccommodation
Image Credit: creativcastle
Image Credit: pinimg
Image Credit: woodlandslifestylesandhomes
Image Credit: italianrenaissanceresources
Medieval Furniture for bedrooms – tables
Here we are showcasing such medieval furniture that will offer you choices that suit every budget and taste. The tables formed a very crucial part of a bedroom in the middle ages. It was on a table that medieval people did important tasks like writing, keeping documents and other decorative things. Tables in middle ages were typically formed out of wood or even metal. Some of these table designs are simple, while others are ornate.
Image Credit: shippingcontainerhomesideas
Image Credit: linkshop
Image Credit: yandex
\
Image Credit: homedit
Image Credit: eldonwalls
Attractive Medieval Furniture – vanity sets
You can create your very own medieval bedroom by buying vanity sets like those shown here. A vanity is a woman's most intimate piece of furniture placed in her boudoir. It is where she dresses up and spends some quite time appreciating her beauty. The vanity sets in the medieval times were built ornately with oval or arched mirrors. These also had several drawers for keeping a number of things. Take your pick from any one of these stunning vanity sets as all are exquisite!
Image Credit: eldonwalls
Image Credit: furniturevictorian
Image Credit: photobucket
Image Credit: iconhomedesign
Image Credit: 1stdibscdn
Beautiful Medieval Bedroom Furniture – bed frames
Bed frames form an essential part of medieval bedroom furniture. Frames in medieval times usually were made of wood or metal, like iron. Some of the frames had a simple facade, while others had a more carved decor on the body. Colors ranged between light and dark. Some of these bed frames have metallic rings in circular shapes. Take a look and choose the one that best suits your room's decor.
Image Credit: pinimg
Image Credit: sandiegorustic
Image Credit: bernadettelivingston
Image Credit: sandiegorustic
Image Credit: spwironworks
Image Credit: interiordesignfuture
Image Credit: eastsidehomelink
Exquisite Medieval Furniture – cupboards
Medieval furniture such as cupboards and wardrobes play a crucial part in lending a Gothic touch to a bedroom. Cupboards with Gothic touch look very stylish and a bit rustic. These may have a simple outer structure, or can have carvings. Below we have covered both the types of cupboards, simple and ornamental. The cupboards can be of varying shapes, small or big.
Image Credit: 1stdibscdn
Image Credit: pinimg
Image Credit: antiquesatlas
Medieval Bedroom Furniture – A Look At Some Stunning Medieval Bedroom Furniture Pieces
If you really want to have a look at awesome medieval bedroom furniture, then go ahead and scroll down. We have presented a few gorgeous looking furniture pieces like chester drawers, beds, cabinets, bench and table. All these pieces are typically Medieval in style and border on rustic lines. Some furniture out of these were meant for kings while others were used by villagers and common folks.
Image Credit: blogspot
Image Credit: stuffforsims3
Image Credit: blogspot
Image Credit: wordpress
Image Credit: staticflickr
There is a unique charm about a Medieval bedroom that cannot be compared with other styles. When you plan to decorate your boudoir with Medieval accents, be sure to choose rustic looking furniture pieces like those shown above. These pieces can look simple, or can be gorgeously crafted with carvings and Gothic decorations. In case you have any more ideas on medieval furniture, do come back with your comments!