When it comes to decorating bathrooms, most of us think of ways to make the most out of the available space. This is where corner bathroom cabinets come in handy. Smart homeowners make sure that their bathroom furniture is both decorative and functional. It should be roomy enough to store toiletries, towels, and medicines. Its color and style should complement the bathroom design. Luckily, there are many styles and colors found in the market these days. Here are some of the best corner cabinets for your bathroom, which can also be found on Bellabathrooms.
1. Bathroom Sink Cabinet
When decorating a small space, you have to choose multi-purpose furniture like this bathroom sink cabinet. Opt for a piece that matches the color of the rest of the bathroom, but make sure it has a pop of color like this particular piece. With this color scheme, it will be very easy to find matching decorative items like a framed artwork, a potted plant, or a rug.
Image Credit: GoHomeDesign
2. Wooden Shelves
Bathroom shelves make sure that bathroom essentials are within your arm's reach. To keep clutter at bay, half-empty shampoo bottles, soaps, and loofahs can be placed in one shelf while unopened products can be stored in another. Wooden shelves like this one is light and portable so you can place it anywhere you want. If you prefer to have a modern-looking bathroom, you can use shelves made of chrome glass or stainless steel.
Image Credit: OfferAny
3. Modern Glossy Bathroom Cabinet
There are many bathroom storage cabinets created for modern style bathrooms. A glossy cabinet will make an interesting focal point in your bathroom. Visitors will be amazed at the sleek design of this curved tall cabinet. Don't let the design fool you, though. This piece is both beautiful and functional as it can store all your bathroom essentials.
Image Credit: DesignerBathroomConcepts
4. Mirror Cabinet
Rather than letting cobwebs take the corner space of your bathroom, install a stainless steel mirror cabinet instead. Having this kind of cabinet in your bathroom provides a lot of advantage. Vanity cabinets like this can store your cosmetics and beauty essentials. It can also be used as a medicine cabinet to keep your first-aid kit ready.
Image Credit: SignatureHardware
5. Bathroom Furniture Set
If your bathroom wall has a bold color, the safest thing to do is choose bathroom vanity cabinets in shades of white. It will make the bathroom look very elegant. To maximize space, place a cabinet above the toilet. It is best to find a bathroom furniture set to keep everything uniform. This will keep your bathroom looking spic and span.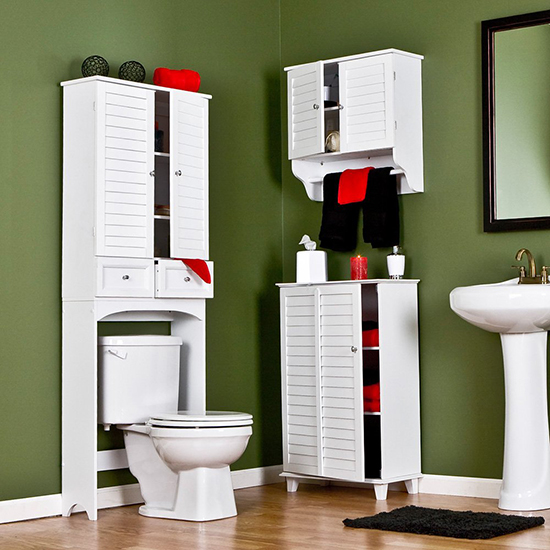 Image Credit: HomenHome
6. Art Nouveau Corner Cabinet
You can make a small bathroom look like it belongs to a European palace. Fill an antique wooden shelf with your bathroom essentials and throw in some decorative pieces like a doily and a charming mirror. Make sure that your bathroom fixtures like the faucet and towel rack is also made of antique gold to keep that 19th century vibe.
Image Credit: MiniCuriosCabinet
7. Vintage Bathroom Glass Cabinet
Vintage furniture adds a lot of character to a room. This pastel green cabinet takes that role in this cute bathroom. At a single glance, one can easily guess this belongs to someone who knows how to make a room stand out just with the help of a single furniture piece. The use of baskets makes it look more organized.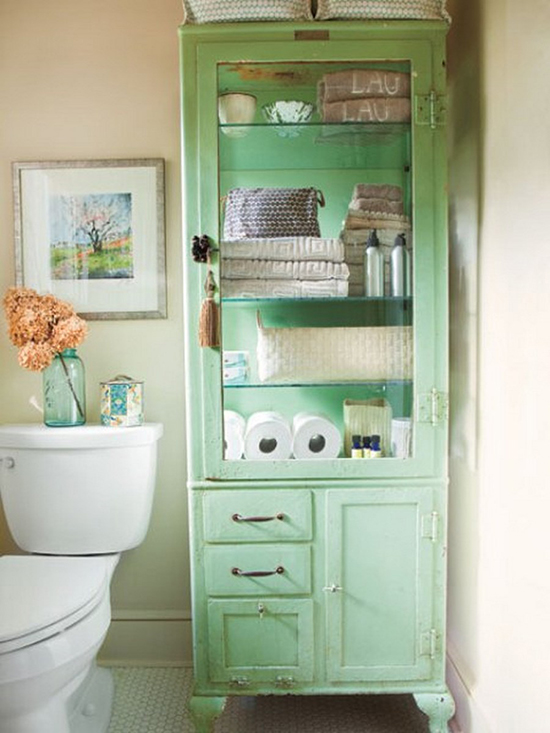 Image Credit: Rilane
8. Built-in Corner Cabinet
A built-in corner cabinet that sits on the counter-top fills the awkward angle in this bathroom design. This helps you get rid of a problematic corner space. This style will give you lots of storage space in your bathroom.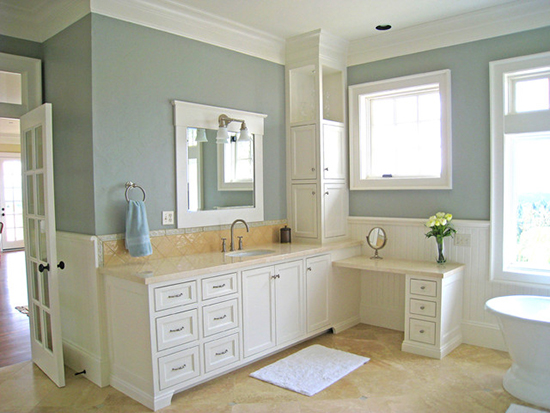 Image Credit: Hado
9. Double Sink Bathroom Vanity Cabinets
A double sink is perfect for couples who lead busy lives. This will make getting ready hassle-free. You will not get in each others way. The white color is clean and soothing so it keeps you calm amidst the morning frenzy.
Image Credit: WDeck
10. White Stand Alone Cabinet
The secret to having an interesting bathroom décor is to inject a pop of color. A white stand alone cabinet will become striking when paired with an attractive gingham curtain in a vibrant color. To avoid the clashing of colors, make sure that your walls are plain and light colored.
Image Credit: MagOfYoga
11. Chestnut Corner Cabinet
There are a lot of reasons homeowners prefer furniture pieces made of chestnut wood. One of the most desirable qualities of chestnut bathroom storage cabinets is its durability. They will not show signs of wear and tear even after years of heavy usage. The shiny finish of chestnut furniture makes them versatile. They can be used both in a classic or modern bathroom design.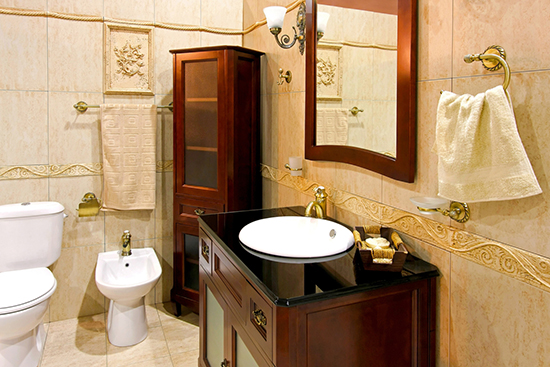 Image Credit: TennesseeHomes
12. Corner Floor Cabinet
If your bathroom has limited space, large furniture can make it look even more cramped. In cases like this, you should stick to small pieces. A corner floor cabinet will have enough space for your toiletries and a few towels. You can use the top to hold everyday essentials like shampoo, soap, or bath salts.
Image Credit: Overstock
13. Clover Motif Slim Cabinet
A lot of people, especially the Irish, believe that a four-leaf clover brings good luck. There is no scientific evidence to that, but what we are sure about is that this furniture piece will bring beauty to your bathroom. It has four shelves that can store enough items to keep your bathroom tidy.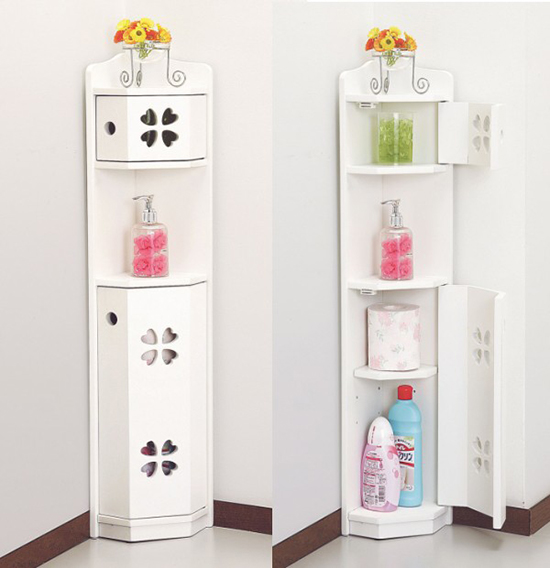 Image Credit: Rakuten
14. Open Shelf Bathroom Cabinet
Open shelf bathroom cabinets make a great decorative piece. Folded towels, liquid soaps in decorative bottles, and potted plants can complete the squeaky-clean look of your bathroom. Add other decors of the same color to keep your bathroom looking neat.
Image Credit: evemvp
15. Recycled Rustic Wooden Barrel Cabinet
A rustic style bathroom provides a warm, homey feeling. It is a popular trend in bathroom design these days. Remember to keep things simple if you want to have a classy yet stunning bathroom. A single piece of furniture like this wooden barrel turned into cabinet is enough to make a powerful impression.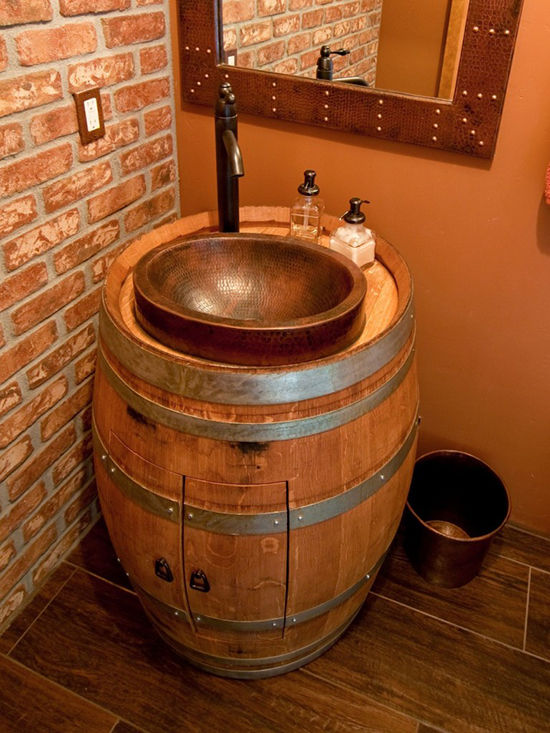 Image Credit: cqzdjygl
In home décor, it is important to keep every area free from clutter. This is especially true when it comes to bathrooms. An untidy bathroom will fail to make you feel clean even after a long shower. The best way to avoid clutter in your bathroom is to use corner cabinets similar to the ones mentioned above.
Bathroom furniture comes in different colors, designs, and materials. This makes it easy for homeowners and decorators to find the piece that will go perfectly with their bathroom design. Which one of these caught your fancy?