Thinking of remodeling your bathrooms but have limited funds? Does the fact that you have a restricted space deter you from having both a bath tub and a shower? Have you run out of bathroom ideas? The answer to these questions is usually a bathtub and shower combo. Apart from saving you quite a few quid, this kind of bath model is great for boosting the retail value of your home! It gives the homeowners the added benefit of having both things in one place and a freedom to choose either one or both options. "In most cases, almost overwhelmingly it is beneficial to get a bathroom remodel done before selling a home," VIP Realty said.
Often people are unsure how they can use such a combination to make their bathrooms look more aesthetically appealing. A bath tub is a wonderful way of undulating after a day's hard work. Similarly if you are pressed for time a quick shower can save you a great deal of hassle. Choose whichever way of bathing appeals to you. Choose whichever way of bathing appeals to you. Below are some great bathtubs and shower ideas by Musedesign.
1. Contemporary Marble Bathtub And Shower
This contemporary styled bathroom with a bathtubs and glass shower doors looks beautiful and evokes a look of complete elegance and beauty. If you are the kind of person who likes things serene and relaxing then this bathroom idea is ideal for you. With its spa like beauty this bathtub and shower combo is the ultimate in modern luxury!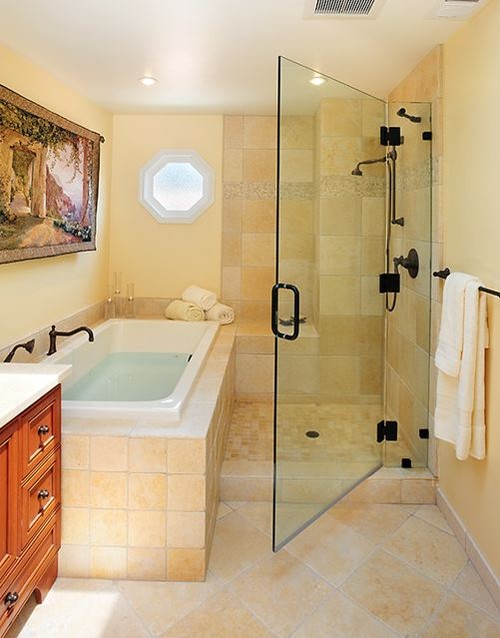 Image Credit: houzz
2. Compact Elegant White Tiled Bathtub And Shower Combo
Those who have a limited space could greatly benefit from this bathtub idea. The classic white tiles add a touch of simplicity and elegance. Such a bathroom looks soothing and is easy on the eyes. It's a wonderful bathtub to unwind after a hard day's work or a quick shower before work in the morning.
Image Credit: homedecoration-ideas
3. Luxurious Double Shower-head Black Tiled Bathtub And Shower Idea
For those who are in a mood to splurge this extremely sophisticated bathtub and shower combo would be a great option. For luxury lovers who also want the comfort of having two shower-heads so that you can have a nice relaxing shower with your better half every day before going to work, this provides the ultimate solution.
Image Credit: houzz
4. Overhead Shower And Freestanding Bathtub Idea
This simply yet classic look evokes memories of an era long gone, when a woman's small yet compact bathroom would be stamped with her signature style. Think 1920's classic chic, for a woman who's a lover of this bygone era of the Great Gatsby this bathtub idea is a great choice.
Image Credit: zubujk
5. Victorian Bathtub And Overhead Shower
This sophisticated and traditional clawed bathtub evokes images of Victorian England. The silver clawed and royal blue bathtub is a beautiful combination and is minimalism and simplicity at its best.
Image Credit: homeklondike
6. Glass Paneled Tub And Shower
This magnificent and opulent tub and shower design with stone bricks styled wall is the ultimate in luxury. For those looking to indulge in the extravagance and comfort this would be a great bathtub idea.
Image Credit: ccio
7. Sophisticated Acrylic Bathtub And Shower Combo
This simple yet basic space saving design in an otherwise spacious bathroom gives the homeowner the added benefit of placing their vanity in the bathroom as well. So you don't only take a nice hot bath in the shower, during the colder months you can enjoy having your makeup done in front of the vanity present in the bathroom.
Image Credit: wordpress
8. Ultimate Luxurious Bathtub And Shower Combo
For the luxury lovers who want the convenience of a spa and hundreds of rivulets of water caressing their back, this is the best bathtub and shower idea. You can turn on the overhead shower and also luxuriate in the bathtub while you get the most wonderful aquatic massage!
Image Credit: ccio
9. Corner Bathtub And Shower Idea
For those who want to make the most of corner spaces this bathtub idea is a great option. Its compact look gives your bathroom a nice and alluring touch. It's something very basic yet aesthetically appealing too.
Image Credit: pinimg
10. Opulent and Luxurious Bath Tub and Shower
The white tub and its gold clawed feet evokes the feeling of ultimate opulence, for those willing to spare no stone unturned in their search of magnificence. This is a truly blissful shower idea.
Image Credit: evemvp
11. A Truly Unique Shower And Bathtub Idea
With the wooden panels on the ceiling and the completely contrasted white bath tub, such a bathroom is a vivid contrast which looks like a cross between the western style and the ultimate modern chic. For those who like juxtapositions such as these this bathroom idea is an ideal choice.
Image Credit: decoist
12. Ultra Modern Shower And Bathtub Combo
Think modern and all things futuristic, this bathtub and shower is fantastic to look at and also completely innovative. For those who believe in all things ultra modern this is a great bathtub idea.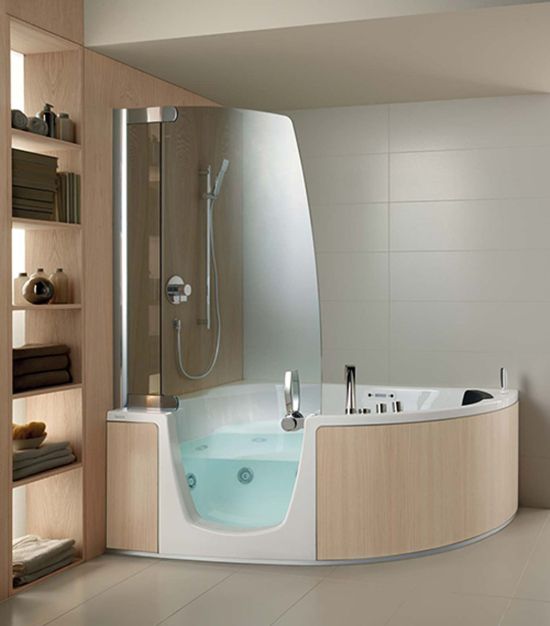 Image Credit: bwjags
13. Rectangular Bathtub And Shower Combo
A truly geometric genius this bathtub and shower combo with its rectangular design is simplistic yet elegant. For those who look for convenience, starkness and something totally unfussy, this is a wonderful bathroom idea.
Image Credit: archiexpo
14. Cornered Bathtub and Shower Combo
A cornered bathtub and shower combo in this roomy bathroom gives an image of a large and airy space, one where a woman can even perform her daily beauty regime. The large mirrors complement the stark white walls and evoke a sense of sophisticated grace!
Image Credit: yarnsons
15. Divine And Beautiful Bathtub And Shower Combo
This contemporary bathtub and shower combo is an ultimate in every man or woman's romantic idea of a perfect bathing area. The lovely tiles in the bathroom and modernistic overhead chandelier add a touch of ethereal beauty and class to this opulent bathroom.
Image Credit: houzz
16. Modern Bathtub with Rain Shower and Clear Glass Partition
Since it's important to have a bathroom where one can relax or have a leisurely bath it is essential that you choose bathroom ideas and designs which appeal to you. Most of the time you also have to keep the budget and the space factor in mind. The above are some of the best bathroom ideas and would definitely tempt even the most finicky home owners! If you need a bathroom remodeler, please click this site.