A big jacuzzi, wine glasses kept on a mini table, scented body wash and lukewarm water running down the tap; is that your idea of a luxurious bathroom? If yes, have you seen how immaculate and gorgeous floors and walls such bathrooms have? Tiled with beautiful patterns, modish styles and elegant colors in all the right places, such is the look of a plush bathroom. Known as Mosaic Tiles, these are the most preferred ones that people pick these days in order to decorate their interiors, especially bathrooms.
The finest mosaic bathroom ideas are laid down here for you. Make use of these to make your bathroom the one you've always yearned to have. Check out some of the cool ideas below:
1. Beige Mosaic Tiled Bathroom
Using beige tiles in combination with the white ones is an amazing way to give one's bathroom an elegant look. Accessorizing with right kind of lighting is a must to complete the look while using beige and white mosaic tiles. Pick a contrast shade of floor tiles to add more style to the look of the bathroom.
Image Credit: homedesignlover
2. Aqua Mist Tiled Bathroom
Blue and turquoise make great colors to use for setting up a bathroom. If you have got sanitary fitting in shades like white, ivory or grey, you can make use of two shades of blue mosaic tiles. Blue and its hues not only make the space look bigger, but also they go exactly with the idea of interior decorating a bathroom.
Image Credit: trendzona
3. Funky Floral Mosaic Bathroom
For imparting a rustic yet elegant look, you can choose a set of mosaic tiles for your bathroom which feature a shiny floral pattern on a solid dark base maybe. Using golden and maroon together as depicted in this image below is also a wonderful idea to implement.
Image Credit: houzz
4. Dreamy Marine Mosaic Tiled Bathroom
Do you love diving underwater? If yes, this Dreamy Marine Mosaic Tiled Bathroom is something you will fall in love with. With walls and floors created with the finest shades of blue, going in for something like this is a great way to beautify your bathroom.
Image Credit: homedesignlover
5. Silver Square Mosaic Tiled Bathroom
Want a shiny yet immaculate bathroom? Why not pick some mosaic tile ideas in golden or silver. These colors look good on tiles with small square or polka dot pattern. Choose silver square mosaic tiles for the walls, while pick white ones for the floor.
Image Credit: vanityvancouver
6. Quirky Abstract Mosaic Tiled Bathroom
Quirky yet elegant, you can use tiles with graffiti-like patterns to make your bathroom look fantastic. In combination with white, using blue graffiti mosaic tiles is a brilliant idea to pick.
Image Credit: visasignaturehotels
7. Golden Glaze Tiled Bathroom
Combine golden and white together; you'll be amazed at the way your bathroom will start radiating its grandiose facade. Using yellow lights with the golden tiles, will bring out its look even more. This is one of the best mosaic bathroom ideas to use.
Image Credit: cenozoico
8. Go Monochrome Mosaic Tiled Bathroom
Which color combination other than black and white can give your bathroom a modern yet minimal look? Without going in for anything flashy, you can use a wonderful monochromatic pattern for your bathroom. Get a black bathing tub and use white mosaic tiles on the walls. For the floors, you can pick another stylish combination of two.
Image Credit: bubaraba
9. Victorian style Mosaic Bathroom
If you've been looking for bathroom tile ideas which reflect the shades of an ancient era, your hunt just ended here. Give your bathroom a Victorian look by using mosaic tiles on the floor. Leave the walls simple but don't forget to bring in an antique-looking bathtub.
Image Credit: shokoa
10. Contrasting Mosaic Bathroom
This is a budget-friendly bathroom idea. If you don't want to spend lavishly yet a decent-looking bathroom is what you want for your home, go for a subtle pattern of mosaic tiles and combine them with the brown ones for the floors. Without spending more money and frying your brains, you'll get a smartly-designed bathroom with this.
Image Credit: cenozoico
11. Fiery Dragon Mosaic Bathroom
Give your bathroom a dramatic look, with an idea like this. All you need to do is, pick a tiled bathtub and set it up in the middle of walls tiled with red and white mosaics. Its a unique thing which you can do while refurbishing or designing your bathroom.
Image Credit: bubaraba
12. Pink Rosette Mosaic Tiled Bathroom
Make your bathroom look like it has jumped out from a fairy tale right now with the Pink Rosette mosaic tiles. Use these with pink floor tiles and go for white basins and bathing tub.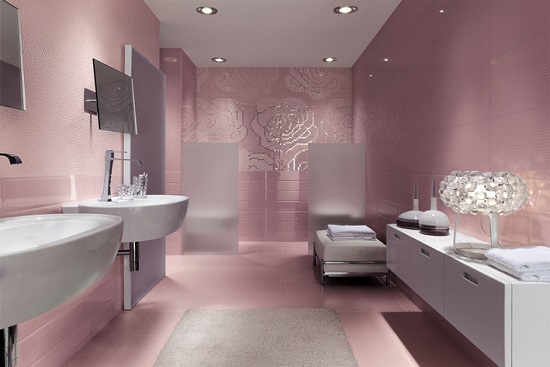 Image Credit: bilvil
13. Sweet Spring Mosaic Bathroom
Just a touch of floral magic to your otherwise white bathroom, that's what the Sweet Spring Mosaic bathroom is all about. Dedicate a wall to the floral tiles while keep the others simple to get this kind of a bathroom.
Image Credit: bilvil
14. Pink and Black Funky Mosaic Tiled Bathroom
Pink, black and white floral tiles together; now that's what you would want in order to add, both spunk and class to your bathroom. Its a funky mosaic tile idea which you must try getting done, if it suits your taste.
Image Credit: digsdigs
15. Classic Beige Mosaic Bathroom
Perfect for the elderly members of the family, the Classic Beige Mosaic Bathroom idea features use of beige and brown mosaic tiles with walls painted in similar shades. Use a plain black pattern somewhere to bring out the look even more.
Image Credit: larcade
16. Blue Dew Mosaic Tiled Bathroom
Give your bathroom a dew-kissed look by using this stylish mosaic tile idea for it. You can use it in combination with white and blue floor tiles to bring out the magic of fresh morning feeling into your bathroom.
Image Credit: decoholic
17. Modish White and Grey Bathroom
Combine some abstract mosaic wall tiles with white and grey ones for the floor to impart an eclectic look to your bathroom. It is a brilliant one to go for. Such bathroom tile ideas are quite a rage these days.
Image Credit: bathshop321
18. Floral Breeze Mosaic Bathroom
For giving a whimsical look to your bathroom, use floral mosaic tiles in a mint-shade. Mosaic tiles with murals are also a trend which is on the rise these days.
Image Credit: houzz
While decorating your house, make sure that you don't miss the bathroom. Pick this amazing list as your guide for working on the interiors of the bathroom. Take a look at the stores where you can find mosaic tiles and let your imagination work around these!