20 Eclectic Red Master Bedroom Design Ideas
Master bedrooms must look stunning always, and what better way than to style them up using red accents? Well, the color red is a symbol of love and raw passion and your bedrooms too must exude these feelings when you come over to rest and relax with your partner. Come take a look at the top 20 master bedroom design ideas that will surprise you!
1. Asian Eclectic Master Bedroom Design
The interiors of this master bedroom have been themed on color red, a very rich and warm shade that adds passion and warmth. From walls that have been painted in rich red to the antique furniture in deep brown, the bedroom looks very artistic. The whole look of this bedroom has been inspired from Master bedroom design ideas that are available on the net and offer some amazing master bedroom ideas. To offer a balance to the masculine look, the owners have used a headboard panel that is made of smooth Thai silk fabric and adds a softer touch.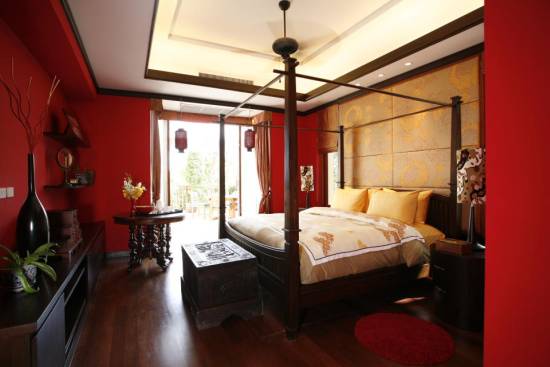 Image Credit : designshuffle
2. Rich red master bedroom with upholstered bed
With some cool and classy features added in this amazingly decorated master bedroom like bright and rich red color palette used all over on the walls, on the bed and a padded headboard that offers a comfy rest to the back and head, the master bedroom looks stoning and is fit to be resided by people with royal tastes. To enhance its rich look, a beautiful chandelier and a mirror with a stylish frame is installed.
Image Credit : hgtvhome
3. Extraordinary Red Master Bedroom
The master bedroom seen in the image looks a stunner with bold red used to offer contrast to the white painted walls, ceiling and dark wooden flooring. The white modern painting or art work fitted on the red wall looks stylish and enhances the rich appearance even more. Such a master bedroom design is simple yet lends a stylish touch to the interiors.
Image Credit : peceotelo
4. Innovative red master bedroom
This master bedroom seen below is a good example of modern interior design with a perfect contrasting effect generated by shining white floor and rich red colored walls behind the bed. The headboard in darker tones adds style to the glossy flooring and the white pillows arranged look amazingly soothing to the eyes.
Image Credit : homedesignplanet
5. Small red master bedroom design
A small master bedroom too can look elegant such as this one shown in the picture where the small portion of the wall behind the bed, the furniture's upholstery, the lampshades installed on the console tables and pillows accentuate the beauty of the bedroom. With a bright red palette utilized here and there, the effect created is amazing and visually pleasing.
Image Credit : smallbedroomideas
6. Traditional master bedroom design
Traditional designs look stylish and also add a classy touch to the interiors of any bedroom. The bedroom here has been designed on traditional lines with an antique wooden bed with ornate carvings done all over, a massive red carpet with eclectic designs, silken red curtains used as draperies, and the red paneled roofing used on the bed. All these features add a pleasant touch to the room and make it appear warm and cozy.
Image Credit : asocart
7. Romantic red master bedroom design
Interiors of this bedroom shown below have an eclectic mix of modern and traditional design ideas that look very stylish. With textured red carpeting and upholstery used, the room looks pretty warm and inviting. The oval windows, silken draperies that flow freely and shiny modern couches placed inside the bedroom enhance the style statement.
Image Credit : dokity
8. Amazing red master bedroom design
The bedroom in the image is simple in design with dark master bed with cushioned headboard, red painted wall and upholstery to add a rich tone to the décor. The bright red pillows with leaf designs look good and so does the red glossy blanket.
Image Credit : dokity
9. Stunning master bedroom design
The cream bed sheet seen in the image looks elegant when combined with a bright red duvet that's spread on the master bed. The master bedroom has been painted in white with traces of bright red seen sprayed on the curtains and pillows arranged on the bed.
Image Credit : designsbloke
10. Modern master bedroom design
The contemporary décor of this master bedroom looks stunning with features that make it look large and very airy. Red palette can be seen on the fluffy rug spread on the floor and also on the upholstery of the master bed in the form of pillows and bed sheet.
Image Credit : rejigdesign
11. Vibrant master bedroom design
Round beds are in vogue these days and can enhance the look of any bedroom. In the image is a stylish round bed with silken upholstery done up in red that adds oomph to the décor. With silky red and brown duvet and fluffy pillows arranged on the bed, the room looks eclectic.
Image Credit : aliimg
12. Rich master bedroom design
The master bedroom below has been styled traditionally with a huge ornamental wooden bed that is decorated with silken red draperies, golden and red upholstery including bed sheet and pillows, a brightly red painted wall and ceiling.
Image Credit : semilir
13. Modern master bedroom design with red accents
The modern décor of the bedroom makes it look bright and very energetic with red accents seen on the bed's pillows and a duvet that offer a contrasting touch to the white utilized all over the room, on the walls, bed sheet and ceiling.
Image Credit : ghoofie
14. Stylish master bedroom design
Elegance seems to be the theme in this red and white romantic bedroom whose beauty gets a lift with a red chandelier looking stunning and a modern sitter that gels well with the rich textured red upholstery seen on the bed.
Image Credit : luminns
15. Astonishing master bedroom design
Red has been used as the primary color palette in this awesomely designed master bedroom with beautiful red wall decorated with a white floral wall art, rug and cushions placed on the bed and on the white roundel sitter.
Image Credit : thaqafnafsak
16. Luxurious master bedroom design
Red suits all kinds of bedrooms and the one seen here is a classic example of elegance and style. The master bed with ornately carved headboard looks stunning with its red silken duvet and the head rest designed also in red.
Image Credit : lautdigital
17. Spacious red and white master bedroom design
The master bedroom here is large with red accents seen on the cupboards, drawers, rug, console tables arranged by the bedside and on many show pieces installed for adorning the décor.
Image Credit : interiordecorating
18. Contemporary master bedroom design
Huge glass windows, black and red master bed and a modern red painting with the face of Audrey Hepburn enhance the modern feel of this astonishing bedroom that looks fashionable and very chic.
Image Credit : homesph
19. Opulent master bedroom design
With fabric wall panels seen decorating the white walls, golden pelmets fitted on top of the windows, silken curtains flowing freely, the bed designed with golden and red leaf designs and a massive red carpet spread on the floor, the master bedroom looks nothing less than a royal prince's abode.
Image Credit : pandashouse
20. Chic master bedroom design
Red accents play very well to enhance the rich and modern look of this master bedroom where we can see red being used in plenty on the ceiling, curtains and the walls. The look is rich and warm too.
Image Credit : emulua
The above mentioned master bedroom designs showcased for master bedrooms are not just visually pleasing but also charge you up with vibrancy and enthusiasm. Have a look at them and choose the one that you fancy!