Twins have always been an area of interest. It is always wonderful to see two identical human beings around us. I'm guessing it's just that much more fun for their parents to come up with creative bedroom decorative ideas for their twins. And it would especially take a creative chunk out of them if they are having twin girls. Believe me decorating girls bedroom can just be that much fun as much as it can be difficult and exhausting. So let us take a quite applauding moment for parents who have come up with great girl bedroom ideas and inspired many like them to push the decorative edge within them just that much further.
Pink is the color
It is a common belief that most girls are quite attracted to the color pink. So if you are thinking of decorating the room for your twin girls, you may want to include the color pink wherever possible. The floor carpet and the bed covers can be matched. You could also use a different, probably a lighter shade of pink for the walls and furniture. To add a bit of color, you may add white or something contrasting such as green. Adding polka dots in design on pillow covers or the rug may add an elegant edge to your twin teenage girls bedroom.
Vintage bedroom décor
Vintage themed décor is one of the best teenage bedroom ideas that you can use for your girls. The typical pastel pallet along with vintage floral design on the upholsteries and curtains will add a subtle feminine and elegant element to the entire room décor. To enhance the theme of the room, you can add ottomans and other furniture upholstered in fabrics that give off a vintage hue.
Royal themed bedroom
A teenage girl bedroom would mostly look beautiful and a place to take refuge in when it is given a royal touch. A daughter or in our case here, twin daughters, are princess for their parents. Giving them a room with a royal theme only enhances that bond. Beautifully draped beds and footstools make up a great sleeping area. You can add vintage mirrors along with royal upholstery in the room.
DIY bedroom designs
Hanging beds or wall beds are the trend of the day. These beds make up a great idea for your teenage girls bedroom. You could mix up these hanging beds with either a simple theme or an elegant and luxurious themed room décor for your girls. You can add a separate or common work table for the girls along with nice and elegant storage cabinets. The hanging beds leave you enough space for fitting in extra, classy storage baskets.
These are few of the many bedroom décor ideas available for your girls. Remember, girls just as easy to please and just as hard to make happy. To make your task easier, here are 51 stunning and most beautiful twin girls bedroom ideas for you to choose from and use them for your girls bedroom.
1. Pink Beds Against a Simple Background
Image Credit: my-house-my-home
2. Bright and Colorful Bedroom for Twin Girls
Image Credit: studiohomeplanejados
3. Bright Pink Themed Bedroom Design for Twin Girls
Image Credit: thietkenoithatvn
4. Vintage Themed Bedroom Design with Storage Baskets
Image Credit: blogspot
5. Floral Vintage Themed Twin's Bedroom with Footstool and Work Table
Image Credit: sheffieldfurniture
6. Pastel Green Teenage Girls' Bedroom with Bamboo Seating
Image Credit: bedroom-decor-design-ideas
7. DIY Hanging Beds with Wooden Storage Cabinet
Image Credit: ggpht
8. Canopy Beds with Luxurious Seating and Footstool
Image Credit: meganmorrisblog
9. Contemporary Bedroom Design for Twin Girls
Image Credit: cruzcontarini
10. Light Pink Bedroom Design with Separate Work Tables and Built-in Wall Cabinet
Image Credit: wordpress
11. Vintage Bedroom Design with Footstools
Image Credit: decoratingfiles
12. Romantic Pink Themed Teenage Twin Girls' Bedroom Design
Image Credit: blogspot
13. Bright Orange-Pink Bed Bedroom Design with Modern Art Paintings
Image Credit: googleusercontent
14. Rustic Brown Themed Bedroom Design with DIY Hanging Beds
Image Credit: svajoniukrantogyvenviete
15. Simple Light Pink Bedroom Design for Twin Girls
Image Credit: mulherebeleza
16. Canopy Bed Bedroom Design for Twin Girls
Image Credit: wordpress
17. Spacious Bedroom Design with Purple Upholsteries and Rug
Image Credit: glbimg
18. Small Bedroom Design for Twin Girls
Image Credit: blogspot
19. Light Blue Bedroom Design with Vintage Drawer Chest
Image Credit: typepad
20. Royal Purple Twin Bed Design
Image Credit: blogspot
21. Pink Symmetric Geometrical Bedroom Design
Image Credit: designsnext
22. Simple and Elegant Neutral Theme Bedroom Design for Twin Girls
Image Credit: pstatp
23. Colorful and Vibrant Bedroom Design for Twin Girls
Image Credit: wordpress
24. Creative Attic Bedroom for Twin Girls
Image Credit: rilane
25. Unique and Creative Bedroom Design for Twin Girls
Image Credit: rilane
26. Simple yet Classy Green Bedroom Design for Twin Girls
Image Credit: wordpress
27. Classic Bright Bedroom Idea for Twin Girls
Image Credit: interiorsbypattillc
28. Vintage Style Bedroom for Twin Girls
Image Credit: twodelighted
29. Cottage Bedroom Design for Twin Girls
Image Credit: ohsoshabbybydebbie
30. Luxurious Vintage Bedroom for Twin Girls
Image Credit: blogspot
31. Simple White Themed Bedroom for Twin Girls
Image Credit: casamenteiras
32. Amazing Barbie Inspired Bedroom for Teenage Twin Girls
Image Credit: homedesigns
33. Cool Contemporary Styled Bedroom Design with Unique Bunk Beds
Image Credit: giesendesign
34. Blue Themed Unique Bedroom Design with Bunk Bed for Twin Girls
Image Credit: eurostylelighting
35. Unique Vintage Styled Bedroom Design for Girl Twins
Image Credit: cafeblog
36. Simple Pink Themed Bedroom for Teenage Girl Twins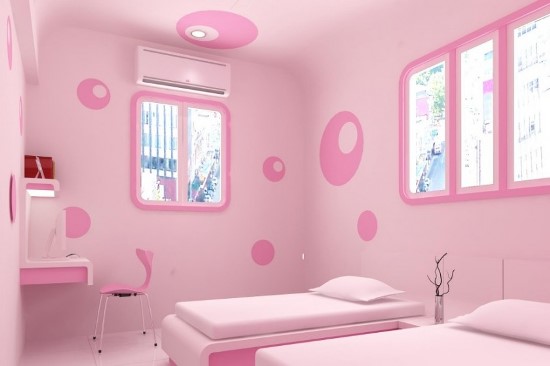 Image Credit: vayahome
37. Cool Beach Inspired Bedroom for Twin Girls
Image Credit: ptimgs
38. Compact Bedroom Design with Storage Baskets for Twin Girls
Image Credit: liveinternet
39. Soothing Pastel Green Vintage Style Twin Teenage Girls Bedroom Design with Canopy Beds and Footstools
Image Credit: home-designing
40. Bright Pink Bedroom for Twin Teenage Girls with Ottoman and Chair
Image Credit: home-designing
41. Contemporary Twin Girls Bedroom with Unique Bunk Bed Design
Image Credit: stvicious
42. Princess Style Bedroom Design for Twin Girls
Image Credit: hative
43. Stylish Pink and Green Bunk Bed Bedroom Design for Twin Girls
Image Credit: frincor
44. Cool Corner Design for Twin Teenage Girls
Image Credit: besthomeskitchen
45. Awesome Purple Themed Bedroom with Vertical Beds for Twin Girls
Image Credit: allsuperdesign
46. Beach Inspired Bright Bedroom Design for Twin Girls
Image Credit: photolabels
47. Simple Bedroom with Iron Beds for Twin Girls
Image Credit: postroyforum
48. Girly and Colorful Bedroom Design for Twins
Image Credit: designmag
49. Princess Style Bedroom for Twins with a Separate Sitting Area
Image Credit: booie
50. Cool Bunk Bed for Twin Girls Bedroom
Image Credit: luugiadecor
51. Peaceful Pastel Blue Themed Bedroom for Twin Girls
Image Credit: dailyarchdesign