Window seats are those extra nook and corners in our home that we utilize, giving those not so worthy places worthiness of our attention. These nooks and corners or the extra, unused spaces become just that much more special when decorated with care and attention. Windows are often located in spaces of which you may hardly find any use. Such spaces are the best for giving rise to that one special space in your home, which you would more or less act as a solitary for you. There are many ideas you can use when looking for window seat designs for your home, some of which we will sift through here.
Bay window seats
If there is a window with a view in your home, then it is definitely one that is worth feasting your eyes on. Wouldn't that space become just that much better if you had something to actually sit and admire the view outside? I'd say a window seat idea is definitely worth trying. There are many bay window seat ideas you can put to use in your home and make that spot priceless. You can turn that small space into one for family gathering by adding ottomans in the design. Or you can simply decorate the space with a raised seating adorned with plush cushions for comfort. You could simply laze around in the area or sip into your hot mug of coffee while absorbing the view.
Living room window seats
Living rooms are spaces where maximum seating arrangement is required, especially when there are guests around. Well, window seats make up a great seating arrangement in such scenarios. You could arrange the remaining furniture or sofa sets closer to the window and adding an ottoman or a stool in the midst, giving ample space for a large group to be seated together. Living room window seat designs could also be such that it remains a secluded corner of your room, away from the hustle bustle.
Staircase corners
If you have an upper level in your home, there may be space in the corridor with a window which would remain quite unused. What better way to use it than installing a window seat. Well, this is one great space to have a seating, especially if your staircase window overlooks a beautiful view. It could be a great reading space, along with mini library storage. You could have built-in cabinets where you can simply arrange all your favorites.
Kitchen window seats
Window seat ideas are plenty when it comes to your cooking space. Having a small comfort zone in your kitchen not only acts as a great space to relax and await your boiling kettle, but also provides guests to be out of your cooking area. It could also serve as a great spot to enjoy your morning coffee, without any kind of disturbance from the daily hustle of our modern world.
Well, these are ideas enough for you to start with and give your creative brain a little nudge. To further nudge your creative side, here are 60 inspiring window seat ideas for your home.
1. Narrow Passage Window Seat
Image Credit: prodesign
2. Closet Window Seat
Image Credit: interiorish
3. Mini Library Window Seat
Image Credit: onekindesign
4. Window Seat in Children's Room
Image Credit: simplifiedbee
5. Window Seat as a Play Corner
Image Credit: houzz
6. Window Seat with a Sea View
Image Credit: lodgers
7. Twin Window Seats
Image Credit: blogspot
8. Comfortable Window Seat in Baby Room
Image Credit: innatcascade
9. A Comfy Window Seat Overlooking the Sea
Image Credit: uredisvojdom
10. Comfortable Bedside Window Seat
Image Credit: onekindesign
11. Bedroom Window Seat Design
Image Credit: improvemedia
12. High Stair Landing Window Seat Design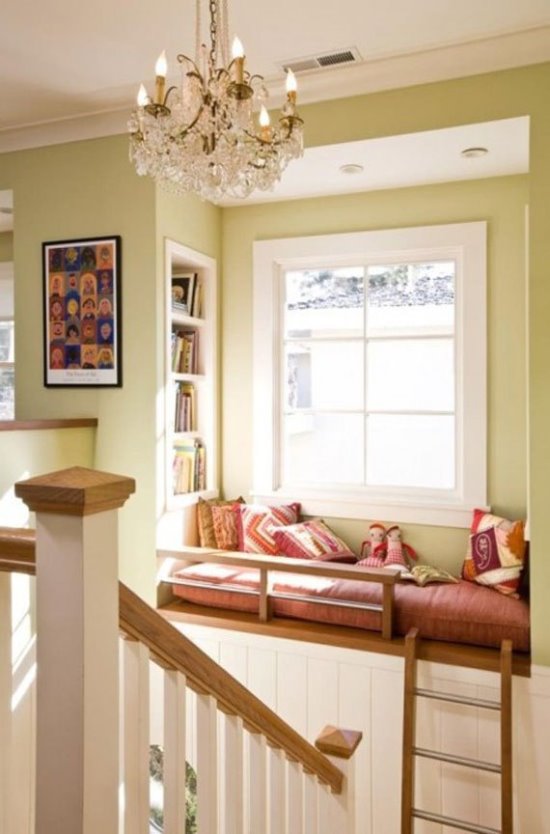 Image Credit: wordpress
13. Bay Window Seat Design
Image Credit: sinergidom
14. Window Seat by the Door
Image Credit: ikeadecoration
15. Bench Style Window Seat with Storage Cabinets
Image Credit: indulgy
16. Window Seat Dining Area
Image Credit: womandot
17. Corner Window Seat with a View
Image Credit: diaoconline
18. Staircase Corner Window Seat with Book Shelves
Image Credit: archerbuchanan
19. Living Room Corner Window Seat
Image Credit: diaoconline
20. Window Seat Study Corner
Image Credit: highviewart
21. Wooden Framed Window Seat with Book Shelves
Image Credit: deavita
22. Study Room Corner Window Seat with Cabinets
Image Credit: decosee
23. Pink Window Seat in Children's Room with Shelves Underneath
Image Credit: modniedetky
24. Singular Window Seating with Storage Cabinet
Image Credit: houzz
25. Extended Living Room Seating
Image Credit: syndyk
26. Extended Dining Window Seating
Image Credit: freshideen
27. Cozy Reading Corner by Window
Image Credit: cntv
28. Cozy Window Seat in Girl's Bedroom
Image Credit: coolkidsbedroom
29. Plush Window Seat Overlooking the Backyard
Image Credit: betterdecoratingbible
30. Classic Window Seat Dining Area
Image Credit: charlesmyer
31. Bay Window Seat Overlooking the Pool
Image Credit: ecofurnitureblog
32. Contemporary Living Room Window Seating
Image Credit: onehomedesigns
33. Window Seat Cum Storage
Image Credit: buzzflood
34. Quite Bedroom Corner Overlooking the Sea
Image Credit: architectureartdesigns
35. Nautical Style Window Seat Design
Image Credit: lacasaenblanco
36. Bright Bedroom Window Seat with a View
Image Credit: architectureartdesigns
37. Study Room Window Seat with Storage Shelves
Image Credit: homedit
38. Beautiful Bedroom Bay Window Seat Design
Image Credit: prodesign
39. Awesome Window Seat with Cabinet and Comfortable Seating
Image Credit: handmadeidea
40. Kitchen Corner Window Seat with Storage Cabinets
Image Credit: usualhouse
41. Classic Living Room Window Seating
Image Credit: bluedoor
42. Bed Styled Corner Window Seat Design
Image Credit: ggpht
43. Cottage Style Beaded-Board Window Seat
Image Credit: taobaocdn
44. Bright Staircase Landing Window Seat
Image Credit: ikeadecoration
45. Contemporary Window Seat Design with Storage Cabinets
Image Credit: skydesigns
46. Nursery Room Twin Window Seat Design
Image Credit: homebunch
47. Chic Bay Window Seat Design with a Sea View
Image Credit: wordpress
48. Luxurious Living Room Bay Window Seat
Image Credit: streeterhomes
49. Bedroom Fire-side Bay Window Seat with a Rocky-Sea View
Image Credit: nmaarchitects
50. Bedroom Window Seat with Shutters to the Frontyard
Image Credit: decoist
51. Luxurious Bathroom Window Seat with View
Image Credit: qpic
52. Staircase Landing Corner Window Seat
Image Credit: nusindustrialdesign
53. Corner Window Seat with Storage Shelves
Image Credit: domideco
54. Window Seat over Radiator
Image Credit: meblirovka
55. Corridor End Window Seat
Image Credit: happymodern
56. Dual Window Seat with Storage Cabinets
Image Credit: lovelyhomedesigns
57. Window Seat by the Dining Area
Image Credit: blogspot
58. Tri Window Seat Design
Image Credit: modernidademoveis
59. Inviting Kitchen Seat with Storage Shelves
Image Credit: femaleways
60. Classic Bay Window Seat Design
Image Credit: rotavonni