Spring is a time for new beginnings and what better way time to redecorate your homes then in spring. A burst of color, blooming floral patterns and a few zesty ideas can transform your homes from mundane to bright and welcoming. We present to you home decorating ideas which are easy to incorporate. Whether you are on a budget or on a spending spree, these spring decorating ideas are a wonderful inspiration.
1. Beautiful Porches Spring Decorating Ideas
Want to enjoy the weather in style. Grab hold of a few potted plants and instill them on your porch to get in tune with nature. It's pretty simple and easy and doesn't require a great deal of effort either. Just make sure you keep your plants looking fresh by watering them often.
Image Credit: ideastodecor
2. Spring Decorating Ideas For The Dining Room
Let the lushness of spring into your dining rooms to make them appear all the more welcoming. Whether it's a group of friends you are having over or just a regular family lunch or dinner make sure to use beautiful flowers in colorful vases. What's more spring is the best time to take down the curtains and enjoy the lovely and beautiful look of the blooming flowers outside your homes.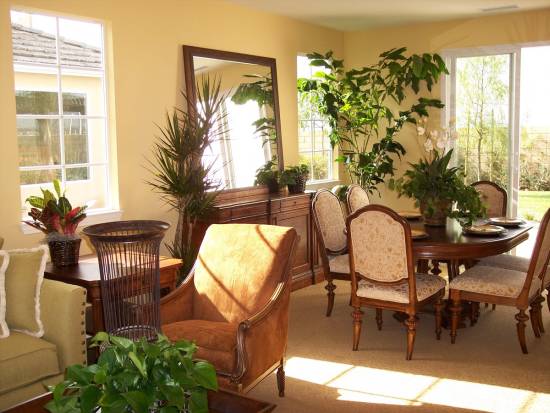 Image Credit: mediberian
3. Indoor Plants For Spring Home Décor
Indoor plants are a great way of adding a zing to your homes. These plants come in a variety of shapes and sizes. What's more they are pretty easy to maintain as well.
Image Credit: hgtvhome
4. Spring Home Décor For Girls Bedrooms
When decorating a girl's room for spring, make sure to use floral designs with bright and exquisite colors. This lovely bedroom is a good example and is sure to appeal to all young ladies.
Image Credit: decoholic
5. Floral Paintings For Home Décor
You can make use of paintings to make your home look ready for spring. Pictures with flowers or simply everyday spring images of chirping birds or butterflies can light up a room and give it more depth.
Image Credit: themammahomemaker
6. Hanging Wreaths For The Door
Put up a welcoming hanging wreath for the door to signify that you are welcoming spring in your own special way. Make sure to make the floral wreath look attractive using bright and colorful flowers.
Image Credit: teachlovecraft
7. Bright Little Cushions For Home Decor
Toss in a few brightly colored cushions on your chairs and sofas to add a special colorful zing to your rooms.
Image Credit: organizeyourstuffnow
8. Bring Out Your Artistic Side Using This Lovely Spring Decorating Idea
Is there a hidden artist in you? Make use of large mason jars and paint colorful flowers or patterns on them to add an instant appeal to any room.
Image Credit: blogspot
9. Invest In Some Quirky New China
Beautiful tea pots and lovely cups can add an instant appeal to your dining table. You too can invest in a few pieces of china to add that special touch of spring.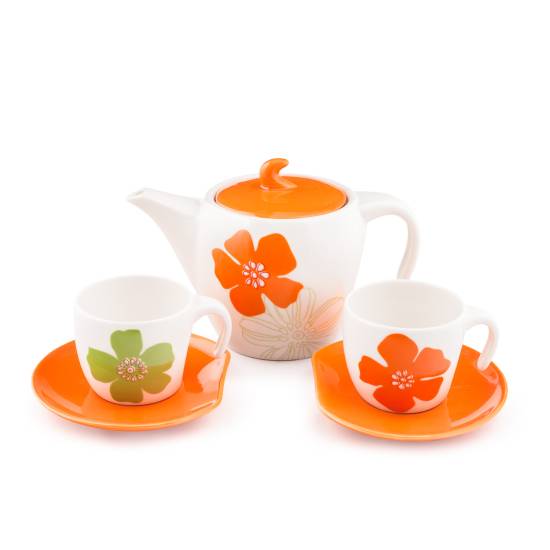 Image Credit: cargolane
10. Create Your Own Mini Rock Garden
Are you fond of rock gardens? Now you can create your very own mini rock garden in a glass jar or any shape. Take a look at this one for some inspiration for spring house decoration.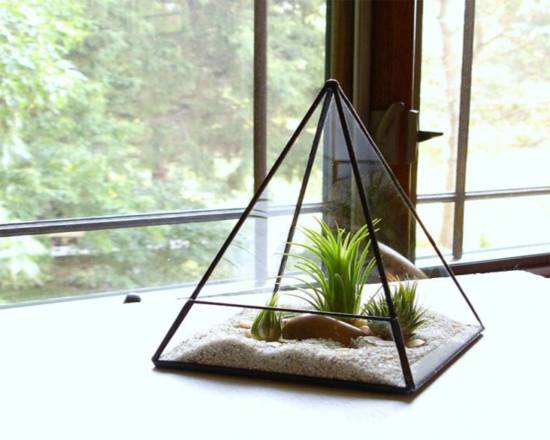 Image Credit: ideastodecor
11. Wallpaper Ideas For Spring
Wallpapers add a touch of glamor to bare walls and make homes look welcoming. Choose from a variety of designs available to make your home look ready for spring.
Image Credit: edgesuite
12. Put Up A Welcome Spring Sign Made By Your Little One
This is a great way to involve your kids for spring house decoration. They would love the fact that you have asked for their help. So get out the kid's crafts supply and get them to create their very own welcome spring sign.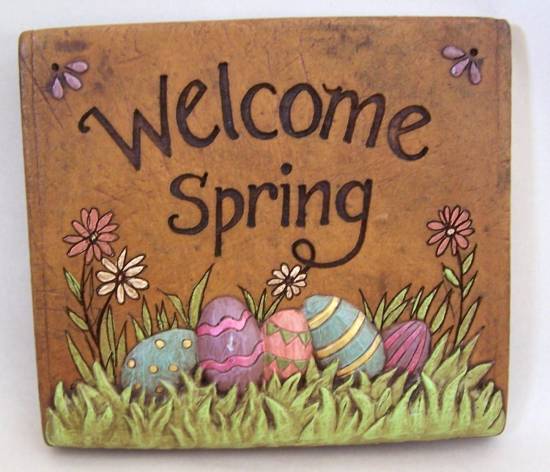 Image Credit: amazonaws
13. Make Use Of Decorative Glass Jars
This fresh and innovative idea works well for just about everyone. You can use artificial plants or fruits for a long lasting impression. If you are using fresh produce make sure that you water it or consume it within a few days.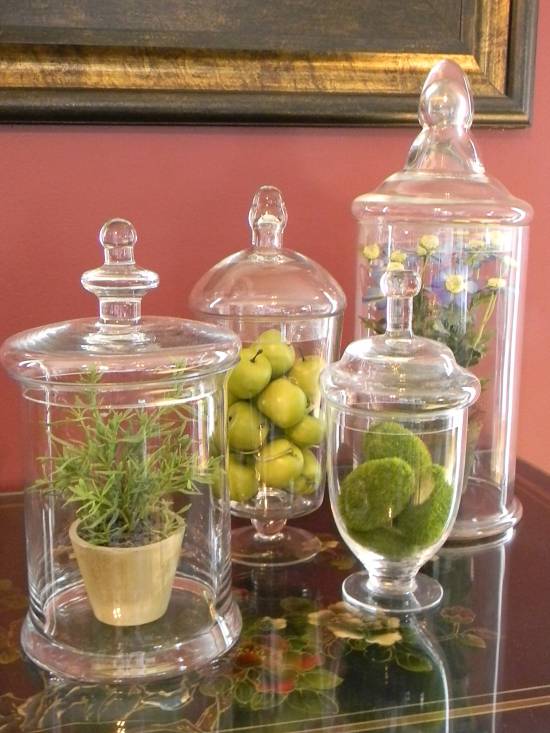 Image Credit: organizeyourstuffnow
14. Plant Flowers By The Kitchen Window
Nothing can cheer you up more than the sight of lovely flowers placed near the kitchen window.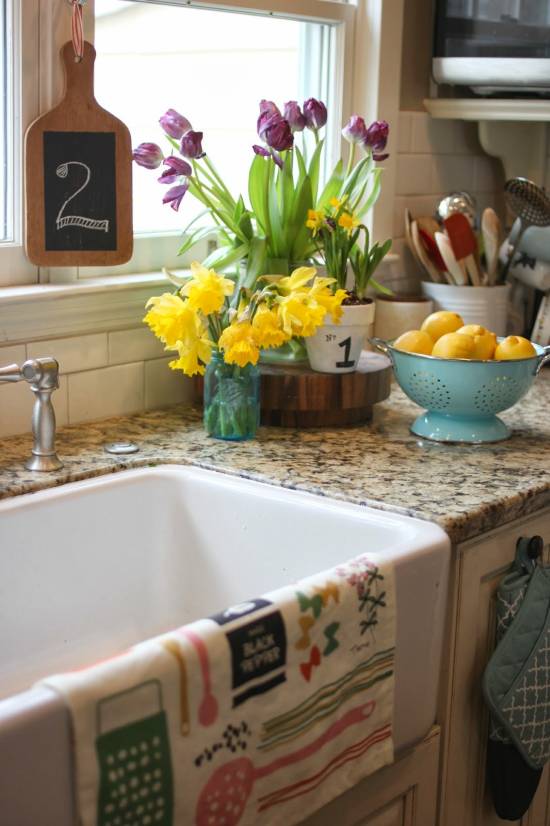 Image Credit: blogspot
15. Lovely Wall Tiles For Your Kitchen
Make use of beautiful tiles with floral designs to make your space look welcoming and beautiful. These classy tiles make a statement of their own and show that your home is definitely spring ready.
Image Credit: picture-tiles
16. Brightly Colored Walls With Motifs
A brightly colored wall can add a depth to your bedrooms. You can make it appear striking by making use of background motifs which can be painted onto the walls.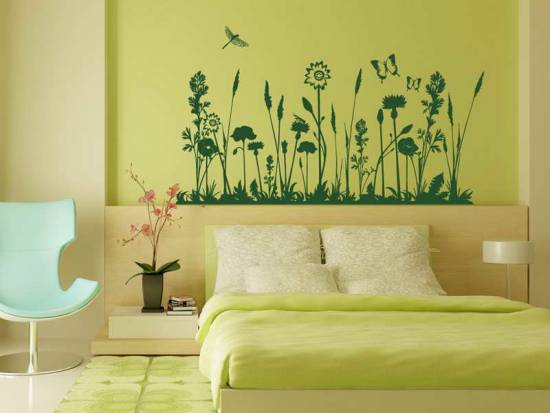 Image Credit: vissbiz
17. Spring Inspired Accessories For Your Bathroom
When you are decorating the whole house for spring why leave your bathroom out of it. Buy some spring inspired accessories like this lovely tooth brush holder and soap dispenser.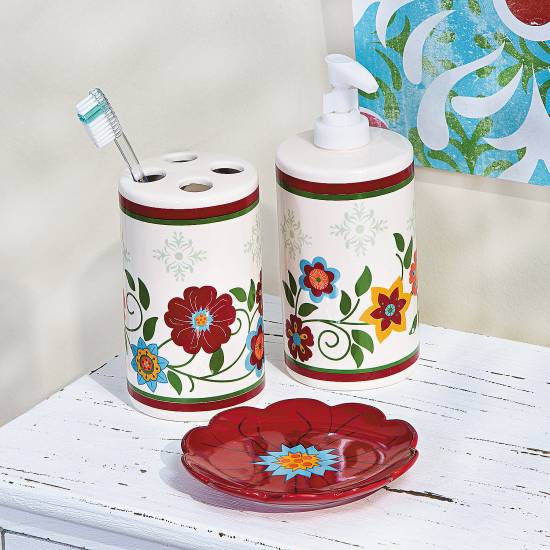 Image Credit: orientaltrading
18. Trendy Wall Art For Spring Décor
These lovely metallic butterflies add a magical touch to your home walls. Invest in a few good pieces which appeal to you aesthetically.
Image Credit: touchofclass
19. Classy Spring Inspired Runners For Home Decoration
This striking runner is an example of scenic splendor. Use brightly colored runners in your homes to enhance its beauty.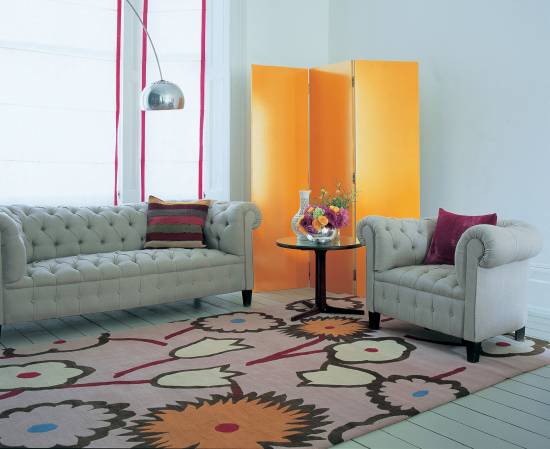 Image Credit: royalhouseinteriors
20. Hang Some Lovely Pots In The Yard
You can take inspiration from this wonderful DIY idea. All you need is a set of pliers which will help you bend the hangers into smaller hooks on which you can attach a couple of pots.
Image Credit: stylemotivation
You too can easily decorate your homes for the coming spring season using the above mentioned home decoration ideas. Be inspired from all these spring décor ideas without using a great deal of cash. Some of these are pretty easy to incorporate and only require very little effort.