With the long winters finally over you would definitely be craving the sun and what better way to invite the sun into your home than through the sunroom. These rooms are generally an extension of the main house, connected by a door. However, you could also have one of your rooms converted into a sunroom without having to build an extension. If you are converting one of your rooms, though, you would want the walls changed into glass wall or have large windows that would allow the sunlight to creep in. Sunrooms, otherwise, would also protect you from the rains, wind, and other weather conditions, allowing you to enjoy beautiful panoramic views.
Designing your sunroom becomes important if you want to make it a focus of your spring and summer time. You could have your sunroom designed to be a partial bedroom, one where you could rest your afternoons off. You can put up a bedroom style décor to add to the comfort of the room. You can always experiment with the bed design, such as putting up a DIY hanging bed in the room. Sunroom design ideas may have many other twists, such as converting it into bedroom cum living room or a makeshift dining room.
Among the many twists that you can give to your sunroom, one is to convert it into your work station. Placing a table and a chair along with a comfortable couch may make it a perfect place for you to work from. What's more, you may also add suitable décor into the room to make it a lively place to work from. Apart from the natural ambiance, your personal touch to the sunroom design would only add to the appeal. You may also convert your sunroom into a cozy reading nook. A DIY book shelf would make a great way to decorate your reading nook.
One of the more creative sunroom design ideas is to convert your sunroom into an indoor garden. This would only put you closer to nature, greenery, and sunlight all in one. You could have a DIY shelf full of potted plants or have the floor covered with beautiful plants at corners or lined up against the walls. The natural sunlight would only prove good for both you and the plants. For instance, you could also convert your sunroom into a vintage garden, only adding appeal to the already sunny and light filled room.
Wood paneled sunrooms with large windows also make a great design idea for your sunroom. Wood exudes a natural ambiance to your sunny refuge. Adding a modern stony touch to your sunroom would make your room quite attractive. Have a stone fireplace installed into the room for the night time, while natural sunlight pours in through the large windows during the daytime. A flat screen, plush sofas, coffee table, and an ottoman would complete the look of this outdoor living room. Here, we have gathered 50 stunning sunroom design ideas for you to sift through.
1. Luxurious Contemporary Sunroom Design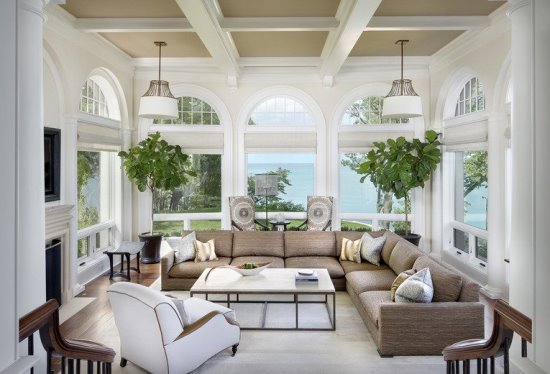 Image Credit: inspirationluv
2. Amazing Wood Paneled Sunroom Design
Image Credit: homeinspirationdesign
3. Plush Sunroom Design With Seating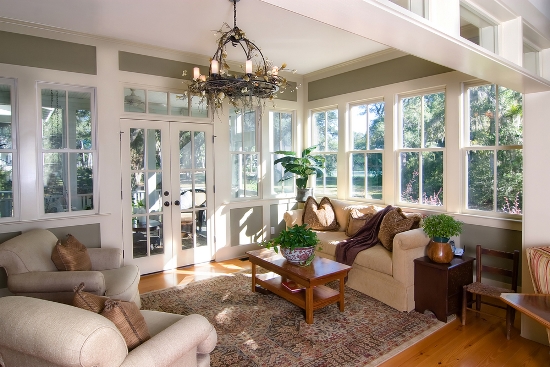 Image Credit: ottawageneralcontractors
4. Elegant Sunroom Design with Indoor Plants
Image Credit: hotnick
5. Vintage Themed Sunroom Design
Image Credit: digsdigs
6. Modern Sunroom Design with Panoramic View
Image Credit: dalatday
7. Amazing Rustic Sunroom Design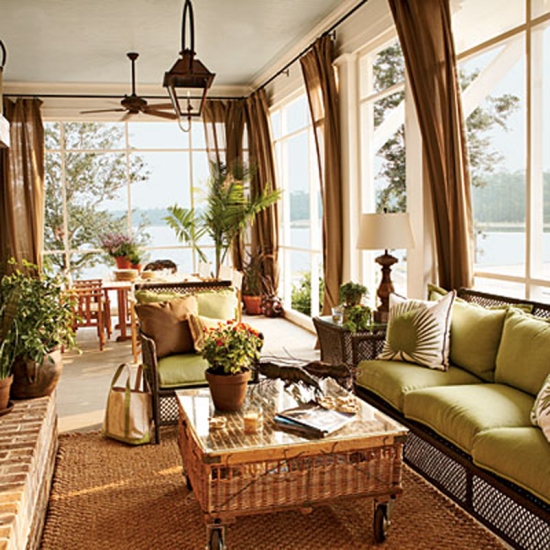 Image Credit: mewe
8. Soothing White Luxurious Sunroom Ideas
Image Credit: quedeal
9. Cream and Green Sunroom with Indoor Plants
Image Credit: motelandia
10. Classic Vintage Sunroom with Large Windows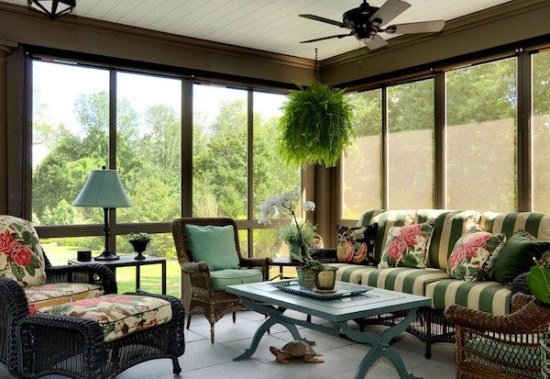 Image Credit: decoist
11. Simple yet Classic Sunroom Design
Image Credit: editionchicago
12. Open Glass Sunroom with Book Shelf and TV
Image Credit: rumahinteriorminimalis
13. Italian Glass Sunroom Design
Image Credit: roominteriordesignideas
14. Classic Sunroom Design with Large Windows
Image Credit: editionchicago
15. Rustic Sunroom with Stone Fireplace
Image Credit: forwallpaper
16. Impressive Modern Sunroom Design
Image Credit: kapsowar
17. Traditional Sunroom Design with Plush Seating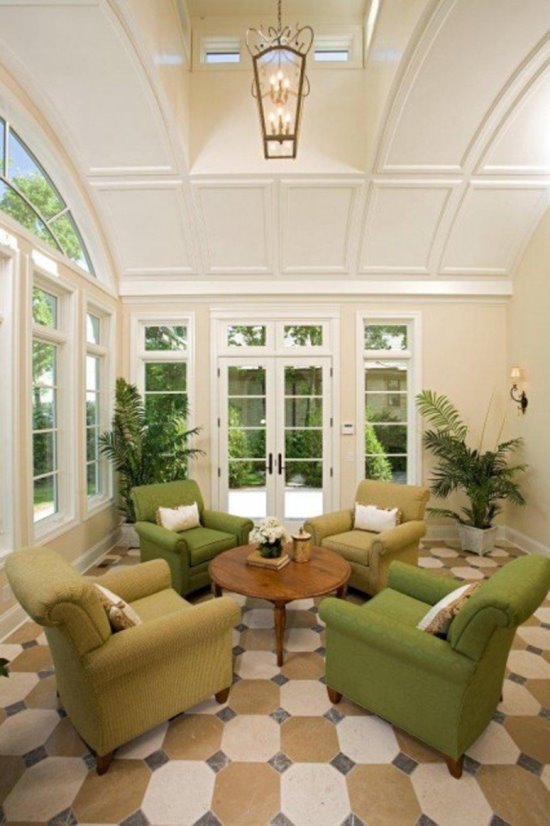 Image Credit: niahome
18. Cozy Corner Sunroom Design
Image Credit: homedit
19. Contemporary Sunroom Design with Elegant Seating
Image Credit: ascendclientsolutions
20. Classic Wood and Glass Sunroom Design
Image Credit: pfgrenada
21. Small Sunroom Design Ideas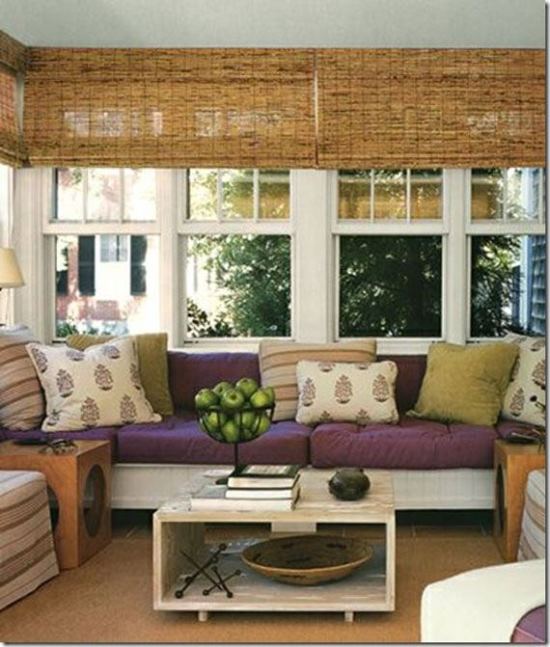 Image Credit: hotnick
22. Living Room Turned Sunroom with Elegant Interior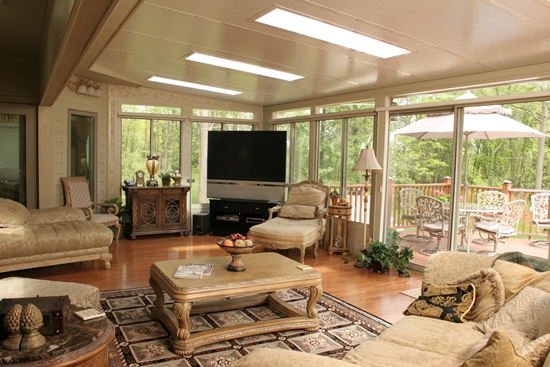 Image Credit: thefhd
23. Soothing Sunroom with a Modern Touch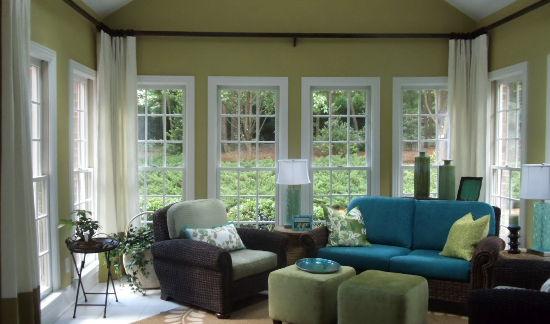 Image Credit: omegaconstructiononline
24. Compact Sunroom Design with Cozy Interior
Image Credit: inspirationluv
25. Sunroom as a Bedroom Extension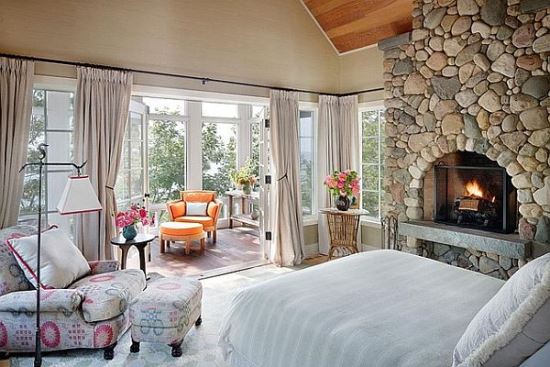 Image Credit: decoist
26. Passage Sunroom Design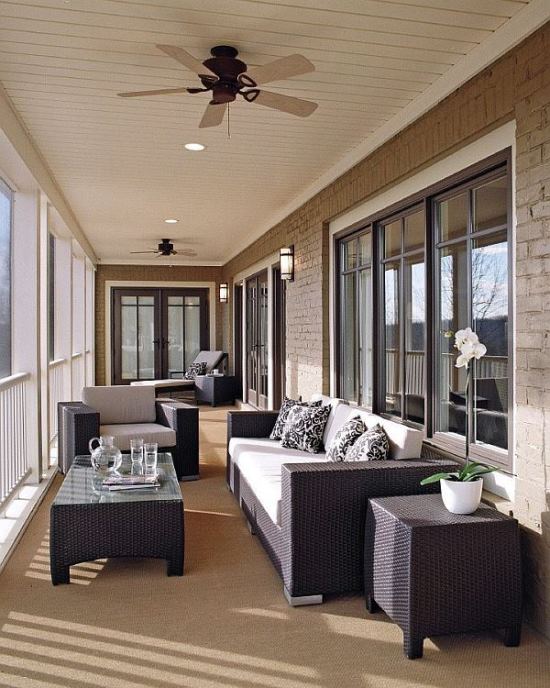 Image Credit: jiutengbath
27. Neutral Sunroom Design
Image Credit: home-designing
28. Amazing Luxurious Sunroom Design
Image Credit: squarespace
29. Rustic Sunroom with Stone Fireplace and Wooden Roof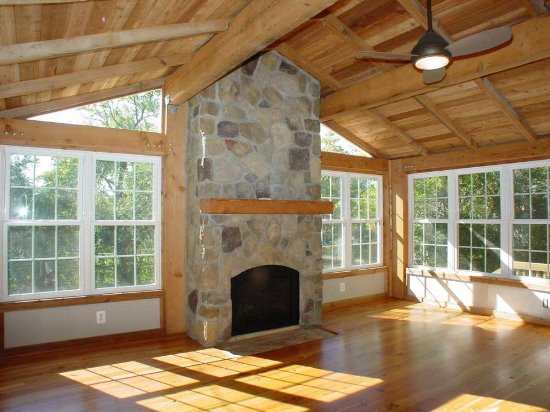 Image Credit: quisple
30. Elegant Sunroom Design with Glass Rooftop and Plush Interior
Image Credit: wordpress
31. Classic Luxurious Sunroom Design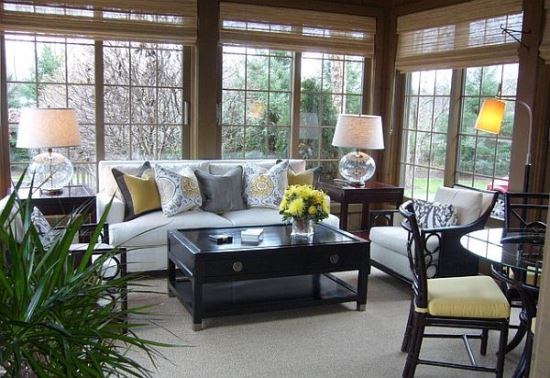 Image Credit: inspirationluv
32. Elegant Sunroom with Modern Interiors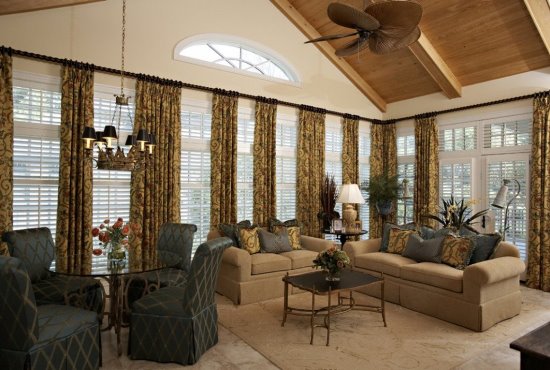 Image Credit: dodecorz
33. Vintage Sunroom with Interior Garden and Makeshift Dining Area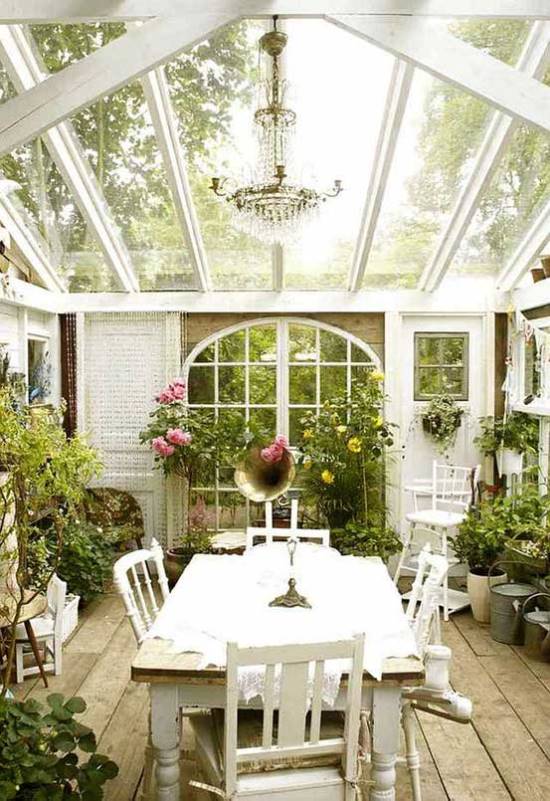 Image Credit: busydoor
34. Classy White Sunroom Design
Image Credit: decorcus
35. Stunning Modern Sunroom Design
Image Credit: karfid
36. Contemporary Sunroom with a Rustic Twist
Image Credit: revedecor
37. Bohemian Style Sunroom Design
Image Credit: liftupthyneighbor
38. Amazing Wood and Glass Sunroom with Plush Sofas
Image Credit: homesdir
39. Blue Sunroom Ideas with Plants and Wooden Furniture
Image Credit: liftupthyneighbor
40. Elegant Sunroom Design with Glass Windows
Image Credit: beacont
41. Traditional Sunroom Design
Image Credit: decoist
42. Blue Living Room Styled Sunroom Design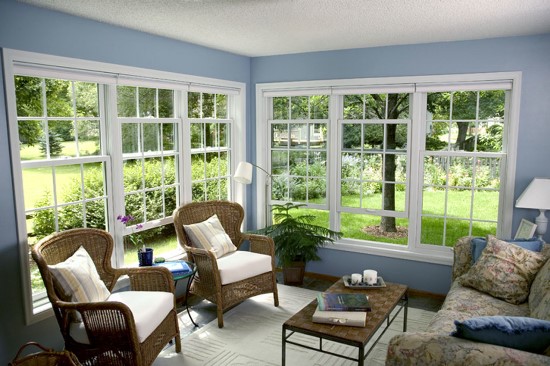 Image Credit: beautifullyhouse
43. Small Sunroom with Dining Area and Modern Fireplace
Image Credit: nobulges
44. Classic Sunroom with a Royal Touch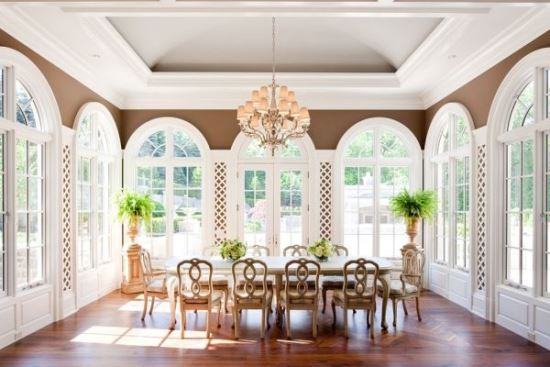 Image Credit: homedit
45. Beach Inspired Sunroom Design
Image Credit: homesdir
46. Awesome Modern Sunroom Design with Luxurious Interior
Image Credit: karfid
47. Cozy Sunroom Design with Panoramic Sea View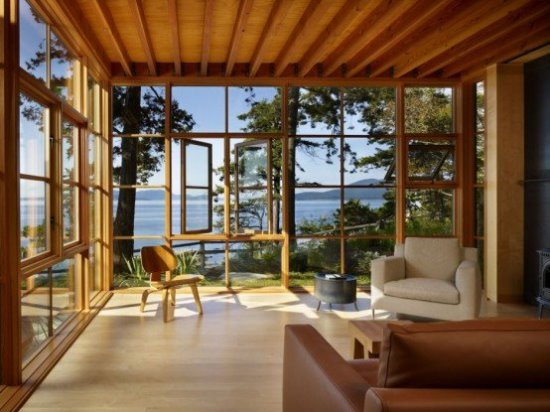 Image Credit: digsdigs
48. Rustic Sunroom Design Idea
Image Credit: wordpress
49. Extended Glass Sunroom Cabin
Image Credit: stylisheve
50. Conservatory Sunroom Design with Glass Rooftop
Image Credit: fresinterior