Often times the appearance of your home depends upon the arrangement and placement of your things. Most of the time people concentrate on the décor of their homes, but forget that arranging stuff you own in a certain manner also matter that much. You may have the most expensive or elegant of the décor items that one could buy off but if not placed strategically, they may end up ruining the look of your home. You may not want everything you own on display, but sometimes it is actually good to put up a show. Wall shelves might play an important role if you are even thinking of putting up a little of a show but make sure you have the correct tools for the job. If you are caught short, ADA Fastfix have a selection of tools you can buy.
DIY wall shelves
DIY shelves are easy to build, classy by look, and easy to detach and remodel as well. You can reuse old stuff or buy old and discarded items at cheaper prices to build a new set of DIY wall shelves for your home. You can use these handmade shelves for any part of your home, say kitchen, living room, kids room, bedroom, and even your bathrooms. The shelves can either be used as a storage facility or simply as a means to add some décor to a blank wall. You would be surprised at the amount of work you can get with these simple do-it-yourselfers.
Shelves for the kitchen
The floating wall shelves idea is quite a good one, especially for your kitchen. These shelves are easy to build and you can get a chance to display the delicate and beautiful crockery you own. It also makes it easier to store your daily cookery items neatly and in a handy manner. You can use reclaimed wood to create shelves on a wall in different patterns, such as a honey comb pattern. These shelves can be used to store wine bottles or any other stuff you might want to put on display.
Shelves for kids room
When you are decorating your kids room, you are sure to look for something most creative and unique, to make the room more attractive. DIY shelving ideas work best to make this work out. There are many different designs and ideas you can implement in order to make some cool shelves for the kids. You could cut out plywood in the shape of a tree and place it as a unique shelf against the wall for your kid to store and display stuff. You can also put up wall shelves from one end to the other, which make up a great space for arranging those nursery rhymes and other books in a neat fashion.
You can use DIY floating shelves or other such ideas in other rooms of your home as well. You could use an old magazine holder as a corner shelf in your living room. You could use crates and boxes as shelves in your rooms as well. Yet more unique way of creating a wall shelf is to use an old door or a pallet. Here are 50 awesomely creative DIY wall shelves ideas for you to go through and use for yourself.
1. DIY Vintage Drawers for Wall Shelves
Image Credit: modishspace
2. IKEA DIY Wall Shelf Idea
Image Credit: fortikur
3. DIY Corner Wall Shelves
Image Credit: modernmagazin
4. DIY Iron and Wood Wall Shelves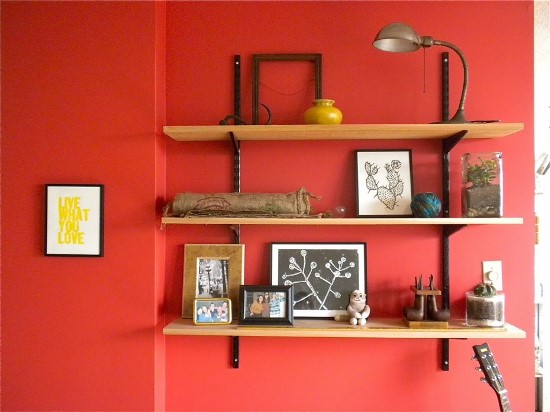 Image Credit: modernmagazin
5. DIY Vertical Lighted Book Shelves
Image Credit: lowes
6. Creative Wall Shelves for Photographs
Image Credit: fashiondecor
7. IKEA Creative DIY Wall Shelf Idea
Image Credit: fortikur
8. Different Sized Box Wall Shelves
Image Credit: fortikur
9. Creative Wall Shelving ideas
Image Credit: blogspot
10. Unique Bright Orange Corner Wall Shelf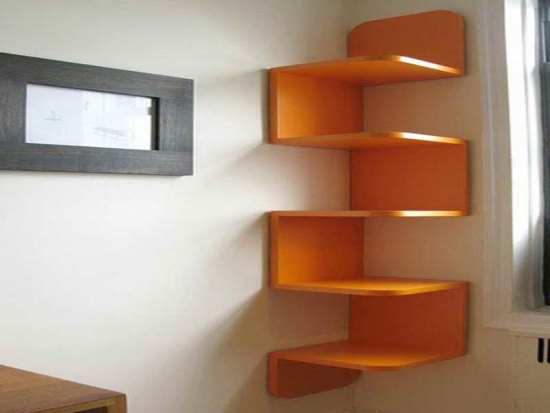 Image Credit: ozwow
11. Creative Ladder Book Shelf
Image Credit: lushome
12. Creative Wall to Wall DIY Shelves
Image Credit: gurukoala
13. DIY Postcard Shelves
Image Credit: huffpost
14. Wine Crate Wall Shelves for Sea Shells
Image Credit: decoist
15. Old Chest Drawers for Wall Shelves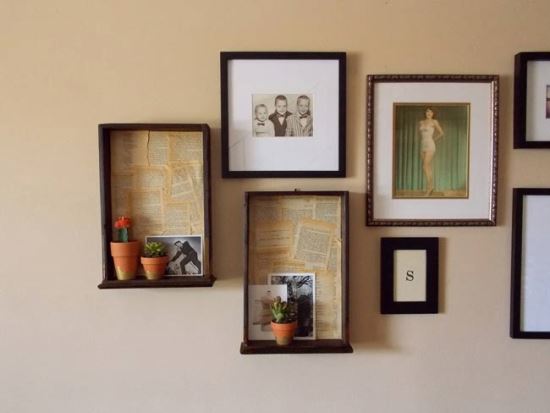 Image Credit: itsjello
16. Leather Belt and Wood Wall Shelves
Image Credit: weddbook
17. Wall Shelves from Old Drawers
Image Credit: architectureartdesigns
18. Old Ladder DIY Floating Shelf for Kitchen
Image Credit: designanddiymagazine
19. Beautiful Log Wall Shelves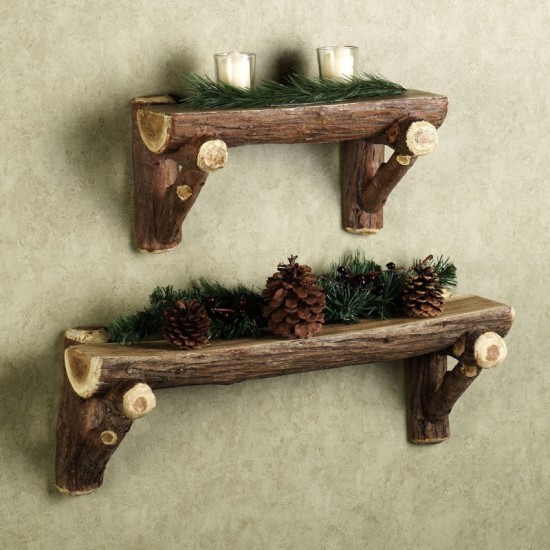 Image Credit: highwayswest
20. Unique Wall Shelving Ideas
Image Credit: mindyschroder
21. Floating Box Wall Shelves
Image Credit: rusacc
22. Handmade Case Shelves for Display
Image Credit: lushome
23. Creative Modern DIY Book Shelf
Image Credit: icsbdl
24. Unique DIY Wall Shelves
Image Credit: mindyschroder
25. Bright Yellow DIY Box Wall Shelf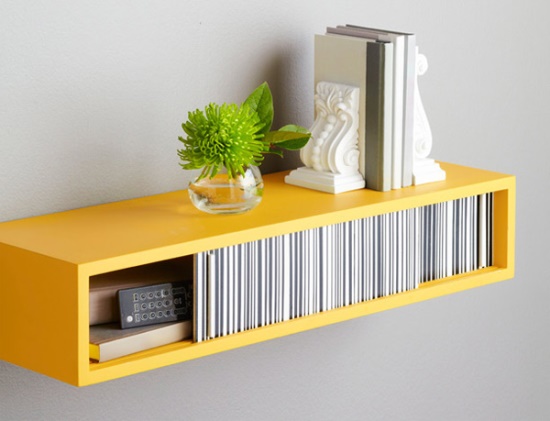 Image Credit: 2modern
26. Old Drawers as Book Shelving Case
Image Credit: minivcr
27. DIY Old Cardboard Box Shelf with Ornamental Frame
Image Credit: architectureartdesigns
28. Creative Rope and Wood Wall Shelves
Image Credit: huffpost
29. DIY Honeycomb Shaped Wooden Wall Shelves
Image Credit: abeautifulmess
30. DIY Modern Wooden Box Wall Shelves
Image Credit: houzz
31. Wooden Brackets for Wall Shelves
Image Credit: lerablog
32. DIY Bright Green Wooden Crate Wall Shelves
Image Credit: minimalisti
33. Amazing DIY Hanging Book Shelf
Image Credit: nobulges
34. Old Wine Crates for Bathroom Shelves
Image Credit: alhowa
35. Cool Pallet Wall Book Shelf
Image Credit: designyourownworld
36. DIY Pallet wood Bookshelf for Kids
Image Credit: evgreenhomes
37. Creative DIY Wall Shelf of Old Books
Image Credit: herodestilpilatus
38. Unique Skateboard Wall Shelf
Image Credit: evgreenhomes
39. Diy Wall Shelves from Vintage Trunks
Image Credit: krrb
40. DIY Cardboard Tube Wall Shelves
Image Credit: your-home-design
41. Antique Wooden Frames for Wall Shelves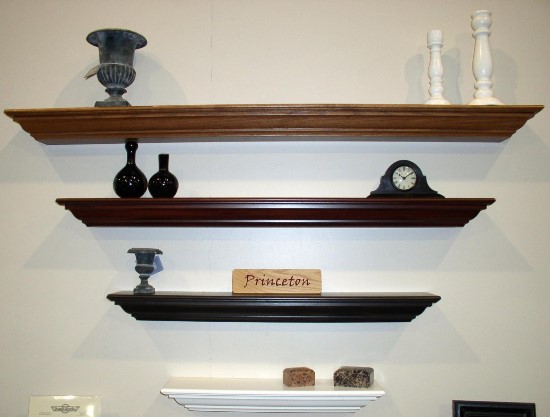 Image Credit: homervillerealestate
42. Creative Cardboard Bookshelf
Image Credit: wuyelx
43. DIY Recycled Guitar Wall Shelf
Image Credit: deavita
44. DIY Hanging Wall Shelf
Image Credit: soyouthinkyourecrafty
45. Unique DIY Vintage Drawers with Knobs as Wall Shelf
Image Credit: emailtwitter
46. Astoundingly Innovative DIY Bookshelf
Image Credit: rusacc
47. Amazing Tree Shaped DIY Wall Shelf
Image Credit: nobulges
48. Creative DIY Industrial Style Wall Shelf
Image Credit: gurukoala
49. Creative DIY Boxed Wall Shelf
Image Credit: feldtdesign
50. Creative DIY Vintage Bag Bathroom Wall Shelf
Image Credit: ikeadecoration