Do you have boys in your family and are deciding on what would feature in their bedroom? If so, here's presenting before you the top 50 sports bedroom ideas for boys that will offer you a large gamut of choices and make your life simple!
Unlike girls, where we can portray and display a number of themes in their rooms, for boys, the task becomes a little daunting. But, sports is one area that is loved by boys of all age groups, whether young or old. So, choosing a sports themed bedroom seems to be a very interesting idea when you are planning to redo your boys room.
Boys love anything and everything related with sports like baseball, hockey, football, cricket and even Judo Karate. Why not decorate their intimate places with cool wall murals and other such stuff to make spending time inside the bedroom more interesting and energetic? For you to do this, you must look below to see how varied are the sports themed bedroom ideas adopted by parents all over the world.
With some of these spunky sports bedroom ideas, we are sure you would change the boring atmosphere of your kid and transform it into a happening place where he can relax and enjoy his private moments. If you look below, you would see there are plenty of pictures of such bedrooms where the walls have been decorated on a sporty theme, like players involved in a game of baseball.
When speaking of baseball themed boys bedrooms, there are umpteen choices as it is one of the most loved games, not just in US but around the world, and designers have no shortages when thinking about adorning your boy's bedroom with one such cool sports bedroom décor idea. You can either collect a few baseball accessories like a bat, helmet, gloves and balls at one corner or keep them stored on a shelf, or you can have a wall mural that is adorned with baseball players playing the game.
It's not only baseball that intrigues young boys, but hockey and soccer too that are loved across continents. Sometimes, you can think out of the box and create a hockey goal net inside the bedroom if your sons are madly in awe of this game. Attaching huge play mats made of rubber on the wall is also a good option.
Signed autographs by famous sportsmen too can be framed and put up on the walls of boys bedrooms to add more fun and spunk to the sporty look of their bedrooms. Soccer themed sports bedroom too looks very boyish and there are lot of designs to choose.
American football or rugby too feature commonly in bedrooms for boys in the form of accessories like ottomans, seats or sofas that are designed in the shape of a rugby ball. Some images will show you how neat a kid's bedroom looks if you place sports themed duvet and bed cover on his bed. There are plenty of colors available and you need to check on what you want.
Sports like Karate and other martial art themes can enhance your son's bedroom's décor such as the images seen in the post. Other options when thinking of boys bedroom ideas include snowboarding and swimming that are mostly found on walls of teenage boys.
From simple sports bedroom ideas to those that are more flamboyant, the choices are unlimited and going through the post will definitely help you make a final decision. See carefully at the 50 most creative boy's bedroom ideas showcased below before you choose a specific sports bedroom décor for your child.
1. Sports themed bedroom ideas with custom stickers on the wall
Image Credit: Custom Sticker
2. Hockey sticks themed bedroom decor ideas for boys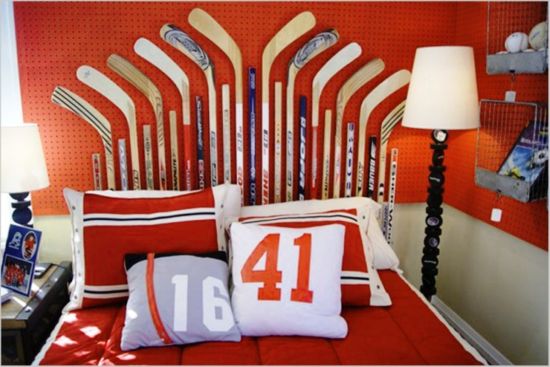 Image Credit: realhousedesign
3. Wall quotes sports bedroom ideas for boys
Image Credit: decorzidea
4. Quotation and sports themed bedroom wall decor ideas for boys
Image Credit: mosaicsandmurals
5. Baseball themed bedroom decor for boys
Image Credit: bedroomdecorationideas
6. Boys sports bedroom decor with hanging balls
Image Credit: essaves
7. American football themed wall decor for boys bedroom
Image Credit: qpic
8. Little boys sports bedroom ideas
Image Credit: pharmaka-art
9. Boys bedroom sports decor with football themed bed cover and rug
Image Credit: essaves
10. Cool baseball wall decor ideas for boys bedroom
Image Credit: arsitektur
11. Sporty bedroom decor ideas for boys
Image Credit: slimpro
12. Boys bedroom wall decor with football players and net
Image Credit: clickinteriores
13. Rackets on wall for boys sports themed bedroom decor
Image Credit:pinimg
14. Boys bedroom ideas with a Rugby themed painting on wall
Image Credit: yacineaziz
15. Boys baseball bedroom decor idea
Image Credit: james-macmillan
16. Basketball player wall mural idea for sports boys bedroom
Image Credit: hostcake
17. Sport themed boys bedroom ideas with wall climbing
Image Credit: bestgarden
18. Boys bedroom with baseball themed wall decor
Image Credit: hdinspiration
19. Sports themed cupboard for boys bedroom
Image Credit: znanie
20. Soccer themed boys bedroom ideas
Image Credit: james-macmillan
21. Sports inspired boys bedroom ideas
Image Credit: realhousedesign
22. Racing car sports themed bedroom for boys
Image Credit: decorzidea
23. Sporty race car bed idea for boys bedroom
Image Credit: realhousedesign
24. Sport bedroom decor ideas for boys with football chair and ottoman
Image Credit: dakaya
25. Boys bedroom sports decor with basketball theme
Image Credit: essaves
26. Boy bedroom sport ideas with swim theme
Image Credit: pinterest
27. Creative basketball sports bedroom ideas for boys
Image Credit: decorzidea
28. Boxing bag idea for boys bedroom
Image Credit: roomdecorideas
29. Car themed sports boys bedroom decor
Image Credit: addsarticles
30. Sports themed wall decoration idea for boys bedroom
Image Credit: homedecoranddesign
31. Slam and Dunk sports bedroom ideas for boys
Image Credit: slimpro
32. Boy bedroom decor ideas with tennis racket wall design
Image Credit: pfgrenada
33. Boys bedroom decor ideas with soccer balls
Image Credit: clickinteriores
34. Boys bedroom theme with play ball wall decal
Image Credit: iemo
35. Sporty curtain for boys bedroom
Image Credit: slimpro
36. Snowboarder sports boys bedroom wall decor idea
Image Credit: aliimg
37. Basketball dribbling players boys bedroom decor ideas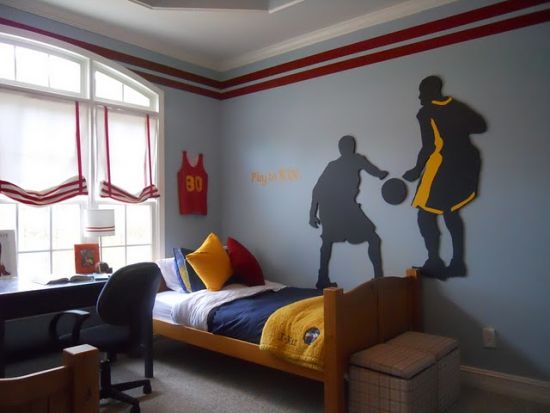 Image Credit: homeinteriordesign
38. Colorful baseball themed boys bedroom decor
Image Credit: improvinginteriors
39. Baseball themed sofa for boys sports bedroom ideas
Image Credit: msycb
40. Dartboard and basketball themed boys bedroom
Image Credit: sherwin-williams
41. Soccer themed boys bedroom decor ideas
Image Credit: dumpaday
42. NY Yankees toy chest for boys sports bedroom decor
Image Credit: simplykidsfurniture
43. Sports themed wall mural for boys bedroom
Image Credit: davinong
44. Football field themed boys bedroom decor ideas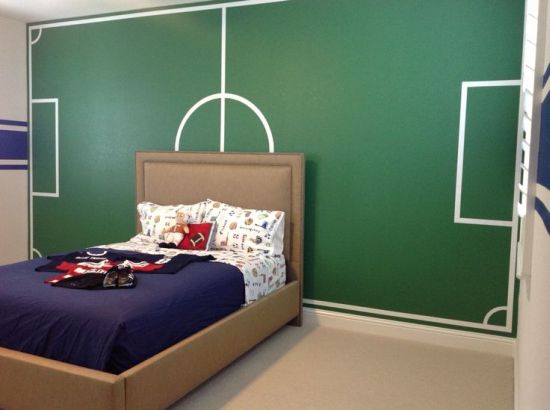 Image Credit: clickinteriores
45. Karate themed sports boys bedroom
Image Credit: hostcake
46. Baseball boys bedroom decor with baseball shaped headboard
Image Credit: james-macmillan
47. American football wall mural theme for sports boys bedroom
Image Credit: hostcake
48. Sports graffiti bedroom decor ideas for boys
Image Credit: davinong
49. Black sports car themed bed for boys bedroom decor
Image Credit: minimalisti
50. Tennis themed boys bedroom decor ideas
Image Credit: addsarticles