50 Beautiful Kitchen Table Ideas
The most precious family times you spend with your folks are probably the meal times around the kitchen tables. For these special times, you of course want to have a comfortable and a cozy seating. Having meals at the dining table are quite the way you can enjoy those little family times. If you have a separate dining room, then well you have a perfect place to decorate, all with a proper table and other dining room décor. However, setting up a cozy nook in your kitchen with a table for the entire family is quite a start towards those happy and fun filled family times
Kitchen tables have had the most useful advantages when placed in those cooking spaces. For one, they definitely make it easier to set up your table for the meal. However, there are also many other uses you could put these kitchen tables to. In the Victorian era for example, kitchen tables bore a place in the center of the kitchen space. These tables served more as a work area rather than one where you would sit and have your meals. You, however, can of course mix up these two uses of kitchen tables and use them as both.
Kitchen table ideas for a small space would be such that it is big enough to serve two to four people at a time. However, you could always make use of whatever space that is available in the tiny little kitchen you have. You could convert a window seat, for example into one of the dining seats at your little table. If it is just the two of you, then you might as well want to have just the window seat against which you set up a vintage wooden table, turning it into a cozy, romantic nook for yourself and your partner. If children are involved, you could add those high chairs for kids, making it a complete kitchen table.
Having a large kitchen space will only make it easier for you to set up a kitchen table of your choice. Supposing you have a rustic theme for your kitchen, you could always use those raw wooden, rustic kitchen tables. You can add elegant chairs with a rustic theme to the table, making it a complete rustic kitchen with a cozy place to binge off your meals. You could have a large castle style kitchen table, although there may be just the two of you to make use of it. The table will somehow be a prop of solitude for the two of you.
Another brilliant kitchen table idea is to forgo your kitchen island for the kitchen table. You could add up comfortable seats by your kitchen island and use the same as a kitchen table. There are many amazing ideas you can come up with for your kitchen table, no matter how big or small the space is available with you. Here, we have gathered around 50 quite beautiful kitchen table design ideas to sift through and implement if suitable.
1. Kitchen Island Turned Seating for Kitchen Table
Image Credit: ruiyaouna
2. Stone Top Island as Kitchen Table
Image Credit: predictomobile
3. Extended Kitchen with Dining Table
Image Credit: predictomobile
4. White Round Table for Small Kitchen
Image Credit: styledicor
5. Extended Wooden Kitchen Table
Image Credit: homedecorarcade
6. Lavish Kitchen with Glass and Black Wooden Table
Image Credit: vissbiz
7. Vintage Kitchen Table with Modern Seating
Image Credit: kaixinzhoumo
8. Antique Kitchen Table for Four
Image Credit: kaixinzhoumo
9. Multipurpose Kitchen Table in Small Space
Image Credit: hotstyledesign
10. Classic Dining Table for Contemporary Kitchen
Image Credit: homedesigns
11. Printed Table for Modern Kitchen
Image Credit: robbiewalden
12. Chic Wooden Table for Spacious Kitchen
Image Credit: cnbhomes
13. Kitchen Table for French Country Home
Image Credit: desigfx
14. Retro Kitchen Table Design for Modern Kitchen
Image Credit: desigfx
15. Contemporary Kitchen Table for Four
Image Credit: desigfx
16. Impressive Two Table Set for Lavish Kitchen
Image Credit: robopocalypse
17. Kitchen Island as Kitchen Table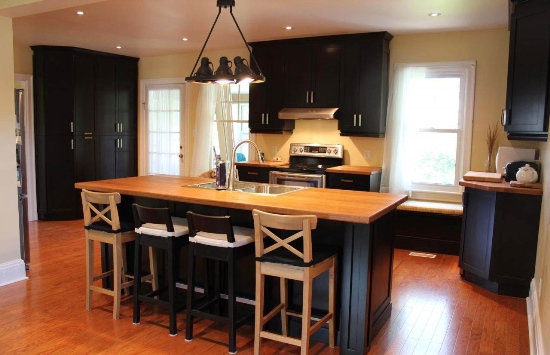 Image Credit: robopocalypse
18. Extended Island as Kitchen Table
Image Credit: robopocalypse
19. Creative Rustic Kitchen Table
Image Credit: digsdigs
20. Classy Kitchen Table Set Up
Image Credit: homedesigns.today
21. Unique Table Design for Small Kitchen
Image Credit: isydecor
22. Corner Kitchen Table for Two
Image Credit: hgtv
23. Classic Black Island Extended as Kitchen Table
Image Credit: tophomeideas
24. Kitchen Island Cum Kitchen Table Design
Image Credit: tophomeideas
25. Modern Long Kitchen Table for Spacious Kitchen
Image Credit: bugot
26. Two Table Sets for Country Kitchen
Image Credit: bugot
27. Traditional Table for Kitchen
Image Credit: bugot
28. Classy White Marble Kitchen Table
Image Credit: cnbhomes
29. Cool Kitchen Table Idea for Lavish Kitchen
Image Credit: nallau
30. Classic Black Wooden Kitchen Table
Image Credit: decobizz
31. Vintage Kitchen Island Cum Kitchen Table Design
Image Credit: inderoom
32. Beautiful Real Wood Modern Kitchen Table
Image Credit: withgood
33. Traditional Kitchen with Traditional Kitchen Table
Image Credit: liftupthyneighbor
34. Creative Small Kitchen Table Ideas
Image Credit: amerisonic
35. Contemporary Kitchen and Kitchen Table Design
Image Credit: wallsave-hd
36. Retro Kitchen and Kitchen Table Design
Image Credit: inderoom
37. Modern Kitchen Design with Wooden Kitchen Table
Image Credit: windmillkitchens
38. Small Kitchen with a Table for Two
Image Credit: tiendareformax
39. Traditional Kitchen Table for Spacious Kitchen
Image Credit: homedesigns
40. Modern Kitchen Table with Glass Top
Image Credit: saharasnewhaven
41. Granite-Wood Kitchen Table Island for Lavish Kitchen
Image Credit: homecaprice
42. Modern White Kitchen Island Table
Image Credit: lechampbuilding
43. Creative Table Ideas for Small Kitchen
Image Credit: digsdigs
44. Creative Monochrome Mobile Kitchen Table
Image Credit: tophomeideas
45. French Style Kitchen Island Table Design
Image Credit: kithung
46. Solid Wooden Table for Wooden Themed Kitchen
Image Credit: naturallivingmag
47. Small Kitchen Table Set for Four
Image Credit: casualhomefurnishings
48. Traditional Wooden Table for a Modern Kitchen
Image Credit: lonny
49. Vintage Themed Kitchen with a Dining Table
Image Credit: modellerdekorasyon
50. Rustic Themed Kitchen with a Heighted Table
Image Credit: mcgregorsdaughter