If you want to make the most of your home space, here are the 21 space saving ideas that are smart and will help you utilize each and every furniture piece to its maximum capacity. A home should not look cluttered up and must have such furniture that enables you to keep things in an orderly fashion. From sliding bookcases to expandable or folding dining tables, to tables that can be raised or lowered to cater to individual needs, the post today will showcase some very innovative space saving furniture.
1. Fold up Picture Table
Space saving ideas such as the one shown here will help you create a free space in your living room. The fold up picture table is a great space saving furniture that looks quite unassuming at first glance. When folded down, it looks like a normal dining table, but soon you get to see its real self when it gets unfolded into a beautiful picture frame with a girl's impression on it. Its a decorative plus a very clever space saving furniture Idea.
Image Credit: geeky-gadgets
2. Table With Adjustable Base
The wooden top coffee table falls in the category of space saving ideas that are clever and can suit any type of home, whether big or small. But, in case you have a limited space in your living room, you can place this amazing piece of furniture with adjustable base that allows it to be used as a coffee table as well as dining when you wish to feed your guests. The rectangular top allows for keeping a large number of things including plates and glasses.
Image Credit: thinktanking
3. Coffee Table With Nesting Ottomans
The dark rich brown colored coffee table is just perfect for smaller living areas as it looks compact and comes equipped with ottomans that are castered (with wheels) for easy movement. The square shaped table suits the decor perfectly and its ottomans can be slid under it to save on space. If you wish to remove the cushion over the ottoman, a hidden storage will be revealed, much to your surprise!
Image Credit: wfrcdn
4. Space Saving Sofa With Slide In Coffee Table and Two Ottomans
Seen below is a clever piece of furniture called as a slot sofa that can be placed in living rooms that have a space crunch. There is a coffee table that can be slid out of the slot sofa when you have guests over and want to entertain them with food and drinks. When not needed, it can be slid inside the sofa along with two ottomans. Its a great piece of visually attractive furniture falling under clever space saving ideas.
Image Credit: lushome
5. Space Saving Bedroom Ideas With Fold Away Beds
In case you have small bedroom or a guestroom, and wish to make it multi functional so as to allow ease of movement and prevent cluttering, you can try installing a fold away bed that is an awesome piece of furniture that can be used when needed, and folded up to reveal a lot of vacant space when sleep is not on your mind. Seen below is a guest bedroom where the owners have installed a fold away bed, also known as a Murphy bed that can be pulled down when you wish to sleep. The home office space has a sliding desk that can be slid away when you want your bed to rest.
Image Credit: sndimg
6. Clever Space Saving Bedroom Slide Away Bed
In the image below, the attic has been converted into a cozy looking bedroom that's decorated with functional furniture like a white window sofa and a slide away bed that slides inside the sofa's slot when you don't want to sleep. The room looks warm and pretty airy as the bed is not to be seen in the morning. There is lot of free floor space to be seen. Space saving ideas such as slide away beds are the need of such families that live in small apartments.
Image Credit: pinimg
7. Clever Space Saving Studio Apartment Slide Bed
The studio apartment's living room seen below is equipped with a raised platform, used as seating, and under it is placed a pull away bed that can be utilized in the night when you wish to rest, and can be pulled away when not needed. The best part about using these is the flexibility associated. You can use these pieces either alone or at the same time when more guests come over to your place.
Image Credit: homedit
8. Clever Space Saving Kitchen Ideas With Storage Drawers
There was a time when searching for space saving kitchen ideas with efficient storage were hard to find, but, now things have changed, and every designer has something or the other to offer to make the most of your kitchen space. The storage drawers seen below are built in such a way that at least two compartments fit inside the main storage drawer to allow maximum storing of things like cutlery and other accessories.
Image Credit: housetohome
9. Space Saving Kitchen Ideas With Swing Out Storage
A swing out storage such as the one shown below allows you to put your things in the neatest of fashion. Swing out shelves are flexible and can be used to store a large number of things without cluttering up the place. You can pull out one storage shelf without disturbing the order of things at another. These can be fitted at the corners of your Kitchen island if needed.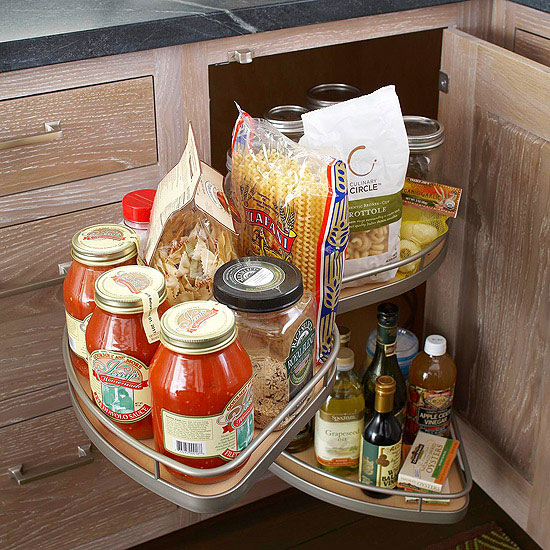 Image Credit: lovethispic
10. Space Saving Foldable Dining Table In Kitchen
For space saving kitchen ideas that rock, look below where you can see a compact dining table in the kitchen that can be folded to save space. The kitchen below is a small area and the white dining table can be folded away when dining is not playing too hard on your mind. It is easily portable and can be placed without any difficultly. Since, it is portable, you can stash it away at some corner or place, hidden away from your guest's eyes. The sparkly look adds to the kitchen's decor.
Image Credit: decoist
11. Clever Space Saving Bathrooms With Wall Mounted Vanities
Space saving bathrooms such as this one shown here looks rather spacious with a wall mounted vanity in grey and white. The floating vanity not merely frees the floor of any clutter, it also adds to the illusion of an airier room as seen below. With a high glossy finish and four closed drawers, the vanity offers lot of storage solutions too.
Image Credit: islandbathrooms
12. Clever Space Saving Bathrooms With Built In Cabinet Behind The Toilet
As you can see below, the built in toilet cabinet falls in this category of clever space saving bathrooms. Behind the toilet cabinet in white can be used for storing bathroom accessories without gobbling up additional space. From toilet rolls, to cosmetics, to decorative items, this cabinet can be used for keeping endless things as you need.
Image Credit: kijashi
13. Clever Space Saving Bathroom Design With Wooden Cupboard and Shelf
The image below showcases some clever cabinet bathroom ideas that are commonly installed in most of the homes today. The over the toilet wooden cabinet in brown creates additional storage space for keeping large number of accessories and looks smart and compact. It can vary from wall mounted cabinet idea to built in over the toilet cabinet idea.
Image Credit: homeinn
14. Clever Space Saving Bathroom Idea With a Cabinet Built In Toilet and Sink
The bathroom below has a cabinetry with built in toilet and sink, allowing for maximum space saving. The limited space inside the bathroom has made it essential for the designer to choose such fixtures that easily fit in one single frame such as the sink and the toilet shown below. The flush button too is fitted over the body of the white cabinet. Space saving bathrooms like this surely help you create an illusion of a bigger space.
Image Credit: radiogosen
15. Clever Space Saving Bathrooms With Stainless Steel Towel Holder
Where do you stash your towels when space is a major concern? Well, you try fitting such towel holders on the bathroom wall that allow you for maximum storage and do not eat on your space that's already an issue. The stainless steel towel holder seen in the bathroom below helps in offering efficient storage solution.
Image Credit: see-bee
16. Clever Space Saving Walk In Bathtub
If you wish to save on space in your small bathrooms, you can place a walk in bathtub that looks compact and comes equipped with many features for an enjoyable bathing experience. The door of the tub opens inwards that gobbles up less space and the tub can be fitted in between tiled slabs or islands to offer maximum storage of things.
Image Credit: pinimg
17. Space Saving Spiral Staircase With Compact Design
Spiral staircase such as this one in the picture helps you save space as the design is such that it gobbles up lesser area and is durable too. Its less costly and takes up almost 1.5 meters of area. Its sleek built adds to the decor of the room.
Image Credit: minimalisti
18. Clever Space Saving Staircase Idea
The wooden staircase in the image offers storage of plenty of things required in the house. The built of the staircase is such that it can be carried from one place to another, and its drawers can be used for keeping accessories and preventing clutter.
Image Credit: rackcdn
19. Space Saving Bedroom Idea With Accordion Closet Doors
The grey and white patterned accordion closet door in the bedroom below helps in hiding away the contents of the closet, and also adds glamour to your normal wardrobe. You can easily open up all the doors and revel in seeing a perfectly hidden away vanity and closet when you wish to. Space saving bedroom idea with Accordion closet door is the new trend doing the rounds this year.
Image Credit: minimalisti
20. Space Saving Furniture Ideas With Revolving Bookcase
Space saving ideas with revolving bookcases is also popularly seen in many homes these days. A revolving bookcase such as the one seen in the picture below, helps in storing plenty of things like books, cosmetics, vases and other decorative pieces, that by virtue of their built and design, would have gobbled up extra space, if not been stored in this piece of furniture. There are in all 42 cubbies that are fixed and can be utilized for storing any number of things.
Image Credit: homedit
21. Space Saving Kitchen Ideas With Pull Out Work Surface
Space saving ideas with pull out work surfaces in your kitchens can add more space or the feel of it, such as in the image showcased below. The kitchen below has a work island with a slot from where you can see a pull out work station being pulled out. It is made of wood. It can be pulled inside or outside as needed and quite easily. If you want extra counter space, you can try fitting one of these.
Image Credit: scene7
From simple fold away beds, swing out doors, tables with adjustable heights, revolving bookcases, over the toilet cabinetry to other clever space saving ideas listed today, we are sure you would select one of these and add more space in your homes.