Using creative DIY nightstands for your bedroom can add an element of grace and style to its decor and character. DIY nightstand ideas, if you search for these around on the web today, will give you an insight as to what home owners these days are following to improve their living styles.
For me, a bedroom is the most private living chamber that ought to look grand and there isn't a better way than to decorate it with beautiful DIY nightstands as showcased below. DIY, stands for doing any type of repairs and embellishments oneself, rather than visiting a shop or taking the help of others.
Most often, we can see drastic transformations happening in our living spaces with a mere addition of a unique piece of furniture or accessory that one can make easily at home. Nightstands too can be made with items available in homes and a little bit of creativity. It always pays if one thinks a little differently when designing their bedroom nightstands. Unlike such pieces that are offered in the markets, and lack the necessary charm, a DIY nightstand is a much better alternative as it involves your personal touch.
With a few changes here and there, you can bring a total aesthetic revolution into your bedrooms like in the images that you can see below. All these are DIY and don't push you to sink your precious penny towards buying that beautiful nightstand that you always wanted. Instead, these nightstands can be made at economical prices if one so desires.
From old objects lying useless in your backyards or garages to repurpose items, everything around you can be transformed into beautiful DIY nightstands. Bedroom nightstand ideas such as the ones presented in today's post will show you how things like old rattan baskets, old chairs, stools, drums, wine barrels, ladders and crates can be put to effective use.
The net is filled with a huge selection of DIY nightstand ideas that can offer tremendous help to such home owners that are thinking of decorating their bedrooms with table stands that look unique. I am an avid fan of DIY and my home is one place that has almost all its corners and alleys adorned with DIY furniture and accessories.
For table stands for my bedroom, I too, took inspiration from nightstand ideas presented in magazines and got myself a pretty apple crate for doing some creative innovations. Yes, old fruit crates can serve a very useful purpose besides being used to store things. As you can see, there are a number of nightstands made of old and worn out crates whereby owners have joined two crates to create lovely looking nightstands for bedrooms.
Old desks or typist tables can also be transformed into smart nightstands for such spaces that are small and compact. Desks offer a larger space wherein you can place a number of things apart from your bedside lamp. In one of the images that I have showed, the nightstand has been made out of a normal console table whose surface has been adorned with decoupage work, all by using paints and prints at home.
Bar stools too make for elegant and chic nightstands as these can be refurnished using paints and fabrics as per one's whims. Similarly, there are other options like using stacks of old books and magazines to create a trendy nightstand for your bedroom.
The nightstand ideas listed below will definitely enable you to bring DIY element into your homes, much to the delight of your pockets! These are cheap and can be availed from thrift stores too. Get going and let me know if you liked any one of these bedroom nightstand ideas which I know you would!
1. Cute blue suitcase as DIY nightstand
Image credit: decorativebedroom
2. Bar cart nightstand for bedroom
Image credit: wordpress
3. Cool DIY nightstand idea for bedroom
Image credit: fortikur
4. Creative DIY nightstand idea with storage trunks
Image credit: motherearthliving
5. DIY nightstand pallet crate idea
Image credit: intelyex
6. DIY nightstand idea with old table
Image credit: architectureartdesigns
7. Stylish chairs as nightstands
Image credit: blogspot
8. Modern DIY nightstand idea with old can
Image credit: worldinsidepictures
9. DIY tree stump nightstand idea
Image credit: decoshare
10. Economical wooden block nightstand idea
Image credit: worldinsidepictures
11. DIY pet bed nightstand idea
Image credit: diynetwork
12. DIY Decoupage nightstand idea
Image credit: starsforstreetlights
13. DIY stack of books as nightstand
Image credit: browzer
14. Vintage chest of drawers as nightstand
Image credit: blogspot
15. Creative DIY ladder nightstand idea
Image credit: architectureartdesigns
16. Unique bedroom nightstand idea
Image credit: fanelis
17. Wonderful bedroom nightstand idea with wine barrel
Image credit: homedit
18. Smart nightstand with wooden bedside decor
Image credit: worldinsidepictures
19. DIY floating nightstand for bedroom
Image credit: shelterness
20. DIY step table nightstand for bedroom
Image credit: lampsplus
21. Extraordinary DIY nightstand idea
Image credit: decorativebedroom
22. Simple DIY nightstand for bedroom
Image credit: refresheddesigns
23. Cute rattan basket DIY nightstand idea
Image credit: apartmenttherapy
24. DIY wooden crates nightstand
Image credit: imgarcade
25. DIY antique cabinet as nightstand
Image credit: diynetwork
26. DIY old typist stand as nightstand
Image credit: soup
27. Rustic DIY nightstand idea
Image credit: wordpress
28. DIY vintage crates as nightstands
Image credit: blogspot
29. Antique box as DIY nightstand
Image credit: bobvila
30. DIY drum as nightstand idea
Image credit: apartmenttherapy
31. Glam DIY boxes as nightstand
Image credit: wsvn
32. Artsy DIY nightstand idea with old magazines
Image credit: theyearoflivingfabulously
33. Unique green Chester drawer DIY nightstand idea
Image credit: myfancyhouse
34. Reusable DIY crate as nightstand
Image credit: blogspot
35. DIY wooden block as bedroom nightstand
Image credit: bobvila
36. DIY ladder nightstand idea for bedroom
Image credit: designsponge
37. Painted trash can nightstand idea
Image credit: decorola
38. DIY bedroom nightstand with wood and books
Image credit: designsponge
39. Two Tiered mid century DIY nightstand
Image credit: diynetwork
40. Cute DIY trunk as nightstand
Image credit: decoist
41. Unique cinder block nightstand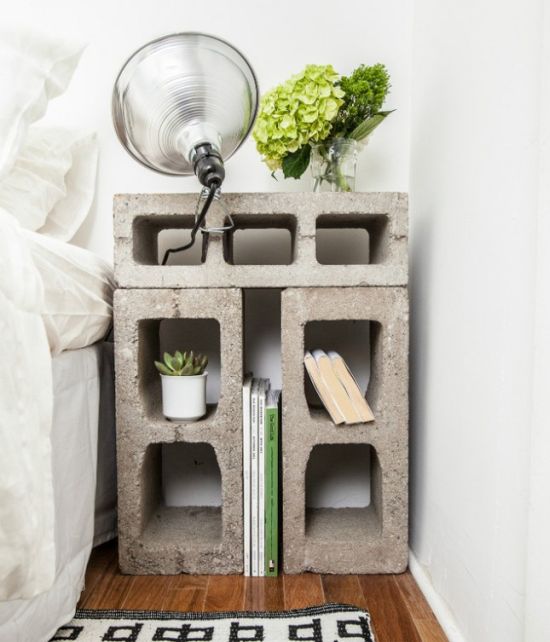 Image credit: brit
42. DIY vintage crate and office chair as nightstand
Image credit: designsponge
43. Painted DIY nightstand
Image credit: hometalk
44. Upcycled metal ballot box nightstand
Image credit: jzway
45. Cool DIY nightstand idea
Image credit: fortikur
46. Bamboo rattan basket as nightstand
Image credit: bedroom-decor-design-ideas
47. DIY Ikea chair as nightstand
Image credit: kimvallee
48. Creative DIY nightstand idea
Image credit: topdreamer
49. Garden stool DIY nightstand
Image credit: freshdec
50. Smart brown DIY pallet nightstand
Image credit: woodenpalletfurniture
51. Rustic DIY tree stump nightstand
Image credit: bobvila
52. DIY lovely crate nightstand
Image credit: denoxa
53. Beautiful DIY rustic nightstand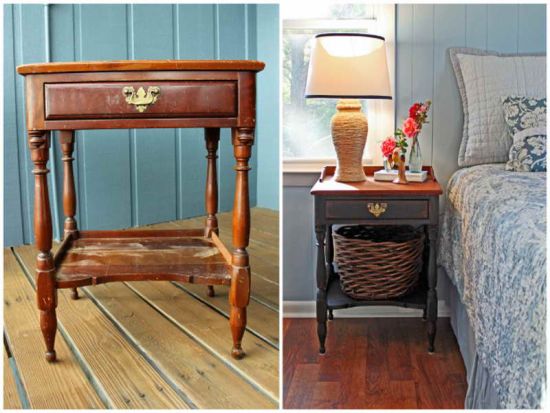 Image credit: fortikur
54. Vintage suitcase stack as nightstand
Image credit: pigridy
55. DIY cone mounted nightstand
Image credit: cargocollective
56. Simple wooden boxes as DIY nightstand
Image credit: beacont
57. Creative green wooden table as DIY nightstand
Image credit: onelowell
58. Innovative DIY small round table as nightstand
Image credit: freshdec
59. DIY picture frame nightstand
Image credit: topdreamer
60.Enticing DIY vintage style rustic wooden nightstand
Image credit: docxie