The reverberating sound made by the mysterious owl in the night fills many of us with a feeling of creepiness, but all said and done, these wise birds offer many cool ideas for home decorating. To decorate ones homes with owl décor ideas is not a new concept, but has been prevalent for a long time.
From owl prints on pillows, bedding, cushions, sofa covers, wall art to t-shirts and wreaths, owls have always occupied a special place. We can close our eyes and say that of all the creatures, owls are the ones that occupy the most important place as far as home decorating ideas are concerned.
Owls, no doubt, may look a little spooky and their hoot, sometimes, makes your spine shiver, but these mystical creatures definitely have a thing that clicks when you think of decorating your homes with owl décor. Owl décor is perhaps best loved by such folks that have young children as these creatures look pretty neat and cuddly when decorated on walls or pillows of kid's bedrooms. The owl mania, as I would like to call it, has been particularly seen among young kids that simply love to adorn their rooms with everything that relates to these wise birds, right from their figurines on walls as wall decal to miniature lamps that adorn side tables.
Owls symbolize beauty and wisdom and most people like to place them inside their homes as these are considered as beings with infinite powers. Considered auspicious, owls have found their true calling in home decorating ideas. One can think of numerous ways to decorate their homes with owls being the central theme. Most people love owls to be placed in living rooms in the form of ceramic pieces or statues. There are a few photos that I have posted where you can see gorgeous owl statues in ceramic.
Home décor ideas with owls offer you a varied choice wherein you can select owl based décor stuff like owl rings, curtain owl rings for your shower, owl themed rugs and trivets. There are a hundred ways to decorate your homes inspired by owl home décor ideas. In some pictures, there are DIY owl cardboard decorations that look charming and quite out of the box. One can easily make these at home using normal cardboard and a few mundane things readily available in homes. Such cardboard decorative pieces can be placed anywhere in the house, from kid's room to porches.
Home decorating ideas like Owl wreaths are also a unique way to add warmth to your home. Most loved owl décor ideas revolve around walls as there are a whole lot of themes one can select. From choosing colorful owl motifs seen sitting atop branches of trees to a cluster of tiny owls shown flying, one can play with different ideas when decorating their walls. Many owl wall decals come in monochromatic schemes and look wonderful too. Pumpkin owls as seen in some of the pictures below are just the perfect way to usher in Halloween and look a tad different than the usual spooky themed stuff like spiders and ghosts. One can keep these pumpkin owls as decorative pieces for later use.
The 50 Décor ideas with owls presented today will show how you can bring these magical birds come alive into your homes. So, people … get set go and have a 'hooty' time this festive season!
1. Amazing owl decor on walls
Image credit: houzz
2. Cute owl inspired pillow cover for home decoration
Image credit: cupcakepedia
3. Home decorating ideas with owl display
Image credit: jimmaritime
4. Cute owl painting for home decoration
Image credit: wordpress
5. Light pink wall with colorful owl decoration
Image credit: snuut
6. Cute embroidered owls for home decoration
Image credit: cuteembroidery
7. Beautiful owl rugs for home decoration
Image credit: brightnest
8. Amazing home decor idea with owl painting
Image credit: interiordesign2015
9. Amazing owl containers for home decoration
Image credit: worldmarket
10. Beautiful owl themed bedding for home decoration
Image credit: houzz
11. Fabulous pirate owl cushion for home decoration
Image credit: loveitsomuch
12. Pretty owl lampshade for kid's room
Image credit: amazon
13. Amazing owl kitchen decor for home
Image credit: blogspot
14. Cute monkey and owl wall decal
Image credit: aliexpress
15. Dazzling wall stickers with owl and tree
Image credit: bigcommerce
16. Snowy owl lamp for home decoration
Image credit: lights4fun
17. Cute Christmas pink and white owl decoration
Image credit: johnlewis
18. Amazing owl towel hanger for home decoration
Image credit: blogspot
19. Adorable owl racks for kid's bedroom
Image credit: furnikidz
20. Owl fridge magnet home decor
Image credit: blogspot
21. Black owl decorating ideas for Halloween
Image credit: hgtv
22. Earthenware owl statue for home decoration
Image credit: styleathome
23. Unique metal owl decor for home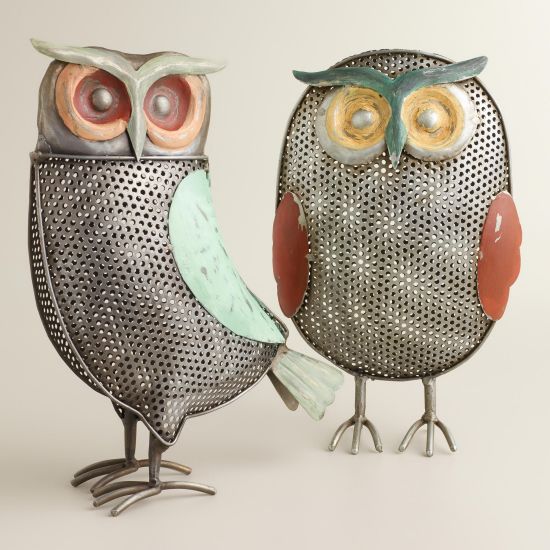 Image credit: worldmarket
24. Cute pink owl bedding for nursery
Image credit: jg188
25. Owl felt ornament decoration
Image credit: etsy
26. Unique owl inspired pumpkin decor
Image credit: rilane
27. Handmade white pumpkin owl decor
Image credit: custommade
28. Owl inspired bedroom decor
Image credit: picphotos
29. DIY pine cone owl decoration
Image credit: rspb
30. Cast iron double owl trivet
Image credit: antiquefarmhouse
31. Fascinating owl luminary decor
Image credit: creativehomeidea
32. Fabulous white owl decoration
Image credit: greenwin
33. Geometric owl painting for home decor
Image credit: galleryhip
34. Beautiful owl pumpkin decor
Image credit: eventualism
35. Owl decor with Winnie the Pooh quote
Image credit: etsy
36. Fall owl decor trends
Image credit: thebarachgroup
37. Unique owl garden decor
Image credit: aliexpress
38. Wood carving owl wall art
Image credit: custommade
39. Enchanting owl decoration for autumn
Image credit: tighsolas
40. Amazing metal owl wall decoration
Image credit: cheapaschips
41. Retro vintage pottery hanging owl chime
Image credit: loveitsomuch
42. Beautiful green owl rug home decor
Image credit: houseandgarden
43. Pretty owl canvas wall decor
Image credit: blogspot
44. Unique owl wind chime for home decoration
Image credit: idecorsz
45. Cardboard owl decoration for home
Image credit: upcyclethat
46. Owl shower curtain rings for bathroom
Image credit: modcloth
47. DIY owl wreath for home decoration
Image credit: allwomenstalk
48. Amazing owl inspired art panel
Image credit: chasingpaper
49. Beautiful owls for living room
Image credit: timesunion
50. Amazing owl wall decor for living room
Image credit: pinterest