The month of December brings with it the beginning of the holiday season and the countdown for Christmas – the festival of hope and love. The entire year everyone waits eagerly for this beautiful festival. Families come together, exchange gifts and golden memories of sheer happiness. Lot of planning and detailing go in deciding how to decorate your home this holiday season. The markets are full of different charms, decorative pieces and fancy center pieces to give your home a complete festive look. But not everyone wants market bought decorations. Lot of people love to decorate their home with creative handmade Christmas charms and décor items. We have brought for you some beautiful, inspiring and creative handmade table ideas for Christmas.
1. Simple Christmas Table Décor
The best way to decorate your home this Christmas is to keep it simple. This setting gives you some great table ideas for Christmas. If you know knitting, all you need is some red and white wool to knit attractive socks for your cutlery. It looks fancy and goes well with the festive theme.
Image Credit: topdreamer
2. Beautiful Glass Christmas Centerpieces
Candles always illuminate the room and give it soft and formal ambiance setting. This image gives you two creative ideas to incorporate candles as your Christmas centerpieces for your table. Use inverted long stem glasses as a candle stand. Decorate the glass with some colorful glass balls or mistletoe for the complete look. You can also use a small fish bowl with decorations in water and some floating candles.
Image Credit: prakticideas
3. Creative Table Ideas for Christmas
Some Christmas table decorations are very common during the festive season. Be different from everyone and create an ingenious table charm hanging. This charm has some cute and adorable Christmas wear adorned with sparkling balls.
Image Credit: christmas-tree-2014
4. Fancy Christmas Table Decorations
Red and white is the most preferred color theme for Christmas. If you would like to go with the tradition, this is the perfect table setting. Use a red tablecloth linens and adorn it with a white runner made of cotton. Decorate it with silver candles and throw in some party balls for an added effect.
Image Credit: decoratingpartyideas
5. Elegant Christmas Decorations Ideas
Confused on what type of centerpieces you should place on your Christmas dining table? We have brought for you some awesome ideas for the same. Use long cylindrical glass vases, fill them with water. Place orchids or different flowers to add color. Another inexpensive and great idea is to place Christmas balls in glass vases.
Image Credit: oneenchantedday
Image Credit: photobucket
6. Classy Christmas Centerpiece Ideas
Make small sparkly tree structures as centerpieces for your Christmas table setting. You can add a base to each top making it a multiple candle holder. To protect the candle light place a glass on each base. You can use wire meshes or sparkly strings to cover the tree to make this adorable Christmas table decorations. One of the best ways to keep in budget is to make use of waste material from home.
Image Credit: tovtov
7. Gorgeous Christmas Table Decoration
This is a unique and colorful Christmas table décor idea for a family gathering. The décor is finished in red and green color combinations. The check table cover and napkins grab your attention and make it striking. Another brilliant idea is to place a small miniature sledge with a swirl Christmas tree piece and some sparkly balls for creating the Christmas mood.
Image Credit: jenniferrana
8. Striking Christmas Decoration Ideas
Another creative idea is to assemble sparkly painted flowers or golden dipped pine cones and make a stylish, eye-catching table runner throughout. It will look very festive giving your interior setting an opulent appeal. Throw in some candles and lights to enhance its effect.
Image Credit: jenniferrana
9. Serene Christmas Table Decoration Ideas
Have you thought of a complete white and silver décor for your Christmas theme? It sounds boring, but it creates an awe-inspiring effect on your guests. They would be mesmerized with a centerpiece with silver and white Christmas balls. Accentuate it with pearls and small white lights for a classy and elegant Christmas dinner.
Image Credit: home-designing
10. Flower Décor Table ideas For Christmas
Flowers play an important role during festive decorations. They bring a smile on everyone's face. For a last minute Christmas gathering, you can decorate your dinner table with colorful flower stems. You can use different size glass jars instead of vases to add a spicy twist to the festive décor.
Image Credit: wordpress
11. Snowy Christmas Table Decoration Settings
Christmas is never complete without snow. Use snow as your theme and come up with exciting Christmas decorations ideas. The room is set up in full white and red theme. Use paper snowflakes, white china and cutlery to give it a snow day feel. Another cool idea is to place a white tree cutout as a dinner table centerpiece.
Image Credit: mydecorative
12. Rustic Christmas Decoration Ideas
Follow a rustic theme this Christmas season. Enjoy a beautiful Christmas dinner with your family over this strikingly decorated table. Santa Claus dinner mats are perfect for the occasion. The personalized name mail bag hanging from each chair is a chic décor idea and best for surprises.
Image Credit: countrysoldier
13. Fruit Themed Christmas Table Decorations
Like flowers, you can use fresh or imitation fruits to set your holiday dinner table. This is easy to do and consumes less time. Bring together all different fruits and place them in an organized stylish manner throughout the center of the table. Adding long candle stands will enhance the entire setting.
Image Credit: mutni
14. Attractive Christmas Centerpiece Ideas
One can use two tier serving platters as Christmas centerpieces for your table setting. Decorate and embellish it with gold, red and green balls to add color to the room.
Image Credit: techgameart
15. Stylish Christmas Table Decorations
Colored globes and balls are the most attractive amongst Christmas charms. Decorate your table with different shape vases and fill them with distinctive colored balls or marbles to add color and oomph to your formal dining space.
Image Credit: blogspot
16. Floral Theme Christmas Table Decorations
Another floral theme decoration idea is to decorate a flat tray with fresh flowers. Place two or three flower platters across the table. This spreads aroma and adds color to the room as well. You can tie twigs together for a forest feel on the table.
Image Credit: decoholic
17. Contemporary Table Ideas for Christmas
If you like your Christmas table decorations to be elegant yet modern this is the perfect choice for you. You can decorate using a single color and add a floral centerpiece for elegant effect. Do not miss the strings of paper assembled to create a contemporary abstract Christmas centerpiece.
Image Credit: decoholic
18. Sweet Candy Christmas Centerpiece Ideas
Like snow, Christmas is never complete without colorful and yummy candies. You can see a lot of different table settings one can use to decorate their Christmas dining table. Eat some and display some is the goal here!
Image Credit: digsdigs
19. Mesmerizing Christmas Table Decoration Settings
Pine cones, colored glass balls and ribbons make great centerpieces when added to a deep glass bowl. Adorn the dining table with a ribbon gift for each guest. This would excite them and also pull them towards the eye-catching dining table. Mesmerize your guests by adding candles around the table for creating a formal and subtle ambiance.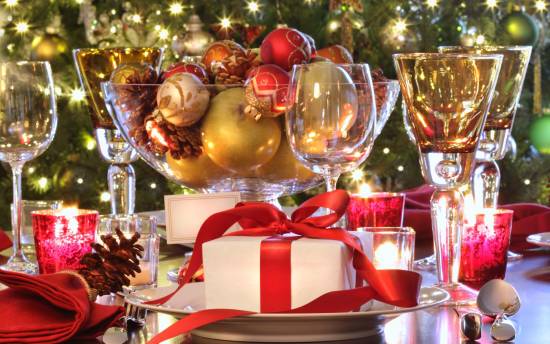 Image Credit: aldovega
20. Stunning Christmas Decoration Ideas
There are many different Christmas centerpieces you can make at home easily. This is one of those that are simple yet striking each time a guest walks in. All you need is some silver paint and glitter. You can dip pine cones, wires meshed balls, glass ornaments and place them in a silver glittery basket and your centerpiece is complete. It looks amazing and goes well with all formal and festive occasions.
Image Credit: wfweblodge
Get inspired and start creating your own DIY table décor ideas this Christmas. Captivate the attention of your guests and leave them spell bound by displaying your creative talent with spectacular Christmas table decorations.