Regardless of whether we live to eat or eat to live, everyone agrees that breakfast, lunch and dinner are the three main meals of the day and quite often, we eat at least one or two of these meals at home. This is just one of the reasons why the dining area is an integral part of every home. It is a place where people not only get together for everyday meals and special occasions, but also laugh, cry, play games, have endless conversations and spend precious time with family and friends.
Hence, it is important that you design and decorate this space in a manner that creates a comfortable, warm and welcoming environment. The dining table definitely plays a significant role in your dining area so you need to choose this piece of furniture very carefully. When selecting a dining table design to transform your dining space, use your imagination and also draw inspiration from your family's style and character. Ensure that the size, style and look of the table complements your interiors.
Traditionally, the dining table was built in a rectangle shape but nowadays, you are spoilt for choice as a wide variety of dining tables in different shapes, sizes, styles and colours are on the market. So you can pick the one best suited for your lifestyle and home.
Round dining tables…
A hot favorite these days are round dining tables, as they accommodate more people. They also add a touch of elegance and style while lending an old-world charm to the dining area. Round tables also come in many forms, each with its distinctive features, which perk up your dining space. You can either opt for a mid-century rustic wood dining table or go for a modern, simplistic look with a glass-top or marble-top table.
Popular styles of round dining tables…
Round dining tables are further categorized based on the material used for the frame and the table top, the style and shape, the base type and even the color and finish of the table. Some of these categories are mid-century dining tables, pedestal dining tables, wood dining tables, glass dining tables, and so on. We will only discuss a few of these types of dining tables here, which are as below:
The mid-century…
For some people, owning a 50's or 60's design dining table feels like possessing a rare historical artefact that fills them with pride and great joy. No doubt that they do look classy and sophisticated in your dining space. The mid-century round tables set the tone for cosy, intimate meals with friends and loved ones.
The pedestals…
Round dining tables with a pedestal base definitely add beauty and elegance to your dining area and is ideal for country cottage homes. The antique pedestal style with a modern twist is comfortable and doesn't take too much space making it a great option for small dining areas. In addition, these are generally sturdy and durable.
The wooden ones…
Wood is a material that never goes out of style and can either bring old-fashioned elegance or an exotic, modern touch to any furniture. Dining tables are no exception and you can choose darker woods, such as cherry and mahogany to create an atmosphere of home-style charm or give a contemporary twist to your dining area with colorful finishes like classic cherry, sleek chrome, rich espresso, and pristine white.
If you are one of those who loves to blend modern sophistication with traditional, you could go for a round dining table that is a combination of wood and glass or wood and steel.
Modern kitchens boast of minimalist designs using dark metals, concrete, colorful plastics, etc. with fashionable pub tables or elegant counter-height chairs. Below are listed 50 contemporary round dining table design ideas that you could utilize in your home.
1. Simple Modern Round Dining Table
Image Credit: mtdsnet
2. Axel Round Dining Table Design
Image Credit: vankalai
3. Venetian Style Modern Round Dining Table
Image Credit: mtdsnet
4. Contemporary Walnut Wood and Steel Dining Table
Image Credit: bigcommerce
5. Mid-Century Round Dining Table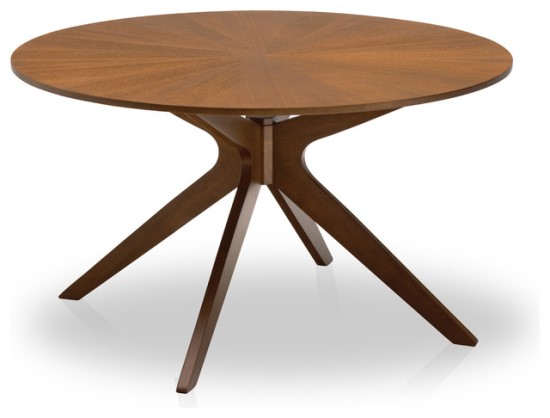 Image Credit: houzz
6. Contemporary Round Dining Table Design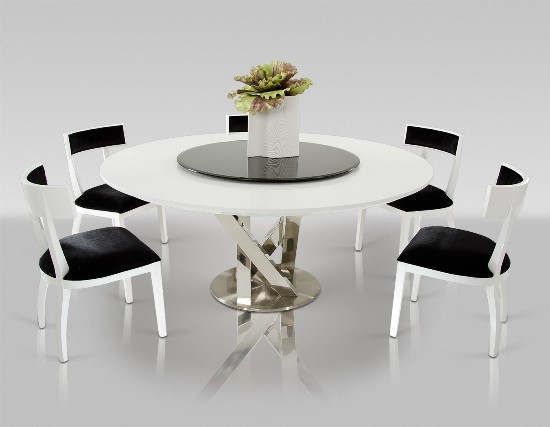 Image Credit: lafurniturestore
7. Modern Steel and Wood Round Dining Table
Image Credit: aliimg
8. Modern Dining Table Design with Textured Top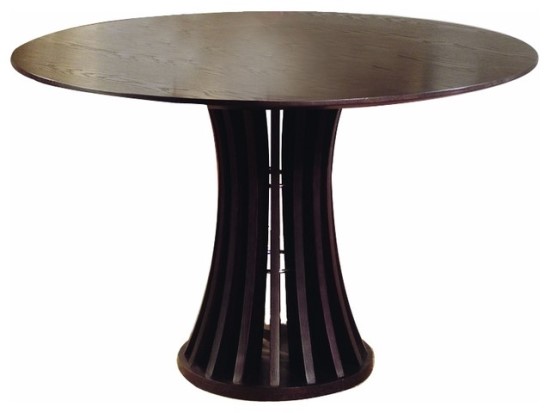 Image Credit: houzz
9. Modern Dining Table Design with Leaf
Image Credit: acordco
10. Modern Glass and Wood Dining Table
Image Credit: fannix
11. Modern Black Round Dining Table
Image Credit: homerar
12. Large Round Modern Dining Table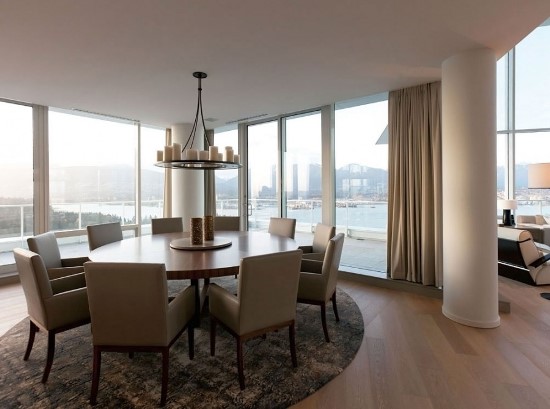 Image Credit: amerwld
13. Modern Wooden Round Dining Table
Image Credit: furnituredepot
14. Contemporary Wooden Dining Table with Cutout Legs
Image Credit: houzz
15. Contemporary Black Wooden Dining Table
Image Credit: miraloaca
16. Chic Wood and Glass Modern Dining Table
Image Credit: freshome
17. Contemporary White Round Dining Table
Image Credit: gomodern
18. Modern Large Round Dining Table
Image Credit: ninegatesrecords
19. Stylish White Round Dining Table
Image Credit: homedit
20. Unique Glass Dining Table Design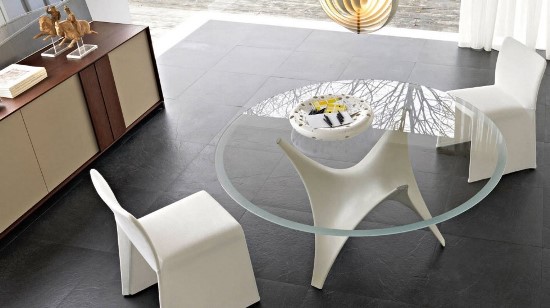 Image Credit: designmag
21. Grace Expandable Round Dining Table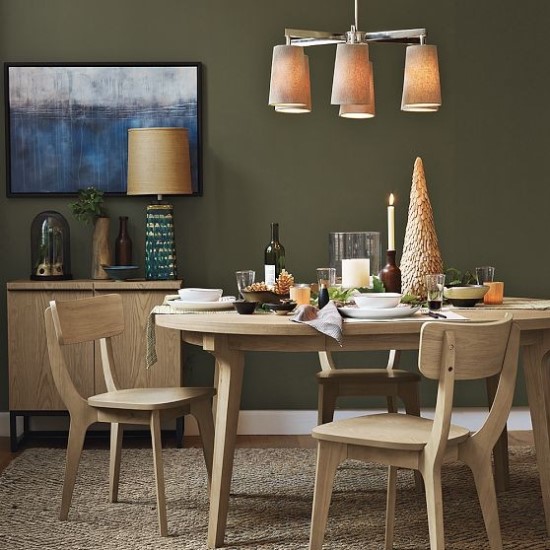 Image Credit: wordpress
22. Classy Black Contemporary Dining Table
Image Credit: trendir
23. Delectable Expandable Dining Table Design
Image Credit: brickeatery
24. Stylish Black Dining Table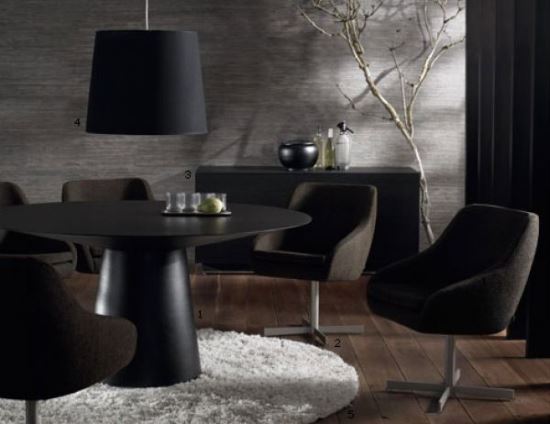 Image Credit: everythingsimple
25. Small Black Round Dining Table
Image Credit: southernfrontmedia
26. Dark Wood Robust Dining Table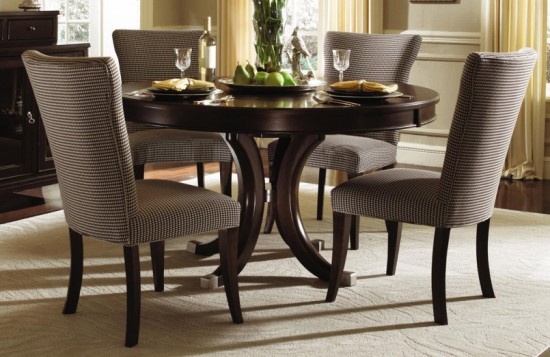 Image Credit: miraloaca
27. Modern and Elegant Dining Table Design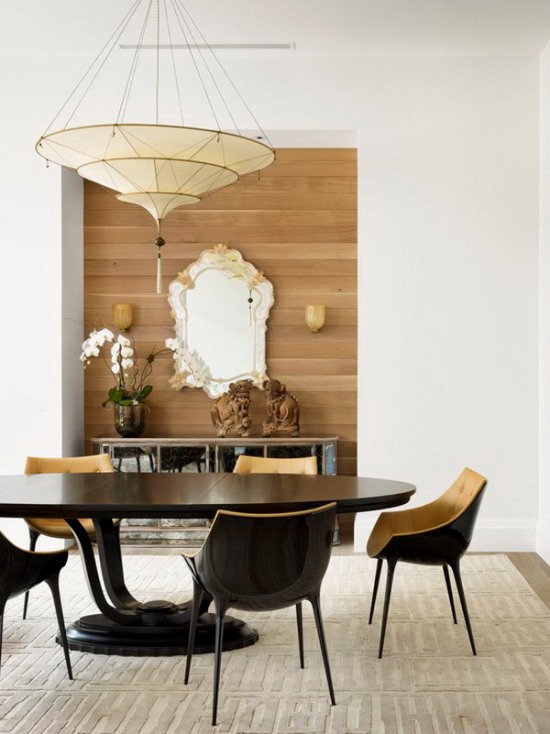 Image Credit: addodecor
28. Stylish Glass and Steel Round Dining Table
Image Credit: homearena
29. Black Wooden Round Dining Table
Image Credit: acordco
30. Simple Small Glass and Wood Dining Table
Image Credit: monstermarketplace
31. Rich Walnut Wood Round Pedestal Dining Table
Image Credit: decobizz
32. Expandable Round Dining Table Design
Image Credit: masukolandscaping
33. Marble Top Round Dining Table
Image Credit: aliimg
34. Mahogany Round Pedestal Dining Table
Image Credit: amazonaws
35. Classic Mahogany Dining Table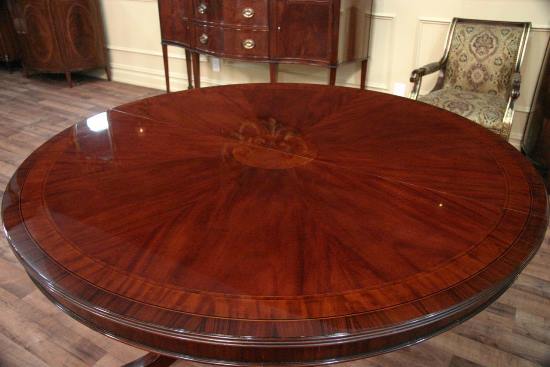 Image Credit: antiquepurveyor
36. Textured Mahogany Round Dining Table
Image Credit: birlant
37. Magnificent Mahogany Round Pedestal Dining Table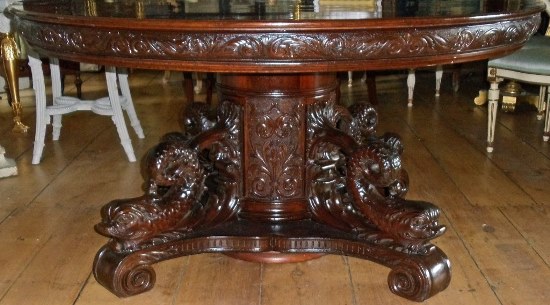 Image Credit: westerhoffantiques
38. Farmhouse Style Small Round Dining Table
Image Credit: designspad
39. Fabulous Walnut Wood Pedestal Dining Table
Image Credit: oaktreelife
40. Beautiful Walnut Wood Pedestal Dining Table with Floral Patterns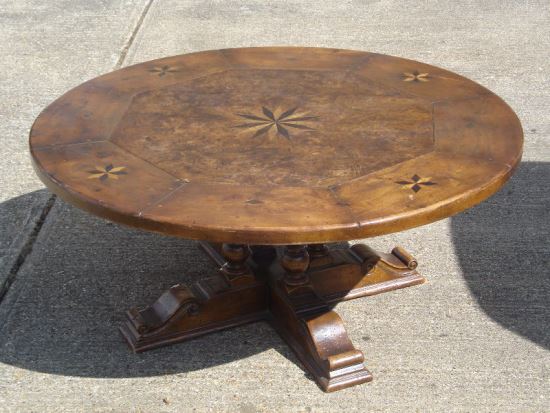 Image Credit: furnitary
41. Walnut Wood Vintage Round Dining Table with Roller Wheels
Image Credit: elisabethjamesantiques
42. Dark Walnut Wood Contemporary Pedestal Dining Table
Image Credit: reemkaimports
43. Pine Wood Round Dining Table
Image Credit: wentworthfurniture
44. Expandable Round Pedestal Dining Table
Image Credit: roachridder
45. Elegant Round Farmhouse Dining Table
Image Credit: tovtov
46. Elegant French Oak Round Dining Table
Image Credit: amerisonic
47. Round Dining Table with White Pedestal
Image Credit: skodn
48. Unique Blue Gum Eucalyptus Wooden Discs and Glass Dining Table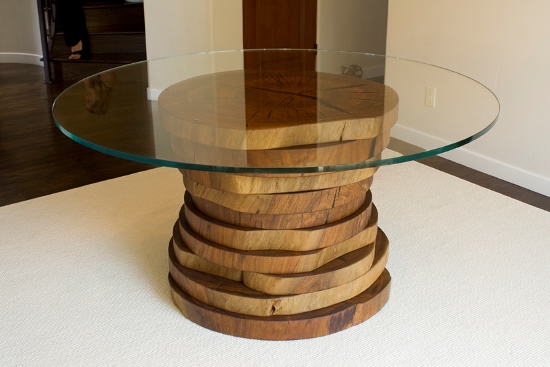 Image Credit: blogspot
49. Modern Glass Round Dining Table
Image Credit: mealmotivation
50. Modern Expandable Round Dining Table
Image Credit: skodn