Home is a sanctuary for every person and is a place where one feels relaxed, and this feeling is accentuated especially in some corners of the home such as your bathrooms. If your bathroom is a place where you relax, you sure want an ambiance that accentuates the feeling of relaxation. Decorating a bathroom with the right items and furniture will help enhance your personal relaxing space, especially when you are looking for that soothing hot dip. Your bathroom may be small or a luxurious space, which you can decorate in quite a stylish and attractive manner.
Small bathroom designs
Small bathroom spaces when being renovated sometimes make it difficult for you to go through your luxurious plans. There are, however, ways in which you can convert your small room into a spacious looking, classy bathroom with some of the best bathroom décor ideas available. One of the first things you can do is to set up proper lighting. And by that it means letting more natural light stream in. Setting up a window side bathroom makes it an energetic place in the mornings while having scones and decorative lighting in strategic places turns the place into a soothing and relaxing place by the night. Furthermore, the strategic placement of lighting also creates an illusion of a larger space.
The interior bathroom decorating ideas also play a crucial role in refurbishing a small bathroom into a spacious looking relaxing space. For small spaces, country, traditional, and rustic styles tend to feature more embellishment than contemporary and modern styles. As a result, it gives your small space the required spacious illusion that you need. To add illusionary height and depth to your bathroom, you can make use of vertical striped wallpapers or bead board. Hardwood floors or tiles running along the entire space help create the illusion of length while tile work on the walls perpendicular to the floor creates the illusion of depth.
Large bathroom designs
Decorating bathrooms is not that hard, especially when you have space enough to include just about anything and everything, even more so, if you have space enough to transform the entire bathroom into a luxurious personal spa. Today, most of the homes have a master bath, which is an epitome of luxury and peace. Decorating a bathroom that is large offers you with every opportunity to include lavish bath and shower areas, chic styles and the right kind of furniture. For a large bathroom, you could have it decorated in just about any style you like, be it country, rustic, contemporary, modern, or traditional, it will only look that much better.
Bathroom decorating ideas only get bigger and better when you have a large space at your disposal, but small bathrooms also give you ample opportunity to put your skills to use. Whatever space is available to you, here are some 45 cool bathroom decor ideas for you.
1. Chic Spacious Bathroom with Twin Basin and Bath tub
Image Credit: decozilla
2. Attractive Bowl Basin with Matching Bathroom Decor
Image Credit: uribeyasoc
3. Small Bathroom Design with Shower and Washing Area
Image Credit: facilisimo
4. Classic White Basin with Frameless Mirror Against Pebbled Wall
Image Credit: showerroomremodel
5. Luxurious Bathroom Design with Separate Shower Area
Image Credit: showerroomremodel
6. Contemporary Bathroom Design with Steel Cabinets
Image Credit: alnoranarchitecture
7. Spacious White Bathroom with Dark Wooden Furniture
Image Credit: bathroomvanityideas
8. Lavish Stone Flooring Bathroom with Separate Shower and Wooden Storage
Image Credit: freshome
9. Stylish Hanging Basin Against Mosaic Tiled Background
Image Credit: chicologist
10. Simple yet Stylish Open Door Bathroom Design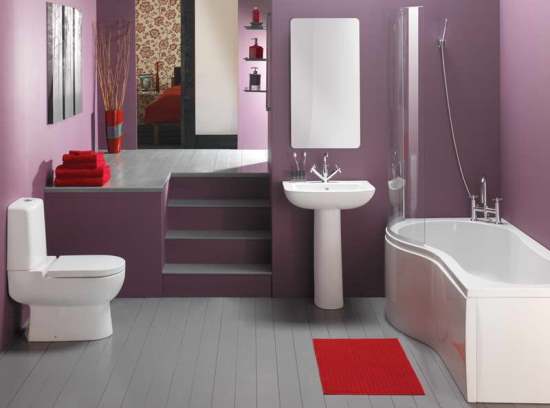 Image Credit: 1cellution
11. Unique Contemporary Styled Bathroom with Marine Decor
Image Credit: decozilla
12. Twin Basin with Mirrors and Wooden Cabinets
Image Credit: patriottonneaucovers
13. Vertical Striped Wallpaper with a Simple Mirror Decor for Small Bathroom
Image Credit: midmobrr
14. Lavish Basin Design with Contemporary Styled Fireplace
Image Credit: ccsvisolution
15. Simple Bright Decor for Small Bathroom
Image Credit: architect-wiki
16. Bright Yellow Bathroom with White Furniture
Image Credit: theinteriordecor
17. Stylish Mirror and Glass Bowl Basin Bathroom Decor
Image Credit: architect-wiki
18. Corner Stool Basin with Scones and Separate Shower Area
Image Credit: diynetwork
19. Luxurious Bathroom with Granite Basin Counter, Framed Mirror and Bath Area
Image Credit: vanelibg
20. Twin Basins with Long Mirror and Shower Area Separated by Glass Wall
Image Credit: interiorismoydecoracion
21. Simple White and Grey Wall Decor with Granite Counter
Image Credit: freshome
22. Unique Round Steel Basins and Bathtub for Contemporary Styled Bathroom
Image Credit: krisallendaily
23. Modern Bathroom Decor with Wooden Framed Mirror and Cabinets
Image Credit: theoslavin
24. Stylish Bathroom with Chandelier and Mirror Wall Decor
Image Credit: wates
25. Amazing Mosaic Tiles and Printed Tile Decor for Small Bathroom
Image Credit: mymybox
26. Romantic Stone Fireplace and Candle Decor for Rustic Styled Bathroom
Image Credit: decoratione
27. Contemporary Small Bathroom with Separate Shower Area
Image Credit: myartomat
28. Rustic Decor for Lavish Master Bathroom
Image Credit: ferodoor
29. Modern Bathroom with Separate Bath Area
Image Credit: 1cellution
30. Green Vintage Chair for Small Bathroom Decor
Image Credit: vanelibg
31. Blue Mosaic Tiled Decor for Underwater Style Bathroom
Image Credit: thedailyparis
32. Vintage Tub for Country Style Bathroom
Image Credit: amazonaws
33. Glass Wall for a Separate Shower Area in a Modern Style Bathroom
Image Credit: bathroomist
34. Fabulous Tropical Bathroom Decor with Rustic Stone Bath Tub
Image Credit: digsdigs
35. Vintage Bathroom Decor with Rustic Bowl Basin
Image Credit: granitecountertops
36. Mosaic Tile and Modern Cabinet Decor for Arabic Styled Lavish Bathroom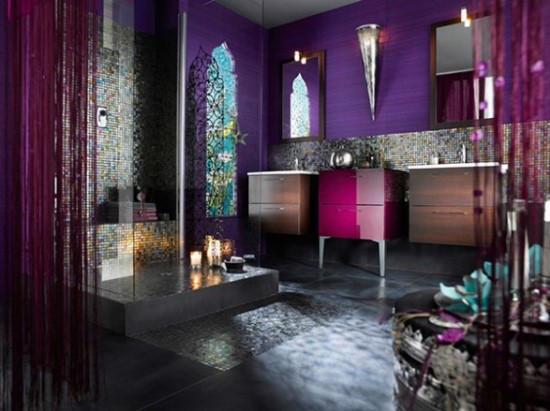 Image Credit: qloungemiami
37. Antique Bathroom Decor with Bathtub and Mirrors
Image Credit: 1cellution
38. Bright and Cute Bathroom Decor for Teenage Girls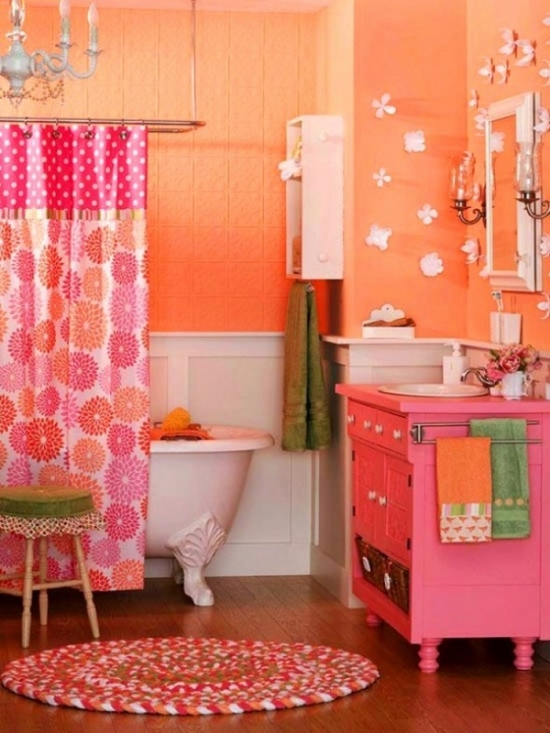 Image Credit: ccsvisolution
39. Amazing Round Bathtub for Contemporary Styled Bathroom
Image Credit: thedailyparis
40. Jacuzzi Style Bathtub for Contemporary Styled Bathroom
Image Credit: furinco
41. Pooh Print Curtain for Kids Bathroom Decor
Image Credit: bathroomvanityideas
42. Amazing Stone Wall Decor for Modern Bathroom
Image Credit: besthous
43. Amazing Marble Candles Bathroom Decor
Image Credit: bathroom-designideas
44. Decorative Scones for Subtle Lighting
Image Credit: booie
45. Rustic Bathroom Accessories for Western Style Bathroom
Image Credit: bohomarketblog