With more than half of world's population staying in small cramped up apartments it has become imperative that measures be taken promptly to make these dwelling places worth staying. Small apartments need not necessarily be made to look like holes that are non stylish. With new and modern apartment design ideas on display everywhere, people residing in small apartments can now look forward to transforming their spaces and make a style statement that will leave everyone in awe. Apartment designs are varied and each one is exclusively thought in detail by designers who want to sell their ideas widely. When we speak of small apartments, there is a growing design concept called studio apartment living that is being spoken off in most interior design forums. For those that are thinking of leaping forward to start a life in a studio apartment, there are many studio apartment designs that would help them deck up their limited spaces without sacrificing their privacy. Come take a look as I let you on a journey to discover the 18 best small apartment interior ideas for the present as well as the future.
1. Small apartment design with wooden floor
When you reside in a small apartment, it is best if you can do away with cluttering your rooms as more stuff is likely to eat up on your limited space and make the house look even smaller. The picture shows how perfectly the owners have adopted small apartment design ideas by refraining from anchoring too many accessories in the room. The wooden flooring looks elegant and the textured wall has been left plain without fixing any paintings. The choice of furniture too is simple and saves a lot of area.
Image credit: kitchentoday
2. Tiny studio apartment design with functional furniture
If you have a space crunch in your tiny studio apartment, then it becomes a must that you choose such accessories and furniture that are functional and can be used for a variety of purposes just like the cool furniture seen anchored in the studio apartment in the image that draws inspiration from small apartment designs. All the sections like the living room, dining area and bedroom have been clearly demarcated by installing dividers cum cabinets that serve many uses. These look good as furniture pieces plus help in storing a lot of items besides offering privacy.
Image credit: inthralld
3. Studio apartment with minimalist decor
The studio apartment seen here has a small area but looks quite spacious because of proper placement and choice of furniture. The wall color in white and beige helps to create a bigger look and the trendy red chair can be used for relaxing anywhere. The dining space too is anchored with a white round dining table set which looks compact and helps save a lot of space. Another attribute that lends a feel of vastness in this apartment is the window sans any blind or drapes. Such a feature lets fresh air and light enter and this keeps the apartment always well lit up.
Image credit: urbled
4. Clever apartment with proper space utilization
Apartment design ideas emphasize a lot on saving space as apartments of today are mostly small in size and have a small plinth area which makes it essential for owners to decorate the rooms in ways that give an illusion of a larger area. The studio apartment design as seen adopted below looks charming and makes the apartment appear bigger and very bright. The careful selection of a compact dining set for two in red with small square dining table, the red chunky couch and the bunk bed placed right over its top helps in saving space and creates a pleasant atmosphere.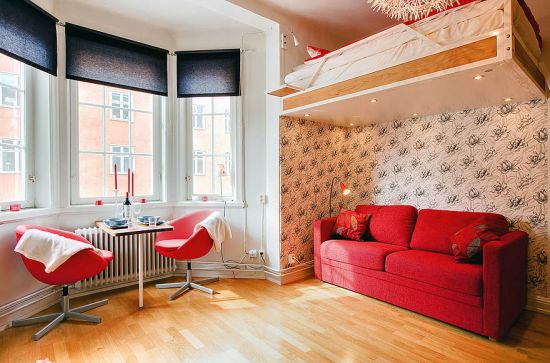 Image credit: inthralld
5. Inviting apartment interior with well planned furniture
If you look closely, you will find that the lovely small apartment in the image looks far bigger than what it is in reality. Why is it that some apartments look congested while a few like the one in the image appear brightly lit up and fresh all the time? Well, it is because of proper planning with regard to choosing furniture and the color palette used throughout that creates this difference. The pathway from the living to the dining is kept free for movement except for the compact dining set and a couch.
Image credit: freshome
6. Studio apartment design with big windows and door
Most families in big cities usually reside in small apartments that have major space issues. As such, when you think about moving in to a small studio apartment, it is essential that you go through the latest studio apartment design ideas that aim at designing the areas in such a way that you do not feel claustrophobic and depressed. Seen below is a lovely looking studio apartment that appears huge with correct placement of furniture, massive windows and a door that lets in ample amount of sunlight inside. White tones have been used in plenty all throughout including the window and door frames that have no curtains to restrict fresh light from barging inside.
Image credit: 4homeinterior
7. Apartment design with unique floating bedroom
One can maximize the space of their living room by adopting a very stylish idea that could be counted among the top ten best small apartment design ideas till date, and that would be fitting your living area with a stylish looking floating bedroom. Yes, the concept sounds futuristic but many householders are adopting this design as it helps occupy a smaller space and makes a bold style statement. The studio apartment seen here has been modified to look bigger by fitting a floating bedroom from the ceiling together with a skylight that allows ample sunlight to enter.
Image credit: inhabitat
8. Fabulous small apartment with white bed and built in bookshelves
Small spaces in most apartments make it a necessity to imbibe such apartment design ideas that are space friendly like the apartment room seen here that has successfully been designed with practical concepts such as the white and red combo bed and built in bookshelves. The best part about using such practical furniture is that these serve multiple usages without restricting your free movement. There is a vertical mirror installed too that eliminates you to buy an additional dressing table for your vanity section.
Image credit: crgrafix
9. Bright small apartment with skylight
A skylight is one feature that can add the feel of spaciousness to your small apartment design as it helps bring in direct sunlight all through the day. Skylights as the one seen below prevent the interiors from appearing dull and this is what does the trick in lending a spacious look to the decor of this apartment. In addition, the colors used on the low couches adds to a cool look. The simple decor style maintained here calms tired nerves.
Image credit: homedit
10. Charming studio apartment with unique wooden coffee table
You can style up even the tiniest of rooms or spaces by investing in such furnishings and accessories that are sleek and do not over crowd the room, making it congested to move around. The studio apartment in the image has a small area but every corner of it has been utilized effectively by installing multi functional furniture that are portable and easy to maintain. The living room is adorned with a unique wooden coffee table that can be moved to any other place as it has got wheels underneath. Apart from it, there is a black colored couch placed along with a peach shaded pouf.
Image credit:
11. Refreshing small apartment with white painted walls
One golden rule to follow when you plan to decorate your small apartment inspired from modern apartment interior ideas is to use white tones on the walls in case you wish to offer a spacious appearance for your interiors. White magnifies the size as can be seen here where the apartment living area has been adorned with white painted walls. The walls gets beautified even further with a white sofa set and white rimmed windows. The refreshing or contrasting effect is created by the eclectic green carpet spread on the wooden floor.
Image credit: plushemisphere
12. Pretty studio apartment with white and green accents
White and green colors, if used wisely can add a sparkle of fashion in any decor, be it your own independent house or even a small studio apartment like the one seen below. The living, dining and sleeping areas are well demarcated and the apartment appears stylish with unique combo of white and green. While, we can see white tones on the wall, kitchen cabinet, coffee table; green accents are seen splashed on the counter top installed in the kitchen. This eclectic contrast calls for a striking appearance.
Image credit: urbled
13. Trendy small apartment with chic accessories
Most often, we end up making our small apartment living rooms look tinier than what they actually are by placing unwanted or excessive accessories and stuff which can consume a huge area and make the rooms look dingy. Seen in the picture below is a small apartment room that has been decorated keeping in mind the small apartment interior ideas that talk of using lighter tones for walls and keeping the decor as simple as possible. The trendy pots adorning the room add glamor and so does the sleek furniture placed at one corner.
Image credit: hit-decor
14. Elegant studio apartment with wooden accents
Apartments, whether big or small need to look as glamorous as independent houses and must be styled using many apartment designs that are in vogue these days. When speaking of designing apartments, designers talk about using many different kinds of materials of which wood is one of the most loved as it lends a royal and elegant touch to any decor. The studio apartment in the image seems to possess a personality of its own with its dining table, kitchen cabinetry and bed, all bearing wooden accents. To match the woody look, there is spread a wooden colored rug on the floor.
Image credit: 4moderninterior
15. Marvelous small apartment with a big colorful painting
Most designers would vouch for the fact that a small living room can be made to appear big by hanging a large and colorful painting on a white painted wall. Now, looking at the picture below, I would too affirm to what these experts say as the apartment living area appears chic and spacious with a bright painting bearing abstract blotches or pops of vibrant colors. The painting looks fabulous against the white walls and the black velvety couch.
Image credit: estudiobr
16. Glamorous studio apartment with wall art and mirror
Heaven can be created in your small studio apartment using inspirational small apartment design ideas that can give you the freedom to use myriad colors and accents all around, thereby lending a touch of glint and fashion on all corners. Seen below is a very brightly designed small studio apartment that is decked up with red, white and black hues on fabrics, walls, ceiling and furniture. There is one huge black framed mirror that gives an impression of a large space. Also, the black artistic wall art behind the bed lends a distinct look to the whole decor.
Image credit: homeizy
17. Contemporary small apartment with ceiling bedroom
For studio apartments, one can try using a floating bedroom or if one so wishes, can install a bed right up on the ceiling. It is a perfect way to save space and would make a bold and unique style statement too. The studio apartment in the image is a small dwelling area where space issues could have bogged down the members staying here had there been no provision for a ceiling bedroom as can be seen. The double white bed has been meticulously anchored right over the ceiling with spot lights offering ample lighting.
Image credit: plushemisphere
18. Awesome studio apartment with wall highlights
Need to make your studio apartment look spacious? If so, now you can infuse space into your apartment by pointing the attention of everyone towards the walls. Yes, a well designed wall can give an illusion of a bigger space, but refrain from over doing it since too many darker tones used on walls tend to cause claustrophobia and a congested feeling. Moreover, you can try out using textures or wall murals as the one seen here, without taking up any extra space. The leafy designs imprinted in black and white add a cool look to the interior.
Image credit: homedit
Small apartment designs such as the ones presented above are bound to make your studios and other areas energetic and spacious. All these apartment interior ideas are unique in their own right and have been implemented by a lot of folks. Before embarking on changing the look of your small apartment decor, you must go through this post and get enlightened about the popular and most loved small apartment design ideas that everybody is speaking of these days. Read the post carefully and ask for suggestions if you need any!