50 Eclectic Outdoor Kitchen Ideas
Luxury is one word that you look to when it comes to home. And when it comes to home, you want every corner of it to scream luxury and easy functionality. For women, especially, the one most important corner she asks to include both luxury and easy functionality is her kitchen. I'm sure even you there want that one corner of your home, where you spend most of your time, either preparing a healthy meal for your loved ones or organizing a party, to be just that much luxurious and functional as much as your cozy haven. Today, outdoor kitchens have also become quite popular amongst people.
When you are looking for outdoor kitchen designs, there are a few factors that you have to keep in mind. You may have a limited budget or budget enough to build a luxurious and lavish outdoor kitchen. However, these factors are sure to be taken care of. The first and foremost thing you need to keep in mind is the general climate you live in, and what all will you need to keep your kitchen weather proof. Secondly, the functional items and utilities are to be decided. Another important thing you need to decide is the positioning of the utilities you are to include. You also need to have a list of items you would like to have in your outdoor kitchen.
To implement your outdoor kitchen ideas, there are now modular kitchens available, where all you are required to do is fit the kitchen together in the space you want your kitchen to be. You can have a customized modular kitchen designed just for your home. Your outdoor kitchen design may include the basic of items such as grill and a counter top along with a compact refrigerator. These items are more suitable for small outdoor spaces. For larger outdoor kitchens, you may include a pizza oven, a kitchen island, wine cooler, or even a separate bar area.
Such modular designs or your DIY ideas may save you the extra budget you might be spending on a contractor or designer for your outdoor kitchen. However, there are certain things you will have to consult a contractor or a designer for. Gas lines and electrical supplies are something you might mess up with and end up with turning your outdoor kitchen into an accident prone zone. Hence, for outdoor kitchens it is a must and very much advisable to consult these personnel before going ahead with your plans.
Your outdoor kitchens are sure to be a success, and especially so if you have an extravagant space to utilize. Such outdoor utilities are particularly welcome for a family day or for an outdoor party with friends and family. Eclectic kitchens are quite a trend now as we all often come across at our friends or family's homes. So here are 50 outdoor kitchen ideas for you to have a luxurious and fabulous outdoor kitchen just for yourself and enjoy the spectacular meals with friends and family.
1. Ikea Outdoor Kitchen Island with a Table for Eight
Image Credit: home-with-interior
2. Beautiful Pink Outdoor Kitchen with Brick Place and Rolling Table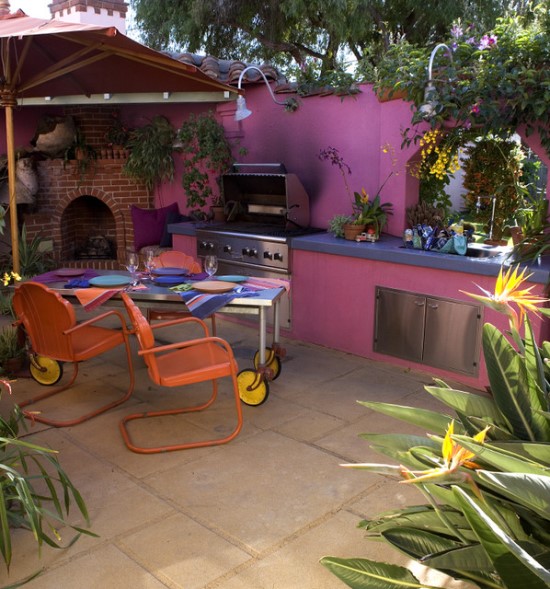 Image Credit: houzz
3. Delectable Garden Kitchen with Cabinets and Granite Counter Top
Image Credit: sinofoma
4. Small Pergola Pool Side Outdoor Kitchen
Image Credit: sinofoma
5. Complete Stone Block and Granite Counter Top Kitchen with Breakfast Counter
Image Credit: home-with-interior
6. Simple Kitchen with Compact Refrigerator, Grill and Wooden Table
Image Credit: kitchen-decor-design-ideas
7. Luxurious Outdoor Kitchen with All Modern Amenities
Image Credit: kitchen-decor-design-ideas
8. Outdoor Kitchen with Grill, Island, and Comfortable Seating
Image Credit: tugedge
9. Eclectic Patio Outdoor Kitchen with Vintage Seating and Decor
Image Credit: houzz
10. Contemporary Outdoor Kitchen with Marble Counter Top
Image Credit: buyshy
11. Prefabricated Outdoor Kitchen Kit
Image Credit: currentlandscapedesigns
12. Outdoor Kitchen with Propane Burner, Refrigerator, and Wooden Cabinet
Image Credit: diyoutdoorkitchenguide
13. Steel Stove and Cabinets for Brownstone Outdoor Kitchen
Image Credit: currentlandscapedesigns
14. Mediterranean Patio Kitchen with Propane Burner, Kitchen Island, and Refrigerator
Image Credit: memorabledecor
15. Vintage Outdoor Kitchen Design
Image Credit: decosee
16. Steel Grill and Propane Burner for Spacious Outdoor Kitchen
Image Credit: nhenvrisk
17. Outdoor Kitchen Design for BBQ with Kitchen Island and Propane Burner
Image Credit: motelandia
18. Simple Outdoor Kitchen with Stove and Natural Wood Dining Table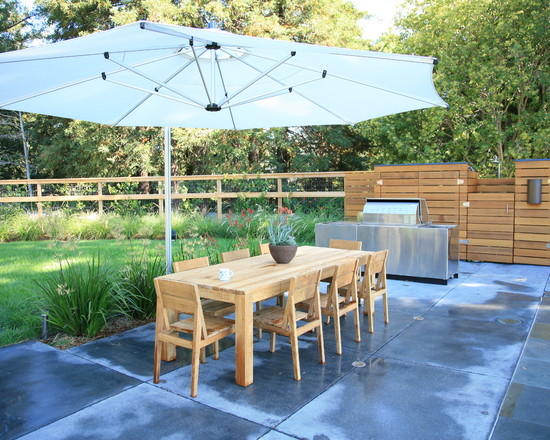 Image Credit: motelandia
19. Patio Kitchen Design with Kitchen Island and Stone Dining Table
Image Credit: betterhomelifestyle
20. Complete Steel Patio Kitchen Design
Image Credit: sinofoma
21. Patio Kitchen Design with Propane Burner and Refrigerator
Image Credit: interiols
22. Steel Cabinets and Stove for Lavish Outdoor Kitchen Design
Image Credit: kuwans
23. Propane Burner and Grill for Eclectic Patio Kitchen Design
Image Credit: inspiringinteriorsideas
24. Complete Steel Patio Kitchen with Concrete Counter Top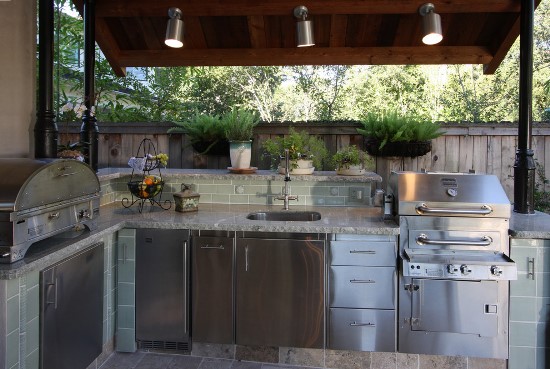 Image Credit: ecofurnitureblog
25. Outdoor BBQ Grill Kitchen Island with Stove
Image Credit: homeportfolio
26. Rustic Outdoor L-Shaped Kitchen
Image Credit: diyoutdoorkitchenguide
27. Simple Eclectic BBQ Kitchen Island for Outdoor Kitchen
Image Credit: houzz
28. BBQ Grill Bluestone Garden Kitchen
Image Credit: buyshy
29. BBQ Grill and Propane Burner with Steel Cabinets for Outdoor Kitchen
Image Credit: hgtvhome
30. BBQ Chaise Lounge Grill for Modern Patio Kitchen Design
Image Credit: inspiringinteriorsideas
31. Mediterranean Porch Kitchen with Amazing Candle Holders and Steel Kitchen Equipment
Image Credit: jpsinteractive
32. Modern Stone Outdoor Kitchen with Propane Burner and BBQ Grill
Image Credit: kitchencove
33. Small Space Outdoor Kitchen with Oven and Dining Table
Image Credit: houseofarch
34. Porcelain Tile Decor with Oven and Grill for Patio Mediterranean Kitchen
Image Credit: jpsinteractive
35. Simple BBQ Grill and Cabinet with Dining Table for Patio Eclectic Kitchen
Image Credit: musicfann
36. Outdoor Kitchen with BBQ Grill and Kitchen Island with Granite Counter Top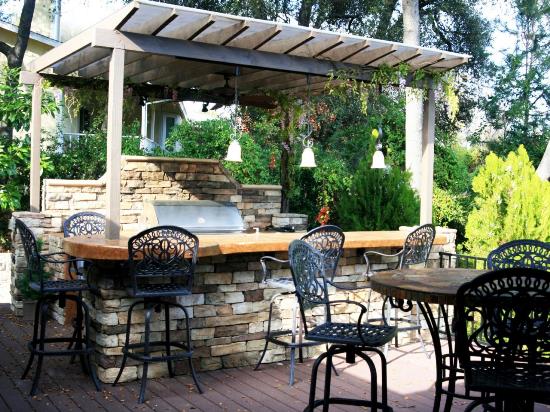 Image Credit: hgtvhome
37. Astounding Contemporary Patio Kitchen Design with All Modern Kitchen Equipment
Image Credit: houseofarch
38. Backyard Kitchen with Sink, Stove and Grill
Image Credit: paonde
39. Amazing Brownstone Kitchen with BBQ Grill, Refrigerator, and Steel Cabinets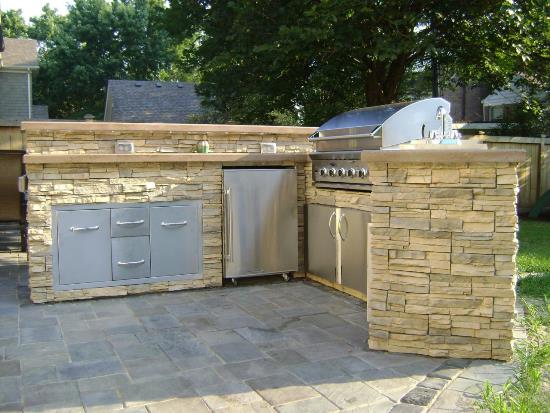 Image Credit: hgtvhome
40. Retro Outdoor Kitchen with Kitchen Island and Grill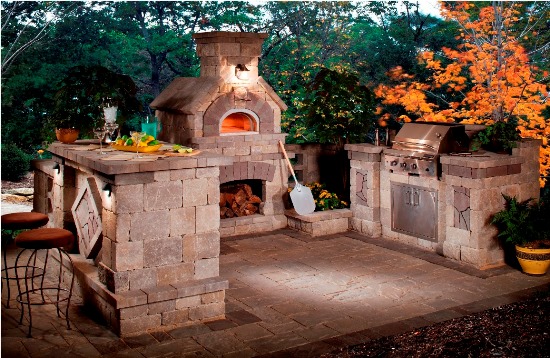 Image Credit: storyblog
41. Brick Outdoor Kitchen with Grill, Stove and Oven
Image Credit: storyblog
42. Outdoor Kitchen with Grill, Refrigerator, and Wooden Cabinets
Image Credit: simpleoutdoorkitchen
43. Amazing Red Wood Outdoor Kitchen with Stove, Grill and Refrigerator
Image Credit: dandsfurniture
44. Simple Grill and Refrigerator for Outdoor Kitchen with Open Shelves
Image Credit: diynetwork
45. Stone Outdoor Kitchen Island with Grill and Cabinets
Image Credit: simpleoutdoorkitchen
46. Amazing Outdoor Lounge with Stone Fireplace, Propane Burner and Grill
Image Credit: onekindesign
47. Natural Stone Kitchen Island with Stove for Outdoor Kitchen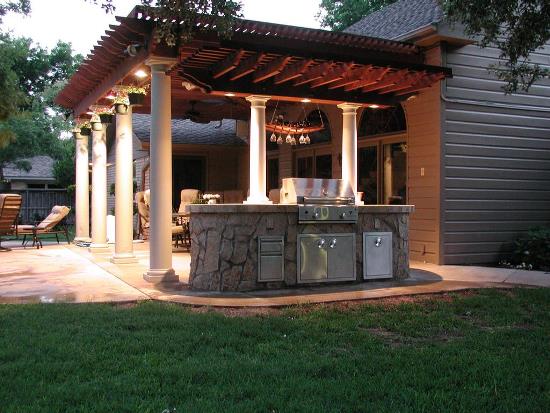 Image Credit: cmoii
48. BBQ Grill and Refrigerator with Steel Cabinets and Granite Counter Top for Outdoor Kitchen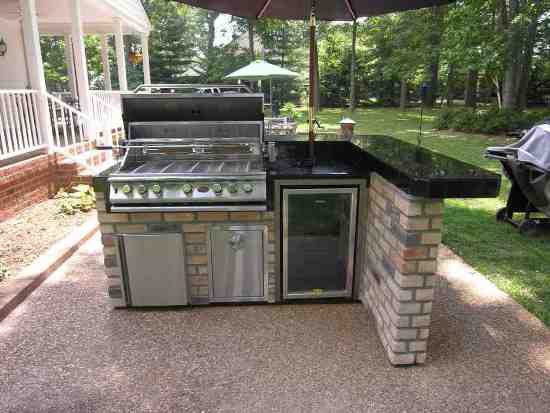 Image Credit: photokitchenblog
49. Simple Concrete Kitchen Island for Backyard Kitchen
Image Credit: diynetwork
50. Custom Built Stove, BBQ Grill and Oven for Outdoor Kitchen with Granite Counter Top
Image Credit: wordpress