Pastel décor is soothing as well as pleasing to the eye. The one thing why most people desire pastel décor ideas is because you can never go wrong while decorating with these relaxing color schemes. To create a restful and comforting atmosphere in your homes try decorating with the following home decor ideas.
20 Fun Home Decor Ideas to Add Jazz to your Living Space
1. Shabby Chic Living Room Décor With Pastel Shades
Home decor ideas for living room are all the rage these days. Who wouldn't want to unwind in a lovely chic area? This lovely living room is pleasing as well as comforting at the same time. The interplay of powdery blue with other pastel shades creates a restful look.
Image Credit: freshome
2. Beautiful Pastel Bedroom Décor
Pastel bedroom decor is the latest fad in interior design. The single colored wall when paired with the white in the bedroom stands out making the room appear larger than it actually is. The calming effect of the muted tones creates a gentle and relaxing look for this bedroom.
Image Credit: blogspot
3. Pastel Wall Stickers For A Baby's Nursery
Do you have a baby on the way? The best thing is to start decorating the nursery with pastel wall stickers. This lovely baby girl's nursery with muted pink and gray tones sets the mood for a calming atmosphere. One which your baby is surely going to love. The gray wall stickers are adorable and can be interchanged with blue as well if you know that you might be having a boy.
Image Credit: oaktreelife
4. Charming Pink Bedroom Décor Idea
This lovely girl's bedroom is made to look all the more appealing by the presence of stick on butterflies on the adorable pink walls. This is the perfect pink bedroom decor plan for your little angel.
Image Credit: amorty
5. Blue and Yellow Children's Bedroom
The beautiful interplay of blue and yellow tones creates a stunning children's bedroom. The delightful wall colors create a scenic effect which is both pleasing and calming at the same time.
Image Credit: studiokyuu
6. Pastel Décor Ideas For The Kitchen
Want an interesting pastel decor idea for your cozy kitchen? The exquisite yellow walls of this kitchen look delightful when paired with shades of white and mauve. The overall effect is gorgeous and welcoming as well.
Image Credit: fengshuidana
7. Pastel Décor For Study Room
Purple and white color scheme for this quaint looking study area looks exquisite. Pastel decor looks lovely in a study. The white furniture when paired with the wooden floor gives this study a classic appeal.
Image Credit: home-designing
8. Pastel Bedroom Décor Idea
This beautiful blue and cream bedroom is the epitome of serenity and calmness. The muted tones and pastel bedroom décor is soothing to the eye and gives a really pretty effect and assures a good night's sleep.
Image Credit: home-designing
9. Pastel Home Décor For Living Room
Want to change the entire outlook of your living room? Why not opt for pastels this season? This classy and sophisticated living room looks charming. The overall effect is pleasant and is easy on the eyes as well.
Image Credit: homemydesign
10. Pastel Green Home Décor Idea
Green is a cool and soothing color. It comes in a variety of shades like apple and leaf green, choosing the right shade of pastel green can add character to your room. Whether you choose to paint the walls pastel green or choose to decorate with pastel colored furniture, this makes for an excellent home decor idea.
Image Credit: lushome
11. Pastel Patio Furniture
Who says that pastels can only be limited to the indoors? This summer season try decorating your patio with pastel décor ideas. Not only would it prove to look great but will make your patio look ready for the coming hot season.
Image Credit: ideastodecor
12. Pastel Bean Bags For Home Décor
Can't think of doing a complete overhaul? Not to worry, you can add pastel shades to your home by simply using few pastel-color bean bags, just make sure you buy the washable kind because pastels stain pretty easily.
Image Credit: faburous
13. Pastel Rugs For Home Décor
Rugs are a great way to accessorize your homes. Nothing brightens up a room more than a pretty looking pastel rug. This pink pastel heart shaped rug looks beautiful and charming in its own way.
Image Credit: rugshop
14. Pastel Wall Decals
Decals look lovely when placed in the right manner. You can even make use of the peel and stick variety so that when you tire of them you can put up some new ones. So why not opt for some pretty pastel wall decals to enhance the look of any room?
Image Credit: accents4walls
15. Pastel Wall Papers
Pastel Wall papers are a great way to give your bare walls a face lift. This pretty pastel pink polka dot wall paper is a welcome addition to any home.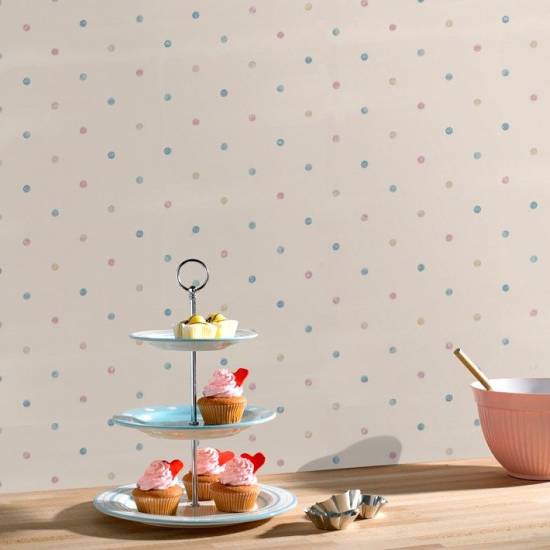 Image Credit: pinimg
16. Mauve Colored Bathroom Tiles
These beautiful mauve colored bathroom tiles give such an elegant look to your private space. The muted tiles give it a charming appearance.
Image Credit: decoist
17. Pastel Cushions For Sofas
You can enhance the look of your furniture by putting up few pastel colored cushions for a personalized and charming look.
Image Credit: pinimg
18. Pastel Décor For The Dining Room
This dining room is a good example of pastel décor. Its muted pink and gray tones give an impression of suppleness. The delicacy of the wall paper adds a subtle touch which is understated yet beautiful at the same time.
Image Credit: hgtvhome
19. Pastel Room Décor For A Home Office
With so many people opting to work from home it can be a good idea to decorate your home office in pastel shades. It provides a relaxing atmosphere and makes working a great deal less stress free.
Image Credit: decobizz
20. Pastel Décor For Children's Playroom
Children love having their own space. If you have the room, why not try making it into your child's playroom cum study area. This lovely pastel room décor for a child's playroom can be a good inspiration.
Image Credit: tregobag
Even if you can't think about doing a complete overhaul for your homes using the above mentioned pastel décor ideas but it will surely provide a bit of inspiration. Sometimes simply adding a few knick knacks like rugs and cushions can strike a beautiful chord. Similarly making use of quaint wall papers in muted tones or simply painting your walls in pastel shades can alter the look of a room.
So these were our top home decor ideas to ensure you have a lovely living space which you will be proud to call home.