Here are some genius small garden ideas for you all to believe that anyone, whether an owner of a spacious house, or a dweller of a small living space can afford to possess a charming garden! Do you live in a apartment or a small house, but want to have a beautiful garden? Well, do not worry but read on as we are showcasing awesome garden ideas that have been developed after much research by architects and landscape artists that have always believed that in order to have gardens, you do not need to have enormous areas or patches. With some creativity and a little help from professionals, everyone of us can achieve the desired type of garden. Scroll down and get some inspiration, looking at the best and most innovative small garden ideas and designs that we have handpicked for you!
Small garden ideas involving vertical garden concept
A vertical garden is the latest garden design idea to have rocked the landscaping scene, and is the prefect answer or solution to achieving desirable gardens without having to worry about space. Now a days, most home owners are opting to build vertical gardens in their backyards or patios that are cramped up and are growing beautiful veggies and flowers. These designs come in plenty of styles and you can choose the ones that suit your style and needs. You can have a vertical garden right behind, i.e, your backyard, and can make use of the fence that lies uselessly.
Shown below is a backyard garden where the owners have utilized the fence to be used as a vertical garden and have grown beautiful seasonal flowers in tiffin boxes attached to a pallet board. This is an amazing example of DIY garden idea. You can also make use of shoe organizers, or pouches or old soda bottles to grow plants and veggies vertically.
Image Credit: theselfsufficientliving
Image Credit: theselfsufficientliving
Image Credit: hative
Small garden ideas involving the use of portable containers
This idea is quite innovative where you place portable containers in your patio or backyard gardens to grow flowers or herbs. Container garden concept is soon becoming popular with people that have no space for gardening. Since these containers can be carried from one place to another, it becomes easier for you to make your garden anywhere and with little effort! If you are into doing it yourself, you can make use of old buckets and color them with neon paint, and then place these on your fence to grow seasonal plants and flowers. Even plastic bags or rattan bags too can be used for planting flowers and herbs. These containers can also be hung from windowsills of your house.
Image Credit: diyncrafts
Image Credit: paperblog
Image Credit: themicrogardener
Small garden ideas and designs with pallets
Showcased under are some creative small garden ideas and designs, all utilizing pallets. A pallet garden looks not just visually appealing but can be achieved using minimal of labor and money. Pallets are easily available, and there are many websites that offer DIY garden ideas using pallets. You can refer any of these websites to get first hand information. If you have no problem building a pallet rack, you can collect a few planks and customize it to hold herbs and other flower pots. A pallet holder or rack can be placed anywhere in your patio or backyard and can be used as a portable garden if you are facing space issues. Some of us who are not into racks and holders, often like to build wall gardens, and this is where you can utilize all your old pallets. Reserve one wall corner in your backyard to be dedicated for wall gardening, such as the picture shown below. The look projected is rustic and is a very innovative idea. You can also spray paint your wooden pallets and place herbs or flowers to be hung on the walls.
Image Credit: minimalisti
Image Credit: coldwellbanker
Image Credit: yeahwebs
Small garden ideas with children's plastic pool
For such homes that have no yards or patios to be utilized for gardening, here is a cool garden idea that can help you get a green patch easily. Yes, we are talking of old plastic pools of your kids. Many of us often throw kiddy pools once our children grow up, but, if you are a little wise and thinking of building a small garden, just don't think twice before using these pools for growing veggies and colorful flowers. You can use plastic or rubber tubes too for this purpose. There are many tutorials surfacing on the net that teach you how to go about the whole affair. Simply fill up your pool or tube with soil and plant the desired kind of flowers. These pools can be placed in their original avatars, or, these can be beautified with stones and ornamental pebbles if you are more into landscaping. Small garden designs such as these are cost effective plus lend a visual appeal to your garden.
Image Credit: thrfun
Image Credit: offgridworld
Creative small garden designs with tree stump planters
One creative way to achieve a small garden in your yard or patio is to use old tree stumps as plant holders. Yes, tree stumps are a feature almost everyone of us has seen laying uselessly in our backyards. But, you can make use of these to grow plants. There are a few reasons why you should use stumps. Firstly, these lend a very unique look to your garden area, secondly, the cost involved in using these as planters is much less as compared to uprooting them. This is a small garden design ideas DIY project anyone of you can do with total ease. Simply cut the insides out and make enough space for planting the pot of flowers. In case you have always wished to have a herb garden, you can now place herb planters inside these hollow stumps. In case this idea gets a thumbs up signal from you all, we do appreciate if you could share a picture of your stump planter with us!
Image Credit: cloudfront
Image Credit: cloudfront
Stunning tree stump small garden design
Image Credit: boredpanda
Small garden designs with hanging tin cans
Old and re-purposed tin cans can be made to be used as flower or herb planters or containers where garden area is small and you wish to lend a chic look. Many small home dwellers who are often faced with space constriction are seen making use of old objects such as tin cans to grow plants. Tin cans are portable and can be placed anywhere like patios, walls, backyards, windowsills or fences. If you have a small backyard but are desirous to have a green patch, simply designate one corner or side of your wall or fence and hang colorfully painted tin can planters. The pictures rounded up below are all examples of creative and genius small garden ideas involving tin cans. You can get an idea of a vertical garden seeing these images.
Image Credit: upcycled-wonders
Image Credit: wordpress
Image Credit: hzcdn
Small garden design ideas with modern furniture and fireplace
Who said that small garden ideas should deprive your desire to own a beautiful garden that is well furnished? Many of the new age garden ideas for small spaces are so unique that these allow people to enjoy their gardens without any limits. The photographs shown below will bear testimony to this fact that you can get a proper furnished garden even if its small in size. Each one of these gardens has a trendy set of furniture that looks compact and fits in perfectly, along with a vent less fireplace, and a swing.
Image Credit: gardendesign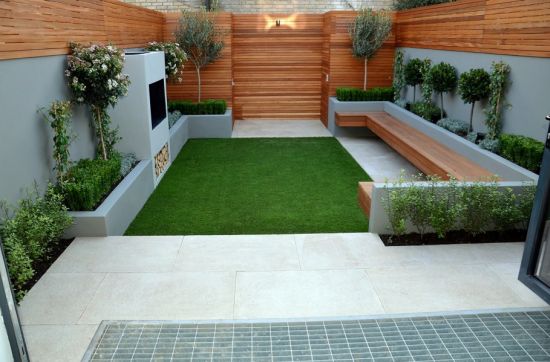 Image Credit: designingcity
Image Credit: room-decorating-ideas
Gorgeous small deck garden ideas
Small garden ideas and designs that allow you to grow plants and flowers on decks are pretty popular these days as many home owners living in small condos or apartments find owning a garden on their decks a unique idea. All you have to do is opt for raised beds that can be placed on your deck area to plant herbs or veggies. For most apartment dwellers, the problem related to getting enough sun rays is a common concern, and it is here that a deck garden comes to help. You can grow practically any kind of herb, or vegetable or plant on your deck, and have to carry out the routine chores to see your garden come alive. You can designate an area of your terrace, or balcony to have a deck garden.
Image Credit: deckideas
Image Credit: deckideas
Small garden ideas and designs involving benches
If you happen to live in a home that's facing space constraints, its a good idea not to clutter it up with heavy furnishings and accessories. The same holds true for small gardens as any big furniture is bound to gobble up the space and lend a very cluttered up look. Here is one innovative idea that sees the use of benches as plant holders. Yes, you do not have to place benches or chairs in a garden that is cramped on space. Rather, its a wise idea to use any such furniture as plant holders like in the images shown below. You can have any type of bench and then utilize the seat portion of it as planter. You can even reserve a space for sitting as well.
Image Credit: doublescribble
Image Credit: designrulz
Image Credit: blogspot
Genius small garden ideas for balconies
The balcony is the most preferred place to do gardening as many homeowners live in small apartments that lack a spacious area to enjoy this hobby. Why not take some inspiration from these awesome design ideas for balcony gardens which we are about to line up for you? You can take help of these images and then consult a professional to offer you insights as to how to go about the whole affair. Most balconies of small apartments lack space and as such every inch counts. You have to think of the places that will be used for planting flowers or veggies, like walls, decks, or raised garden beds. If your balcony is really small, try putting layered planters or pots as in the first image. Hanging garden concept is a very 'in thing' now a days, specially with balcony garden owners.
Image Credit: thisforall
Image Credit: thisforall
Image Credit: cuded
Image Credit: woohome
Image Credit: decoist
Small garden design ideas with window boxes
Window boxes are one of the most innovative in the lot of cool small garden designs as these can be used by garden enthusiasts to grow edible food, spices and herbs even if they have space issues bothering them and have no designated area to be called a garden. If your windowsill is small, you can go in for a singular window box to plant any thing that your heart desires. These include herbs like basil, rosemary and flowers of every variety. For a more attractive look, try planting differently colored flowers or herbs so that these will add on to the style of your house. The best part about using window boxes is that these are available in various shapes to suit your needs, and also contribute a lot to the way your home looks from outside.
Image Credit: marthastewart
Image Credit: dilcdn
Image Credit: prettypurpledoor
Small garden design ideas using raised beds
Raised beds are quite useful in enabling you to do gardening even when you are faced with a small area. As the name implies, a raised bed can function efficiently to plant flowers, veggies or other edibles by offering an extra space above the ground. Most small gardens lack open ground space and as such are always in need of some feature that offers additional area for planting flowers. Raised beds come to help in such cases. The choice available to you is vast. You can have an L shaped raised bed in wooden accents to grow veggies, or can have a wooden squarish raised platform that looks attractive too.
Image Credit: mounthoodgardens
Image Credit: malocalguide
For anyone of you to have a great looking garden, its not mandatory to possess a huge area. Your little space, either in the patio, or in the balcony, or in your backyard can serve the purpose and allow you to enjoy the thrills of doing gardening to the hilt, provided you take help of the above showcased small garden ideas. Pick one now!