If you have a garden then there is simply no excuse to exclude herbs from your plant list. In fact, even if you don't have a garden you can grow herbs at home. Herbs are really easy to maintain and the fact that you can actually nurture an indoor herbs garden from where you can pick a few herbs everyday to add perfect flavors to your nicest meals just makes them all the more inevitable. If you love to cook and if you love brilliant home decor then a DIY indoor herb garden can be just the right addition to your interiors. Let us check some classic and easy indoor herb garden ideas.
Mason Jar DIY Indoor Herbs Garden
Mason jars are absolutely in vogue and there is no scope for the mason jar fetish to fade away any time soon. So, when it comes to incredible DIY projects, mason jars are the first things I can think of. You can grow herbs indoor in mason jars. You can have a subtle indoor hanging garden on a wall by fixing a few mason jars and planting them with herbs like oregano, rosemary and cilantro. You can put holes for water drainage or in case you don't have that facility then make sure you do not over water the plants.
Image Credit: hearthavenhome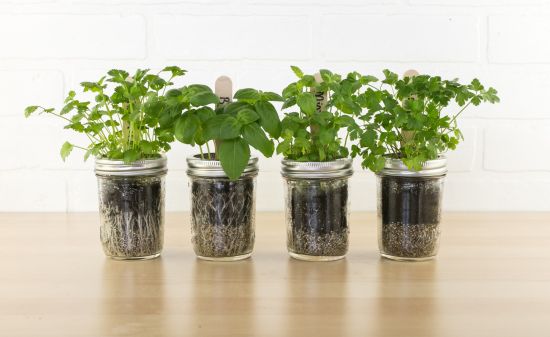 Image Credit: shopify
Image Credit: inhabitat
Image Credit: pinimg
Image Credit: consumercrafts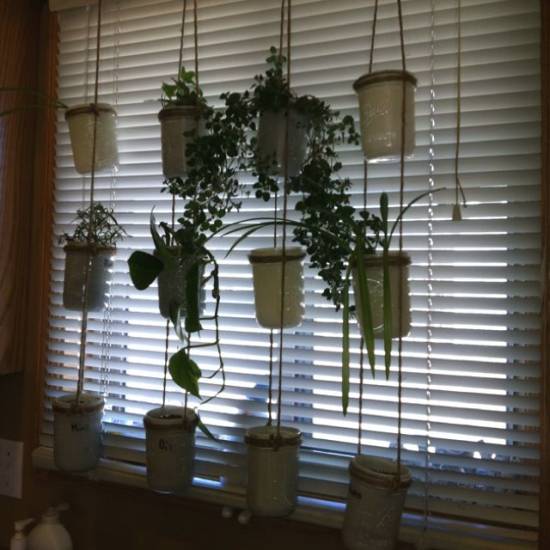 Image Credit: pinimg
Classic Bottle Herb Garden
Go creatively classic with old bottles. This DIY project is really adorable and functional as well. It can be a wonderful way to reuse old bottles. Just like mason jars you can hang herb planted bottles on a wall or cut two litre bottles and make them stand with the neck at the bottom. Place these half cut bottles on a wooden slab. Then you can plant your favorite herbs in them. The mouth of the bottle will provide drainage and you will have an effortless DIY indoor herb garden at home.
Image Credit: pinimg
Image Credit: urbangreenspace
Image Credit: shtfpreparedness
Image Credit: inhabitat
Image Credit: decorcraze
Image Credit: merryproject
Stunning Indoor Herb Garden Wall With Buckets
Yet another easy indoor herb garden idea is to grow herbs indoor in  buckets. Yes, take small buckets and hang them on a wall side with the help of picture hangers. Plant herbs like basil, mint and thyme and just any other herb of your choice and you will have a gorgeous wall display in no time. And apart from that you have the resource of a functional DIY indoor herb garden from where you can pluck healthy herbs and blend them in your recipes to come up with delicious food in no time.
Image Credit: amazinginteriordesign
Image Credit: instructables
Image Credit: hgtvhome
Image Credit: pinimg
Image Credit: thegreencurator
Image Credit: pinimg
Traditional Potted Herb Garden
You don't need to spend a fortune for an indoor herbs garden. Get timeless flower pots and voila! You can arrange them in a multitude of setups and grow your herbs for your daily recipe needs. Arrange different sized pots on the window sill or on an unused table to make a table garden at home. You can get a wooden rack and stack herb planted pots for a lovely and natural small garden feel.
Image Credit: drivebrakes
Image Credit: hbu.h
Image Credit: hgtvhome
Image Credit: homedepot
Image Credit: wearefound
Image Credit: hgtvhome
Hanging Herb Garden
You can create your very own hanging garden at home. Grow herbs in anything from pots to bottles, to tins and mercury tubes and just anything. Hang them on your ceiling and get a nice home decor apart from the luxury of a gorgeous DIY indoor herbs garden. These kinds of hanging herbs garden fit well in all kinds of home setup and add up to the charm of the home decor. Look down for more such hanging indoor herb garden ideas!
Image Credit: blogspot
Image Credit: lindaberner
Image Credit: simplifyingfabulous
Image Credit: iheartjennysart
Image Credit: squarespace
Vintage Teapot And Tea Set Herb Garden Ideas
Think unconventional and make for an out-of-the-box indoor herbs garden by planting in old teapots, tea cups and kettles. You can create a table garden by setting up such tea sets and planting them with all kinds of herbs like sage, parsley, lemongrass, chives, coriander and what not. Fix a teapot on a window sill or even on the wall. You can do the same with colorful cups. Trust me, everyone is going to adore you to bits for such an unmatchable creativity.
Image Credit: musthavemom
Image Credit: honestlywtf
Image Credit: alsn
Image Credit: cloudfront
Image Credit: blogspot
Image Credit: cloudfront
So, with this I am sure you have got a whole lot of ideas cooking inside your head and you are all set to make a nice DIY indoor herb garden. As of now you know it is not any sort of a Herculean task and with the help of a few simple things you can transform a simple space into a beautiful and functional herbs garden. This kind of a garden is ought to be one of the most valuable addition to your home as it is not only going to enhance the appeal of your home decor but also help you in preparing scrumptious meals laced with nice flavors made possible by your favorite herbs that you can now grow in your very own indoor herbs garden.