Gone are those days when your bedroom chandeliers were put to use merely for offering lighting in your bed chamber. These days bedroom light fixtures are increasingly being utilized for decorative purposes as well. When speaking of bedroom light fixtures, we need to focus our attention on chandeliers that form the topic of our article today. Yes, for all of you that are planning to decorate your master bedrooms, we have presented a good collection of luxury chandeliers, ranging from small, big, roundel, rectangular, antique built, modern to ornamental. Chandeliers have revolutionized the world of lighting in a very big way and vary in texture, style and design. For a sophisticated look in your bedrooms, you must think of adorning your ceilings with classy chandeliers. Lets take a look below to shed some focus on brands and types of master bedroom lighting that will make your bedrooms appear divine like!
Luxurious crystal bedroom chandeliers
There is nothing as elegant and stylish as a crystal light fixture adorning your ceiling and offering gorgeous lighting to your intimate space. Bedroom chandeliers made of crystal vary in style and appearance. Some of these light fixtures can depict or replicate a waterfall whereby the crystallized water drops are seen hanging from the plate of your chandelier. Some of these crystal chandeliers can also look more ornate depending on the style of your bedroom decor. Seen below are few classic examples of how your master bedrooms can be embellished with crystal chandeliers. While for the first bedroom, the owners have chosen a crystal chandelier with golden accents that seem to radiate a unique glow to the bedroom. It looks elegant and quite stylish. When going for a crystal chandelier, you can choose from a wide variety of styles and designs available in stores and online shops. Round crystal or diamond chandeliers look very alluring, and are available, either as a long hanging chandelier or one that sticks to the ceiling.
Image Credit: hgtvhome
Image Credit: designingidea
Image Credit: kutut
Image Credit: hgtvhome
Image Credit: fantasticviewpoint
Luxury chandeliers in Sputnik style
If you are soon planning to add a scientific touch to your master bedroom, then go ahead and choose any one of these Sputnik chandeliers for bedrooms that we are presenting below. As we all know, Sputnik was the first satellite owned by the Soviet Union and launched for the very first time into orbit in the year 1957, revolutionizing the space history of the world. So much was the craze for this satellite's look that it motivated interior decorating companies to design light fixtures and many other decor items on the same lines. The Sputnik chandeliers were soon welcomed into the world of decor and are very popular all over the world. These chandeliers look very trendy and futuristic in their design and are seen embellished on the ceilings of contemporary houses. While, some of these pieces look a little antique or vintage, others appear to be more trendy with differently shaped bulbs. Master bedroom lighting with Sputnik chandeliers will definitely transform your bedroom decor and make it a standout room!
Image Credit: pinimg
Image Credit: hgtvhome
Image Credit: ccio
Image Credit: sandiegomagazine
Startling rustic bedroom chandeliers
A rustic styled chandelier can play a warm and welcoming change in your master bedroom that needs to be harmonized with various decor elements present in your bed chamber. Rustic chandeliers for bedrooms can bring warmth to a room's decor and look very hip. Rustic accents demand that your rooms have a style dominated by metals like iron, brass or any other metal that looks masculine and is far away from appearing womanly. Rustic chandeliers like those that are showcased below can add chutzpah to your room's look in a flash of a second. If you see below, you will find exclusive iron chandeliers embellishing the bedrooms. Iron looks not just masculine, it is durable as well. Antique luxury chandeliers made of iron come in plenty of designs like rectangular or roundel. You can bring hints of golden accents or brass into your antique light fixtures.
Image Credit: onehomeinterior
Image Credit: decoist
Image Credit: pinimg
Image Credit: zillowstatic
Image Credit: designtrends
Image Credit: homedit
Stunning master bedroom lighting with candle chandeliers
By now, all of you must be aware as to how vast is the choice when selecting bedroom chandeliers, but guess what? We are bringing a few more luxury chandeliers with candles placed inside the rims. The candle chandeliers come in a variety of designs. Some have real candles fitted inside the rims, while other models have bulbs in the shape of candles, illuminating the whole bedroom. The first picture shows an elegant master bedroom embellished with a drum chandelier fitted with candle lights along with crystals hanging from the drum. There are many other types that can look eye grabbing, like the three tiered chandelier fitted with pillar candles. The lighting acquired with these chandeliers is effective and adds to the decor's artistic look.
Image Credit: creativebedroomvanity
Image Credit: homestratosphere
Image Credit: highwayswest
Luxurious bedroom chandeliers with contemporary looks
Since these are contemporary times, why not stylize your master bedrooms with such master bedroom lighting fixtures that have trendy looks? The designers of the modern times are inventing newer models with sleeker look and gorgeous built that are seen adorned on the ceilings of most modern bedrooms. Looking at the popularity of modern chandeliers for bedrooms, we have rounded up a few gorgeous images where the bed area seems to appear enriching and glamorous with ceiling chandeliers, each of which look contemporary and funky. The pictures are all mere evidences of how beautiful your master bedrooms will look when you embellish the ceilings with these modern chandelier models. But, the actual beauty can be experienced only when you install these pieces for real! From simple cast iron chandelier with trendy tones, to floral hanging models, to shimmering fixtures, you have a vast collection of artistic models on offer everywhere. Some commonly seen designs that have modern tones present are those that involve geometric patterns or are space inspired. For making a style statement in your bedroom, you can choose any one of these cool models and see your intimate world changing for better!
Image Credit: ultimatechristoph
Image Credit: cloudfront
Image Credit: ultimatechristoph
Image Credit: 1decor
Image Credit: zillowstatic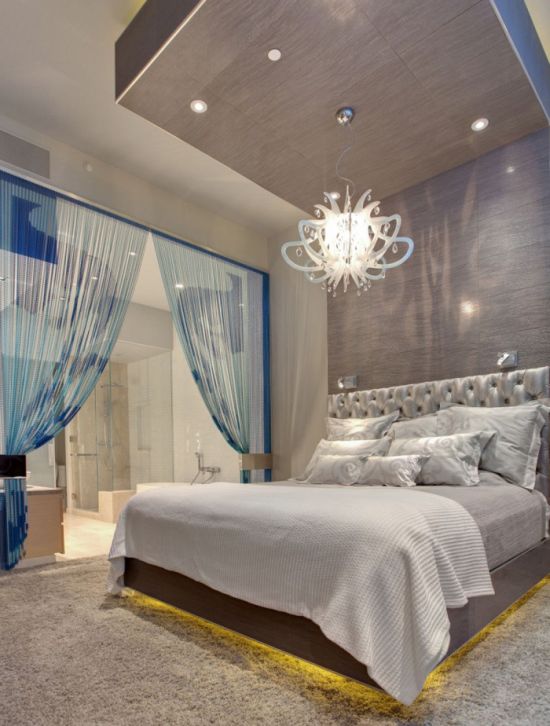 Image Credit: furniturefashion
Appealing drum chandeliers for bedrooms
As the name suggests, a drum chandelier resembles a drum or a pendant, and is a very saleable product, high in demand among hundreds of householders. Drum shape looks very chic and mostly all houses will be seen adorned with one or two of these cute pieces. You can go online and search for drum shaped bedroom light fixtures as the net is flooded with hundreds of sites or companies that sell trendy and rustic drum chandeliers, or if you have some cool designer store in your locality or nearby, you can buy a few of these models from such a place. Drum chandeliers are available in modern, rustic, or traditional style. Master bedroom lighting can be taken to the next level of style with an installation of drum chandelier designed by Hammerton, or you can also try the fluffy white pendant light fixture seen in one of the pictures below.
Image Credit: squarespace
Image Credit: pophomedecor
Image Credit: zochome
Delightful antique bedroom light fixtures
Antique chandeliers for bedrooms are loved and adored by many folks that have styled their home decor on traditional rustic lines. For such homes, specially master bedrooms, antique chandeliers suit the best as these help in bringing out warmth and also spread a feel of coziness. Antique chandeliers mostly are made of metal like iron or brass and are very elegant in appearance. You can choose between iron chandeliers with candle bulbs or models that have a brass finish or have rims having golden tones. Even crystal chandeliers can possess an antique look and suit such bedrooms that have a elegant setting. These days, European built antique chandelier models are surfacing everywhere and are being loved by many people simply because these look absolutely stunning.
Image Credit: alicdn
Image Credit: photowizdesign
Image Credit: meyrinafhom
Image Credit: pinimg
Image Credit: pinimg
Image Credit: modern-bed
Image Credit: homevil
Luxurious round master bedroom chandeliers
Last but not the least, its the turn of round bedroom chandeliers to be discussed before we close the topic. Roundel light fixtures have a unique look. Most online stores dealing with light fixtures would be able to help you in choosing the apt round chandelier model that suits your decor. From purple accented roundel chandeliers that are ornately designed with purple lamp shades, to the simpler models that are been showcased below, you can pick and select the ones that suit your fancy. Most online stores sell these models at reasonable prices, though, a few would cost you more than others.
Image Credit: minimalisti
Image Credit: hamanco
Image Credit: hamanco
A master bedroom truly deserves to look its very best, in fact the best of all the other rooms in a home. Since, its the room where you leave your worries behind and come to rest and recoup, the decor elements should be such that they offer solace and visual delight to your eyes. Bed room lighting plays an essential part in lending substance and personality to a room's decor, and chandeliers are the best way to enhance a bedroom's beauty. With these super awesome chandelier designs, we are sure you won't find it hard stylizing your master bedrooms. Ping back once you feel you have chosen the best in the lot of 37 bedroom chandeliers shown today!