Everyone needs their personal space and one room that respects that space is your bedroom. An individual's bedroom decor is a private affair. Everyone likes their bedroom to be designed according to their liking. The bedroom interior displays ones personality and tastes. The style of the bedroom would change according to age, choice of colors, and concept of the bedroom. One may like a traditional theme or contemporary style where as a teenager would prefer a vibrant designed bedroom. Today we are going to discuss different chic bedroom ideas. We will look at few examples how rooms can be designed in both ways traditional as well as modern stylish bedroom. Additionally, this article will highlight how a chic bedroom décor differs among different age groups.
1. Stylish Classy Bedroom Design
A classy bedroom together with the décor complements each and every aspect of the room. The bedroom displays a subtle décor with pure white linens and a light colored backdrop wall. The mirrors on both sides add a spacious feel to the bedroom. Enhancing the bedroom with modern wall hanging lights is also a great idea. This room can be enjoyed by all ages and is a soothing beautiful blend of contemporary and traditional styles.
Image Credit: Good House Keeping
2. Young Vibrant Bedroom Décor
This bright and vibrant bedroom will be appreciated by a young couple or teenagers. The colored niche and spray leaf design adds an oomph to the bedroom décor. The trendy wall lamps create a soft romantic feel to the room. Teenagers will enjoy the vividness and color combinations. It is a great place to hang out with their friends.
Image Credit: Home and Office Decors
3. Elegant Romantic Themed Bedroom Design
Make each other feel special each day in this sensuously designed bedroom. Elegant and subtle wallpaper fills the room with elegance and class. The blue color gives the small room a spacious and open feel. The modern rug on the floor gives it warmth with a trendy feel. Adorn your wall with a fashionable mirror and attractive side table lamps to complete your chic bedroom décor.
Image Credit: Khane3
4. Perfect Purple Bedroom Décor
This perfect purple room will cheer up your teenage princess daughter. She would love the lively deep purple color. It is a small room designed spaciously that gives her friends and her some privacy. The sofa cum bed adds space and style to the room. The modular study table near the window provides light in the room adding brightness to the décor. Stylized with an abstract geometric wall pattern and trendy chair to go with the interior settings, it is simply flawless.
Image Credit: Iidudu
5. Contemporary Chic Bedroom Design
Wooden flooring and light dull green paint is the main highlight of this chic bedroom décor. It is further enhanced with dark wood bed adorned with fur blanket and matching green linens. The contrasting cushions stand out along with the sleek trendy wall hanging lights.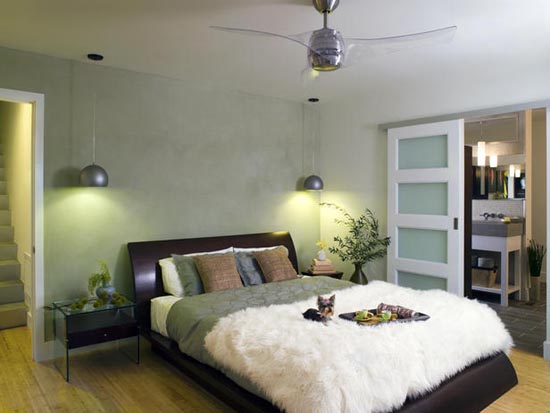 Image Credit: HGTV
6. Unique Modish Children's Bedroom Décor
Every individual wants their bedroom décor to be special, including children. This bedroom is a great example for saving space and designing something unique. The room is styled for four siblings with a cruise feel. The trendy and gorgeous bunk beds are super cool. Each bed has a reading lamp with storage space and favorite artwork. Additionally, the room is completed with a wooden flooring and reading and study space for the children.
Image Credit: Magofyoga
7. Beautiful Rustic Themed Bedroom Design
If you are looking to design your room with a rustic theme then here are a few helpful tips. Keep your bedroom wall colors light and bring brightness in the room with linens and accessories. Like illustrated in this picture, the room is furnished with simple dark wood furniture. The cane and straw shutters add a rustic charm to you room.
Image Credit: Whisper Wars
8. Comforting Bedroom Design for Youngsters
This room infuses a calm yet trendy aesthetic look to onlookers. The room is designed for young boys. The room is designed with the hues of green and brown giving it a chic and sophisticated appeal. A suede-pin is a great décor idea for those who like to highlight their medals and achievements in a small and organized fashion. Youngsters can add their favorite pictures.
Image Credit: Freshome
9. Comforting Bedroom Décor for Teenage Boys
This room is completely different from the above one. It has a bright feel to it due to the blue color. It is designed with interests of a college going boy. The gaming console is a great highlight. Another great idea is the matching colorful cases apt for storing and keeping the room clean. The matching rug and bean bag bring vibrancy to the chic bedroom.
Image Credit: Freshome
10. Fashionable Cage Themed Bedroom Design
Posh room designed with trendy and classic interior settings. The grey and white floral wallpaper highlights the room giving it a young and mature visual seem. The bird cage theme décor is the main emphasizes of the room which makes it distinct and stylish.
Image Credit: Itnewhome
11. Adorable Nursery Bedroom Décor
Now make your twin's bedroom up-to-date with the trend and style. This nursery room is designed for twins a girl and boy. It has traditional cots against colorful drape curtains. Accentuate the room with cuddly toys and add a reading chair with a small play table for your little toddlers. The room gives your twins security, warmth and comfort which will make it special for them.
Image Credit: Pinkous
12. Retro Themed Bedroom Design
An apt room for sisters with a funky characteristic retro theme. The room is stylized with lot of thought and personalization. The polka dot rug and wooden flooring adds sophistication and style to the room. The modern reading lights are a great idea and beds have open shelves for storage purposes. Personalized alphabet pillows are another great way to add to the room ambiance.
Image Credit: Vissbiz
13. Boutique Themed Bedroom Décor
Infuse your room with liveliness and richness. Designers suggest giving your bedroom a colorful look as a boutique hotel. It makes you feel relaxed and on holiday always. Stylize it with some great artwork, tasteful mirror and dry flowers. Add some trendy side tables and table lamps to light it up and add a romantic appeal to the room. This room is perfect for couples and younger age individuals.
Image Credit: Home Ideas Finder
14. Best Teenage Girl Bedroom Design
If you have a teenage or college going girl then this is the best interior settings for her bedroom. Make her a chic bedroom that will be loved by all her friends. Give her a funky and high-spirited place to hang out, study and unwind. The room is done up in tones of pink and orange to create vibrancy. Add a sitting area with storage drawers and a study table. Contemporary cane baskets add an oomph factor to the room and avoid clutter. One of the best chic bedroom ideas you can get.
Image Credit: HousetoHome
15. Sophisticated Chic Bedroom Designs
This is a prudently designed room for all ages. The contemporary textured wall adds vigor to the room. Embellished with contemporary bed, grey and colorful tapestry and linens. The room interior settings exhibit a luxurious and royal feel.
Image Credit: Ariokano
16. Exclusive Country Themed Bedroom Settings
Come home to a comfortable and relaxing bedroom after a long day. Unwind in this opulent yet uncomplicated, spacious room. Styled on the lines of a country home it has enough storage space and decorated with tasteful artifacts. The fan shaped bed back and wooden ceiling is striking and pleasant to the eyes.
Image Credit: New Chronology
17. Shabby Modish Bedroom Décor
Check out this elite and distinctive bedroom design that is filled with different colors and styles. The textured niche and trendy side tables make this room happening. Other features that add animation to the room settings is the pink color wall, blue wall lights and blue sitting stools.
Image Credit: Examiner
18. Romantic European Styled Bedroom Design
Instill a touch of Europe in your chic bedroom by giving it a traditional look. This small and shabby interior makes it an ideal design for a romantic bedroom setting. The grey patterned wall paper and canopy setting at the bed adds style. The fresh flower arrangements add fragrance and romance to the room. White wooden furniture blends well with the other room settings.
Image Credit: Bubaraba
Finish your bedroom with style and try to incorporate some of the best ideas displayed in these examples. A small, simple bedroom too can exhibit vivaciousness and opulence. All one needs is a passion and sense of style.