15 Best Living Room With Skylights
Modern living room ideas these days aim at offering customers unique decor ideas that are not just good at looking beautiful and stylish but also focus on offering some extra features that are beneficial for health. Speaking of living room ideas, it is a must that something be explained about a new concept in home designing that is taking the world by storm, and that is the cool concept of skylight ideas that I aim to highlight in this post. To many of us who do not know what a skylight is, let me put it in a layman's term which says, "a skylight is an opening on the roof of a building or a structure to offer natural light". Skylights are not a new concept to have originated now, they were widely used by Romans. However, as far as home designing is concerned, people these days are going ahead in choosing the best skylight ideas to deck up their living spaces. Let us see this post as it will list the 15 living rooms skylights.
1. Living room skylight with natural light
Skylight ideas such as the one adopted in this awesome living room offers natural light to its occupants that enlivens spirits as the brightly lit room seems to exude a positive aura from every nook and corner. The rooftop skylight here lends a feel of larger space to the decor that is adorned with smart looking accessories and furnishings.
Image credit: infoteli
2. Living room with skylight panels
Skylights can be of various styles and in the image below, the rooftop of this beautifully decorated living room is designed with multiple panels of skylights that offer natural light to enter in copious amounts and helps create a feel of positivity and cheerfulness. The whole width of the living space seems to appear fully lit up because of these skylight fixtures.
Image credit: home-designing
3. Bright living room with slanting skylight
Seen here is an example of how bright and vibrant a living room should be. The dazzling skylights on the slanting ceiling bring enough natural light to brighten up the decor inside to highlight contemporary modern art work installed for beautification. The exposed beams are another highlight of this awesome living area and are in fashion these days with more and more number of folks designing their living spaces with such beams.
Image credit: european-web
4. Living room decor with grid skylights
On the sliding roof of this modern living room is built a grid of skylights that harness sunlight brilliantly and this helps in illuminating the interior all the time. However, for preventing excessive sunlight from harming the skin and health of occupants, the skylight glasses have been striped with black strips that help in transferring optimum light from outside without creating any discomfort caused to its inhabitants.
Image credit: rumahku
5. Living room with glass skylight
Glass skylights are generally made of tempered safety glass that makes these extra safe for installations on the roofs of houses. The glass skylight seen here allows sufficient sunlight to enter and spread brightness in ample amounts.The frame of the skylight is black that lends it a very cool look. With many windows fitted throughout the living area, the living room surely looks very fresh and inviting.
Image credit: homsca
6. Traditional living room with high ceiling and skylights
The conical high ceiling of this house looks majestic as the whole facade is built of wood that lends it a rich appearance. To compliment its beauty, there is a skylight installed in the middle of the ceiling, their by offering a generous doze of light and fresh air. The modern chandelier plastered from the ceiling adds to the vibrant look of the decor.
Image credit: ezpong
7. Living room with large skylight
A basement in order to be converted into a well lit up living area needs a little makeover, and now you all can get inspiration from skylight ideas that would help you transform your dark basements into living quarters that are the prime areas for entertaining guests. The owner of this awesome house has installed a large skylight to allow ample natural light to come inside and illuminate every corner. To compliment it, there are decorative accessories that have been meticulously arranged.
Image credit: rilane
8. Skylight for cottage living room
The cottage seen here looks absolutely a stunner with beauty oozing out from all facades. It features magnificent wooden cathedral ceiling and skylights fitted all over to offer good lighting. The look of the decor is natural with wooden facade seen all over the living area, aka, the walls, the window frames and the open wooden cabinet that houses a number of showpieces. The accented ceiling however steals the show along with the skylight that livens up the place in an instant.
Image credit: homeaway
9. Family living room with skylights
Skylights can make your living areas vibrant and full of energy as one can see below where the family living area looks dazzling and bright, courtesy, the many skylights fitted on the sloping rooftop of the house. There are big windows too that help in getting fresh air, but the central positioning of these skylights help the room to exude a very positive look.
Image credit: rilane
10. Slanting skylight for living room
Skylights or roof lights as these are called can offer a refreshing change to the decor of your living room that previously seemed dull and dark. A skylight's main function is to offer ample light and ventilation to keep the flow of good vibes going on continuously. The exotic living room seen here features central roof lights or skylights in wooden frames that seem to slant both ways. This kind of design suits such homes that receive lots of snow or rain and prevents stagnation or condensation of water. Apart from the skylights, the room is adorned with large windows surrounding it from all sides, thereby allowing natural elements to come and freshen you up.
Image credit: archiexpo
11. Eclectic living room with skylight grids
Skylights as such are windows fitted on the roof but unlike windows, these allow you to enjoy sunlight and fresh air all the time without you having to worry about your privacy. Skylights also help one to do indoor gardening as light seeps through almost all the time and gives a new breath of life to your plants. The grid of skylights seen below add luster to the whole space without actually piercing your eyes with direct sunlight. The built is flat and looks marvelous against the white roof and the walls.
Image credit: homedesignideas
12. Adorable living room with skylights
The living room and the open kitchen in the image look more than just adorable, courtesy the accessories and furnishings, but there is another feature that makes the decor appear so lively and fresh, and that would be the skylights fitted on the slanting ceiling of the house. The skylights can be your next best alternative to windows when you want sufficient lighting and fresh air to circulate inside.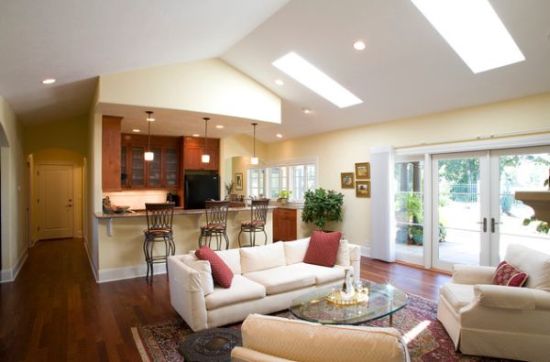 Image credit: ezpong
13. Living room with fixed skylight design
Fixed skylights cannot be removed or opened once these have been installed. Living room skylights come in a number of styles and a particular design that is seen fitted in maximum houses is the fixed variety. Such skylights help in creating a bright space and offer warmth throughout the day. The skylight in the image is fixed to the roof and offers quite a lot of natural light to the decor and illuminates the doorway leading to the main seating area.
Image credit: houzz
14. Magnificent living room with skylights
The sublime aesthetic beauty of this living room catches your attention on the first glance. Why? Well, the clear glass skylights allow immense freshness and natural light to enter and spread its vibrant aura all around, thereby perking up all the corners and nooks. The bold skylight design seen lends a fresh lease of life to the decor and makes one feel eclectic. The positioning of the skylights is such that light can enter and illuminate the middle portion of the seating area.
Image credit: rilane
15. Modern living room with skylight
Guests entering this brightly lit living area would first seem to take notice of the wall to wall massive sized windows, plus the paneled skylights that adorn the rooftop and are built in the from of a grid. These two features successfully harness ample sun light and allow the room to look fresh and lively throughout the day. In the nights, one can simply lie down and gaze at the stars. With a marble flooring added as an extra feather to this awesome interior decor, natural light seems to seep deeper inside the space and makes it warm and friendly.
Image credit: home-designing
Skylights are an essential feature that must be included when ever you think of designing your homes as these offer natural lighting and make your spaces bright and energetic. In case you are repenting that you shelled out loads of mullah on those windows that do not let in sufficient light inside your homes, there is still time to rewind the damage done by putting skylights on your roofs as these will brighten up your every nook and corner like no other fixture can. The above mentioned living room skylights add style as well as are functional too. These may come in a number of designs. Only you need to choose the right kind for your living area.