Thanksgiving is a day that has ancestral roots, where people of the old ages celebrated this day to express their gratitude after the harvest. Till date, the day is celebrated with the same reason though in modern ways. It is a trend that family and friends get together on this day and celebrate it with fervor and seasonal specialties. If you are having a party on that day, then Thanksgiving decoration ideas should definitely come in handy. The fall season is one full of colors that are vibrant and quite attractive. The harvest season also gives you ample ideas for decorating your home for the party.
Thanksgiving decorations of course would not include anything gaudy or flashy, but more in terms of class and elegance. Seeds, acorns, gourds, pumpkins, and fall flowers make up quite a good list of items you can use to decorate your home for a thanksgiving party. If you are having a dinner party on the day, you could always set up the table in fervor of the festival. Many thanksgiving table decorations ideas can be implemented to impress the guest that come along. Setting up a centerpiece on the table would definitely liven up the seating. Having a cornucopia at the center of the table with small pumpkins, gourds and other seasonal specials spilling out onto a plate gives quite an elegant touch.
You can also implement other thanksgiving decorating ideas such as placing cylinder vases with bird seeds and seasonal flowers sticking out of them while having an assortment of pumpkins and gourds in between the vases across the table. You can also add a touch of class by placing candles within hollow pumpkins or gourds. For Thanksgiving table decorations, you could also place DIY Thank You cards for each diner, wherein they can write what they are thankful for. You could also have a decorative tree with either acorns or miniature pumpkins hanging off the dried branches placed in a vase. You could arrange the items in a tray below as well, making the entire arrangement look quite classy.
Wreaths with seasonal assortments are also popular ideas that you can implement for party decorations. You can have seasonal flowers along with seeds and grapes attached to the wreath. You could either hang the wreath over your door or could also place it over the mantle. Again, mantles make up for quite a great space for thanksgiving decorations. You could always place vases with seasonal flowers along with pumpkins and gourds decorating the mantle. You may not want to, however, limit your thanksgiving decoration ideas to table or mantles.
You can always impress your guests with DIY Thanksgiving boards or trees where you have unique notes and ornaments that your guests can put up. You could have a thank you board, where guests write down what they are thankful for and pin it up. You could also have a thank you tree, where you create ornaments upon which your guests can write and hang on the tree. These make for good keep sakes, reminding of the day and dates when your guests put these up. We here, have some 50 incredible thanksgiving decoration ideas for you to sift through and implement.
1. Beautiful Thanksgiving Table Decor
Image Credit: thebudgetdecorator
2. Amazing Candle Jars Thanksgiving Decor
Image Credit: bhelas
3. Layered Seeds Jars Thanksgiving Decor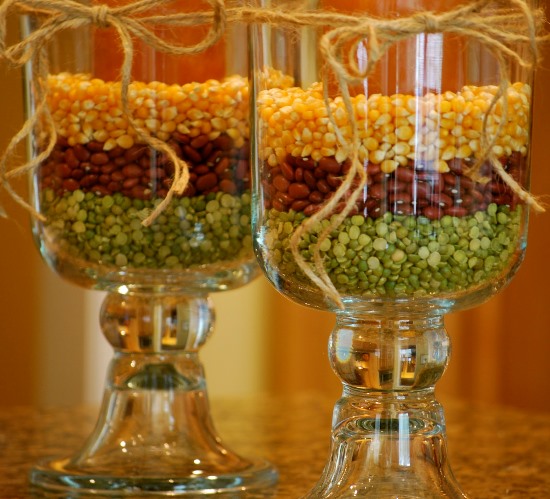 Image Credit: blogspot
4. Fall Leaves, Apricot, and Candle Center Piece
Image Credit: lushome
5. Thanksgiving Fireplace Mantle Decor
Image Credit: alwaysintrend
6. Exquisite Thanksgiving Dining Table Decor
Image Credit: houseofdesign
7. Pumpkin Flask Thanksgiving Decor
Image Credit: weddings.craftgossip
8. Thanksgiving Plastic Cup Turkeys for Table Decor
Image Credit: bioix
9. Thanksgiving Decor with Fall Leaf Turkeys
Image Credit: bioix
10. Gold Pumpkins and Pine Cone Table Decor
Image Credit: homebunch
11. Fall Leave and Pumpkins Fireplace Mantle Decor
Image Credit: shelterness
12. Thanksgiving Paper Lanterns Decor
Image Credit: decoist
13. Beautiful Thanksgiving Wreath with Seasonal Specials
Image Credit: dehouss
14. Pumpkins and Gourds Thanksgiving Mantle Decor
Image Credit: dogwoodmanorapts
15. Fall Specials Thanksgiving Decor
Image Credit: dogwoodmanorapts
16. Thanksgiving Dining Table Decor
Image Credit: cindykaymusic
17. Thanksgiving Centerpiece Decor with Fall Specials
Image Credit: cindykaymusic
18. Amazing Pumpkins and Gourds Centerpiece
Image Credit: digsdigs
19. Beautiful Fireplace Mantle Thanksgiving Decor
Image Credit: digsdigs
20. Elegant Thanksgiving Table Decor
Image Credit: decoist
21. Luxurious Thanksgiving Dining Table Decor
Image Credit: decor4all
22. Thanksgiving Decor with Flowers and Candle Jars
Image Credit: turnkeyoil
23. Floral Pumpkin Thanksgiving Decoration
Image Credit: aveitech
24. Creative Message Writing Turkey for Thanksgiving
Image Credit: stylisheve
25. Beautiful Pine Cone and Corn Husk Thanksgiving Wreath
Image Credit: shelterness
26. Seasonal Fruits and Vegetables Turkey Decor
Image Credit: 98host
27. Black and White Painted Pumpkin Decor
Image Credit: greenstylegallery
28. Beautiful Floral Buds Thanksgiving Wreath
Image Credit: digsdigs
29. Artistic Thanksgiving Mantle Decor
Image Credit: deivos
30. Amazing Turkey Thanksgiving Table Decoration
Image Credit: deavita
31. Beautiful Floral Arrangement for Thanksgiving
Image Credit: homeditorial
32. Amazing Thanksgiving Table Decors
Image Credit: dcinstyle
33. Marvelous Thanksgiving Wreath
Image Credit: woohomedesigns
34. Corn Seeds Filled Candle Jar for Thanksgiving
Image Credit: familyholiday
35. Harvest Basket Thanksgiving Centerpiece
Image Credit: microng
36. Striking Pumpkins and Gourds White Table Decor
Image Credit: interiondsgn
37. Pumpkins and Gourds Thanksgiving Wreath
Image Credit: interiondsgn
38. Flowers and Pumpkin for Thanksgiving Table Decor
Image Credit: trastus
39. Beautiful Fall Leaves, Pine Cone, and Candles for Table Decor
Image Credit: blogspot
40. Cute Pumpkin Candles Decor
Image Credit: diplom35
41. Corn Wrapped Candle Jar for Table Decor
Image Credit: blogspot
42. Amazing Turkey Shaped Pumpkin Fruit Bowl
Image Credit: homecrux
43. Creative Thanksgiving Table Decor
Image Credit: netnewengland
44. Creative Argyle Thanksgiving Wreath
Image Credit: decoist
45. Lovely Fall Special Floral Wreath
Image Credit: cayhin
46. Creative Wheat Grass Thanksgiving Decor
Image Credit: centra-homes
47. Colorful Thanksgiving Cornucopia Centerpiece
Image Credit: fourhearts
48. Fall Leaves and Pumpkin Wreath
Image Credit: cloudfront
49. Thanksgiving Decor of Pumpkins with Quotes
Image Credit: mommysplaybook
50. Unique Thanksgiving Message Board Decor
Image Credit: familyholiday