A bedroom is supposed to represent the person or people who sleep in it. Unfortunately, a lot of people tend to keep the design of this room rather basic, essentially removing all traces of personality.
That's not always the best way to go about things, especially if you're decorating a room for a child or teenager. You want this space to scream that it's theirs because it's usually the only part of the house that they have any claim to.
Fortunately, there are plenty of ways to ensure that the room embodies them perfectly, especially if they're a prominent gamer. You don't even have to know that much about video games to find the best décor to fill the space. All you need to do is consider these six design ideas, and you'll be able to turn your kid's room into a gaming wonderland.
Install Some Mood Lighting
Lighting is always something worth considering when gaming because too much or too little of it can cause trouble for your eyes.
When it comes to your kid's room, you'll want to check there's enough lighting for the space to be evenly lit while gaming. This is one of the best ways to prevent eye strain and ensure that your child's gaming habit doesn't do them any danger. Positioning the gaming desk away from any direct light sources, particularly the window, can also help with this.
Something else you might want to consider is installing RGB lighting in parts of the room. Such lighting is popular among gamers because it looks attractive, allows for more customisation, and is excellent at creating an atmosphere. Plenty of gaming products include this lighting in their design, so putting it in your kid's room can make the space more cohesive with the rest of their gear.
Install Some Shelving Units
The longer your child's been into gaming, the more games and memorabilia they're bound to have accumulated. They may well have stacks of these belongings that all need to go somewhere but which they don't wish to hide away.
If that's the case, shelving units are absolutely the way to go. Having these in the room give your kid somewhere to store everything without stuff getting in the way. They don't have to worry about anything being hidden from view, nor they do need to feel like they've got to ditch any of their treasured items.
What kind of units you go for will depend on the size of the room, as well as how the space is decorated. The internet and the high street aren't short of places selling stuff like this, so you shouldn't have any trouble finding something that meets your child's needs.
Buy A Gaming Desk
The older your child is, the more likely they'll want to spend their gaming time in their bedroom. If they're going to do this, though, they need to have the right setup.
That means buying them a desk to play at if they're into PC games. You might think that a generic desk would work just fine for this purpose, and it probably would. However, if you want to appeal to the gamer in your child, then you'll need to buy one that's designed specifically for PC gaming.
You can view different gaming desks here to find the one that will suit your son or daughter's bedroom the best. They come in various sizes, styles, and materials, so you may need to consider the rest of the décor to work out which pc gaming desk is most suitable. You may also want to discuss what your child would prefer before purchasing anything, as they're the ones who are going to be using it. You want to ensure that they're comfortable, especially if they're at their computer gaming desk for hours at a time.
Paint A Gaming Mural
Bare walls don't do a room any favours unless they're painted to look busier than they actually are. Rather than just covering the area with a few coats of the same colour, why not turn the walls into a gaming mural instead?
If you're creatively challenged or don't know the first thing about games, this might seem incredibly overwhelming. It's definitely not a job that everyone can undertake, and it may require more expert assistance if you want it to look detailed and accurate.
However, it doesn't have to be the hardest task in the world. For instance, if your child loves retro games, maybe you can paint one wall to be like Space Invaders. All that really requires is for you to create templates of the 2D models and then paint them on the wall. Likewise, Pacman isn't that difficult to replicate either, given it's mostly just a series of circles and lines.
Obviously, it all depends on what your kid is into and how well that can translate into wall art. The more cartoonish or simplistic the game design, the easier it is to work with. Don't fret, though, if their favourite games are too hard to recreate. There is something else you can do to make the wall more appealing to their interests.
Put Up Gaming Wall Art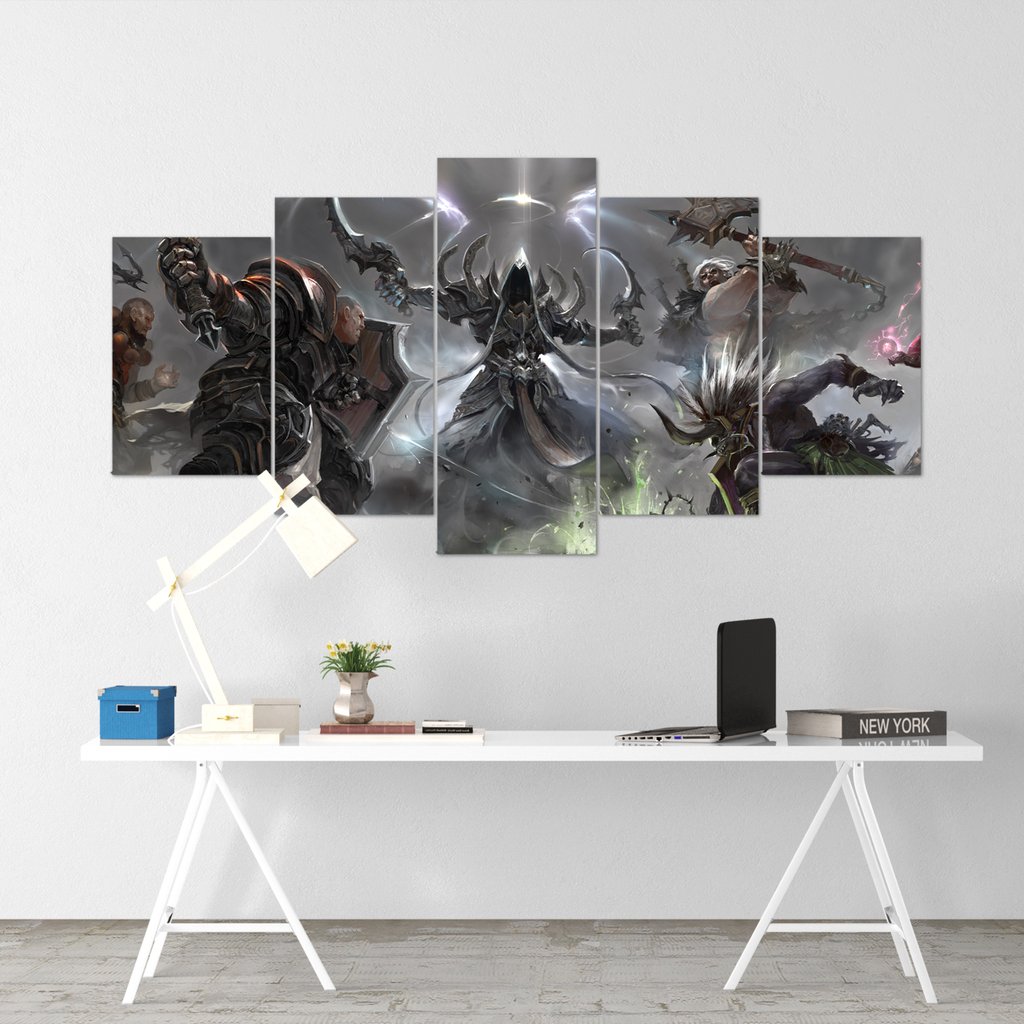 Artwork always does an excellent job of filling empty space on the walls and giving the room a little more personality. Thankfully, you can find more than just beautiful landscapes and abstract paintings to cover your walls with.
If your child is a gaming fan, they'll be delighted to know there are plenty of suppliers out there who produce wall art inspired by games. Whether they're into Pokémon, Assassin's Creed, Fortnite, or something else, they're bound to find posters or professional prints that showcase these great games.
You can find some incredibly creative pieces out there designed from all manner of materials, which should really breathe new life into their walls. Putting up a few of these ought to make the space feel more personal to them, and will give them a reason to enjoy spending time in their bedroom.
Set Up A Projector
If your kid's a console gamer, they're going to want a nice TV to play their latest Switch or PlayStation title on. However, you may not care to spend potentially thousands on such an item, especially if you're not going to get any use out of it.
In that case, it may be worth getting them a projector instead. Not only is this usually more affordable, but it often offers better picture quality than a TV screen. There are all sorts of great projectors available online which come with some amazing benefits that your kid is bound to love. As long as there's space on the wall for the projection to work, this should make an excellent addition to any gaming fan's room.
If given the option, plenty of people would probably prefer to have their own gaming den separate from their bedroom. However, there's not always the space for this, which means they have to combine the two into one room. That's okay, though, because there's so many ways that you can make a bedroom into the perfect gaming zone, as these decoration ideas have shown. Incorporate a few – or all – of these suggestions when decorating your kid's room, and any complaints about not having their own gaming den should quiet down.